Daytripping: 5 Stops You don't want to miss from pancakes to lamb chops
As usual, we have a busy day ahead of us. A total of five stops. So that I wont tire you out we'll make each stop a brief one.  And to gather that energy we'll make the first stop a restaurant.
So here we go into Pikesville and directly to the Pikes Diner and Crab House, 921 Reisterstown Road. It's locally owned by Will Reich since 1996. Closed Monday with plenty of free parking, the menu is loaded with tasty food items. And I like the fact breakfast is served all day. That's good for me because some days I hop right out of bed at 11.
By the way, those other tasty items include pasta, Mexican and seafood.
Speaking of breakfast, I have to tell you I love pancakes and have found it difficult to find really good ones. My search stops here. I had mine with blueberries. And have been back more than once. One favorite dish here is the fried chicken. Another favorite dish of mine is the veggie burger.
And yes you read the name correctly. It's a diner and it serves crabs. And good meaty ones. I'm told customers order them at all hours. But it's a good idea to call to be sure they have them.
There's seating for about 100, a bar with TV's and you have to check out the celebrity statues. See how many you can identify. And here's another bonus, adjacent to the building is a movie with two screens.
So now you have yourself a meal and a movie without moving the car. (410-653-5545)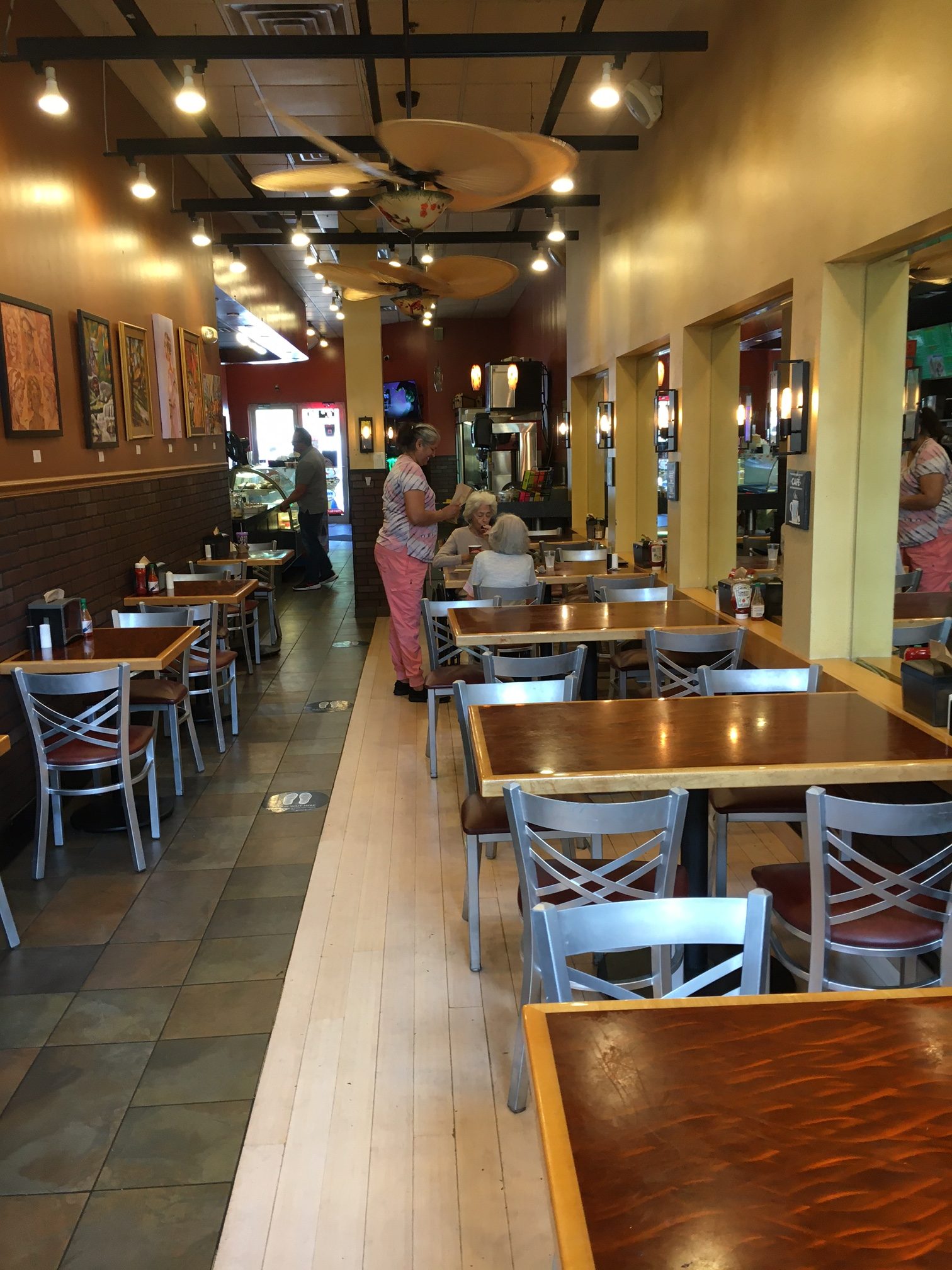 Just a short hop from the diner is Quarry Bagel and Café, 2628 Quarry Lake Drive, just off Greenspring Avenue. Open seven days, lots of free parking, locally owned, seating for about 40 inside & out and a very popular spot in the community.
There is a lot more than just bagels. The menu lists fish platters, salads, sandwiches, eggs & omelettes, specialty bowls, paninis, pastries, a Middle Eastern Oasis and breakfast served all day. And I liked the attentive staff.  (410-753-3350 thequarrycafe.com
We're going to visit one more restaurant before we head to the eastern shore. We hit Dulaney Valley Road, make a left on Manor and stop at the Manor Tavern, 15819 Old York Road, Monkton. This is usually on the list of Maryland's top restaurants. Open Tuesday through Sunday for lunch and dinner (no lunch on Tuesday) with seating for about 250 (including outside) the food was described to me by chef and General Manager, Jerry Edwards, as modern country cuisine. To me, it's simply very good.
There are numerous dining areas, there is a bar, bi-weekly entertainment (Sunday), plenty of free parking and reservations are strongly recommended. Before going in, check out their vegetable garden. Yes the produce grown here is served inside. And there's also beehives. The honey goes into the restaurant. If the weather is good dine outside.
Too many items to mention, so I'll just tell you about the nuts and berries salad, cedar plank salmon, the manor burger, seared tuna, grilled lamb chops and the Louisiana gumbo. And by the way, the drive out is quite scenic. (410-771-8155) themanortavern.com
We are now crossing the Bay Bridge and heading to the Salisbury Zoo, 755 South Park Drive.
Open daily 9 to 4:30, it was founded in 1954, has over 100 animals, provides natural habitats for species native to North, Central and South America, accredited by the Association of Zoos and Aquariums and is 12 acres within a city park.
In 1967 the Salisbury Zoo Commission was established to assist with the development of the park. And did I mention there is no admission charge, though donations are accepted. On September 9 you can actually spend the night at the zoo. A promotion called Bunk with the Beast. (410—548-3188.).salisburyzoo.org
I have energy for one more stop. It's London Town & Gardens, 839 Londontown Road, Edgewater. This historic area, 23 acres and a National Historic landmark, tells the story of a lost colonial port town of London. Open Wednesday through Sunday from 10 to 4 with adult admission ten dollars. Your admission includes a 30 minute walking tour and the William Brown House (goes back to 1760).
The area was opened to the public in 1971. It is currently owned by Anne Arundel County. You must stroll through the beautiful gardens. I'm fairly certain most of you are not familiar with this attraction. It is worth your time to visit. You'll also be treated to beautiful views of the South River. (410-221-1919) londontown@londontown.org
Okay, I think we've all had enough. Let's pause and pick it up when I come back.

Eddie Applefeld is a Baltimore native and a graduate of Towson University. He has been in the broadcasting profession for over 30 years. Currently he is the Promotions Director of WCBM radio. Before that, he was part of the Rouse & Company show on WQSR, host of a cable TV show called Dining Out and adjunct instructor at Towson.
His past accomplishments include being named a finalist in Baltimore Tourism's Employee of the Year Program and winner of Toastmaster's Speaker of the Year contest. He was also twice a heartthrob for the American Heart Association's gala fund raiser.