John the Baptist and Jesus Christ preached the same message.
Matthew 3:1-2, "In those days came John the Baptist, preaching in the wilderness of Judaea, and saying, Repent ye: for the kingdom of heaven is at hand."
Matthew 4:17, "From that time Jesus began to preach, and to say, Repent: for the kingdom of heaven is at hand."
In Luke 7, Jesus points out to the Pharisees that despite preaching the same message, He and John's rejections by the Pharisees were for different reasons. Luke 7:33-34, "For John the Baptist came neither eating bread nor drinking wine; and ye say, He hath a devil. The Son of man is come eating and drinking; and ye say, Behold a gluttonous man, and a winebibber, a friend of publicans and sinners!"
Notice that there was no mention of the message when Christ gave the reason for their rejection by the Pharisees.
However, within the conversation, Jesus does note the people's response to His and John's message of repentance.
Luke 7:31-32, "And the Lord said, Whereunto then shall I liken the men of this generation? and to what are they like? They are like unto children sitting in the marketplace, and calling one to another, and saying, We have piped unto you, and ye have not danced; we have mourned to you, and ye have not wept."
In other words, when the message was one of joy – God loves you so much, He sent His Son to die on the cross for your sins. They did not rejoice. Also, when the message was one of warning – Die in your sins without the blood of Christ, an eternity in hell awaits you. They did not shed a tear over their standing before God. The message of John the Baptist and Jesus made no difference to them at all.
The Pharisees were religious men but were not followers of Christ (Nicodemus being the only known exception).
Christians today claim to be followers of Christ, but does His message stir us in the slightest?
Christ said the church of the Laodiceans was "lukewarm, and neither cold nor hot," implying apathy and indifference. Just like the Pharisees, they did not rejoice at the good news or mourn over the bad news. It is like they never heard the message of Christ.
Many Christians judge their relationship with Jesus based on their feelings and not their actions.
How do we show our love to Jesus? Jesus said, "If ye love me, keep my commandments" (John 14:15). Yet, many Christians cannot name the ten commandments, let alone any other commandment. Many Christians live in fornication, drunkenness, greed, hatred, worshipping the idol of entertainment, and a slew of other sins and still claim they love Jesus. "If ye love me, keep my commandments."
Many churches do an excellent job of placing the congregation in a good mood yet mention nothing of the rampant sin that hinders all of them from a good relationship with Christ. Happiness and a good attitude are only temporary, but God offers joy, yet God's people do not want to hear that tears are the prerequisite of joy. Psalm 126:5, "They that sow in tears shall reap in joy."
Christian, when was the last time you shed a tear for a lost soul? When was the last time you cried over the sin in your life, coming to God with a broken heart over how you have wronged Him?
In Isaiah 1:10-13, God tells Israel that their "solemn meeting" is an abomination to Him. Why would God state that the gathering together of believers is an abomination? Verses 16-17 provide the answer, "Wash you, make you clean; put away the evil of your doings from before mine eyes; cease to do evil; learn to do well…" Their sin placed a wedge between them and God.
The Bible tells us David was a man after God's heart (Acts 13:22). Yet, like the rest of us, David sinned. What he did was awful. He committed adultery with Bathsheba, then, in an attempt to hide his sin, he had her husband killed. David's heart-wrenching repentance can be read in Psalm 51. Near the end, David states, "The sacrifices of God are a broken spirit: a broken and a contrite heart, O God, thou wilt not despise" (Psalm 51:17).
Christian, the message of Jesus was, "Repent, for the kingdom of God is at hand." He also told us, "If ye love me, keep my commandments." Does the sin in your life even enter your mind? Are many of us Christians like the Pharisees? Jesus mourns unto us, and we have not wept.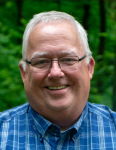 Preacher Tim Johnson is Pastor of Countryside Baptist Church in Parke County, Indiana. His weekly column "Preacher's Point" may be found at: www.preacherspoint.wordpress.com