Cooking with the seasons: Strawberries
One of my favorite things about spring and summer is the fabulous produce that is available for us to purchase. Recently a farmers' market in my area started selling beautiful strawberries by the pint, and I have been cooking up different strawberry-inspired foods since then.
I was excited to find a recipe for a strawberry caprese salad from the cooking blog Pink Parsley, and even though the combination of strawberries with tomatoes sounded a bit odd, I had faith in the blog author/cook. I made the salad, and it was INCREDIBLE. I brought it to a backyard barbecue to share, and everyone seemed to thoroughly enjoy the mix of strawberries, cherry tomatoes, mozzarella, basil, and balsamic vinegar. I never knew that strawberries paired so well with balsamic, but they really do.
Some of the other things I have made with the local strawberries are a chilled strawberry soup, a strawberry-balsamic sauce, and strawberries tossed in vanilla sugar. The strawberry soup is sweet, smooth, and refreshing and perfect for enjoying outside on a beautiful day. The strawberry-balsamic sauce goes well on top of Greek yogurt, vanilla ice cream, spinach, pancakes, or anything else you can dream of. Greg quickly ate the vanilla ice cream topped with the sauce after photographing the bowl; I didn't even get to have a bite! I also really love the strawberries with the vanilla sugar, because the strawberries get nice and syrupy and you can really taste the sweetness of the berries. Not only are these foods incredibly tasty, they are also healthy since strawberries are filled with Vitamin C, dietary fiber, and  powerful antioxidants. So go ahead,  eat them up – before I eat them all!
Chilled Strawberry Soup Recipe ($$)
INGREDIENTS:
3 cups of sliced strawberries, stems removed
1 1/2 cups of plain Greek yogurt (not reduced fat)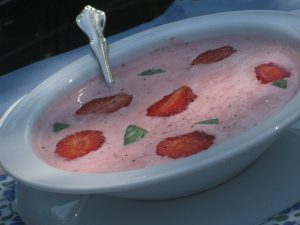 2 tbsp. of heavy cream
1/3 cup of granulated sugar
2 fresh basil leaves, torn in half
1/2 cup of Reisling or non-alcoholic Reisling
Freshly ground black pepper
Sliced strawberries, for ganishing
Small pieces of fresh basil leaves, for garnishing 

DIRECTIONS: Place all ingredients in the bowl of a food processor. Pulse until smooth. Pour in to a bowl, cover with a lid, and place in the fridge for 2 hours before serving. Garnish with strawberries, basil, and more ground black pepper. Yum!
Adapted from: Southern Living
Strawberry-Balsamic Sauce Recipe ($)
INGREDIENTS:
1 cup of sliced strawberries, stems removed
 2 tbsp. of balsamic vinegar
 1/3 cup of granulated sugar
 2 small fresh basil leaves, torn in to small pieces
DIRECTIONS: Place all ingredients in a small saucepan and set the pan over medium-high heat. Allow to simmer for 10 minutes, stirring almost constantly until it reaches the consistency of a syrup. Remove from heat. Serve warm or cool over pancakes, toast, yogurt, ice cream, or your other favorites. Enjoy!
Adapted from:  Savory Sweet Life
Sliced Strawberries Tossed in Vanilla Sugar ($$)
INGREDIENTS:
1/4 cup granulated sugar
1 vanilla bean
2 cups of sliced strawberries, stems removed
Heavy Whipping Cream (optional)
DIRECTIONS: Cut the vanilla bean in half lengthwise and scrape the inside in to a medium-sized bowl. Discard the vanilla bean. Add the sugar in to the bowl with the vanilla and mix. Add in the sliced strawberries, stir to coat. Cover the bowl and let sit for 30 minutes before serving. Top with fresh whipped cream, if desired.
TIP – Vanilla beans can be very expensive at the grocery store, sometimes running as high as $8 – $10 per vanilla bean. Save money by buying in bulk. I was able to find vanilla beans at Costco for a great price – $12 for 8 vanilla beans. What a deal! Sometimes products like vanilla beans are only sold during holiday times, so call your local Costco store ahead of time to see if they carry the vanilla beans. 
COOKING TIP OF THE WEEK:  Strawberries are the best when they are in their peak season, which is between April and July. To get the best bang for your buck, purchase strawberries from your local growers. Purchasing from local growers will ensure that the berries will be very flavorful and fresh. Look for berries that are red and shiny. Remember that smaller berries usually carry the most flavor. If you would like to find farmers' markets near you, check out the USDA farmers market search.

Looking for more recipes from Beth? Find recipes at bakeitmakeitwithbeth.com.
Beth loves to cook foods of all types and is not afraid to try new things in the kitchen. She has learned a lot through cooking blogs and is happy to share what she has learned in the past few years with you.