Cinnamon Tree Restaurant in Cockeysville worth a visit
I can recall many, many years ago being part of an opening night party at the Hunt Valley Inn in Cockeysville.
If I am correct here, I think I was part of the public relations group that planned the event.  I can also recall spending a few Sunday mornings in the Cinnamon Tree enjoying the bountiful Sunday Brunch.
And here's yet another memory, dancing to the sound of the 50's in Studebaker's, a one time hot club on the lower level.
And by hot, I mean popular.
Many years past and my visits to the Inn were infrequent – an occasional special event in the ballroom here and there and that was about it.
Now, here it is many years later and the place has rebranded itself with a new look, and a nice one indeed. A horse theme if you will; keeping with the Hunt Valley area no doubt.
All the public places are re-done, at least the ones I saw, but this piece will be about the Cinnamon Tree Restaurant.  Yes, the same name, but totally different.
Before that discussion, the name of the hotel is now Hunt Valley Inn a Wyndham Grand.  It was at the beginning a Marriott and opened in May.
The horse theme continues here. At the entrance there must be about 30 photos of horses. Inside more horse fixtures; even the doors to the back are shaped like barn doors.
I felt like grabbing a saddle and taking a ride. But it is all done very tastefully.
Do you remember that rather large sculpture that was in the middle of the room?  It's new home is outside, adjacent to the restaurant.  Removing it gives the restaurant a bigger look.
There are five chandeliers and eight lamps spread throughout. I could have missed one so if you go, count them and let me know. The room is well lit but not obtrusively so.
The chairs are comfortable and the food was good. More on that down further, as I must comment on the person who served the food, Terence. Ask for him. I liked him right away when he said how handsome I looked.
Just kidding.
I liked him because he provided friendly, fast (not rushed) and efficient service.
Have you ever had a meal at any type of restaurant and wished you had another server?  Sure you have.
The restaurant is open seven days for all three meals as you expect from a hotel restaurant. OK one comment here, it is a restaurant located within a hotel.  I know most folks don't consider hotel restaurants when making a decision as to dining location.
You can with this one.
For example, for my dinner I had the grilled salmon with dijon mustard sauce.  My dining companion had the crab cakes.
Be careful here:  Ordering crab cakes outside of Maryland can be a hazard.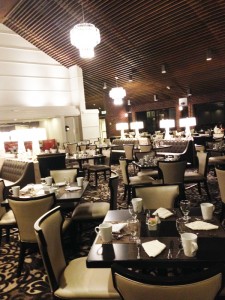 No problem here, she enjoyed it. I even had a taste. I was allowed one.
The restaurant seats about 150.
The tables are far enough apart so you don't have to worry about hearing the conversation at the next table. I liked that feature.
There is plenty of space between tables.
Of course, if you want to listen to that conversation, no one is stopping you.
Suggested only when your table is in a long lull.  I was lucky that night, the chef came out to visit.
I knew it was the chef.
He was the only one in the place wearing a tall white hat.
His name is Patrick D'Costa and he works long hours making sure all the food served and all the prep work is flawless.
Some other dinner items include the linguini primavera, fish kabob, lamb shank curry. napa valley beef short ribs, veal osso bucco and the rockfish.  Some lunch items include cavender's Greek salad, southwest burger, portabello, grilled chicken, classic reuben and linguini shrimp.  A friend went there for breakfast and had the buttermilk pancakes with maple syrup with blueberries.  He had that the first time.  He's been back two more times for the same thing.
Just so you know for dessert we split the hot fudge brownie and I took home fresh berries, and had enough to top my cereal twice.
So the next time you're looking for that new place for dinner, or lunch, give the Cinnamon Tree at the Hunt Valley Inn a try.
Tell them Eddie sent you.
It won't mean a thing, but I like it.

Eddie Applefeld is a Baltimore native and a graduate of Towson University. He has been in the broadcasting profession for over 30 years. Currently he is the Promotions Director of WCBM radio. Before that, he was part of the Rouse & Company show on WQSR, host of a cable TV show called Dining Out and adjunct instructor at Towson.
His past accomplishments include being named a finalist in Baltimore Tourism's Employee of the Year Program and winner of Toastmaster's Speaker of the Year contest. He was also twice a heartthrob for the American Heart Association's gala fund raiser.