LAS VEGAS — Jorge Quintero, the brother of Mandalay Bay Hotel Security Officer Jesus Campos indicated in court documents that attorneys for MGM Resorts International, the owners of the Mandalay Bay Hotel, told him that they do not appreciate the manner in which information is being leaked to the press.
The Baltimore Post-Examiner has acquired a motion that was electronically filed with the Clerk of the Court for the Nevada Eighth Judicial District Court on December 27, 2018, by Quintero.
The motion is part of an ongoing child support case involving Quintero filed by his former wife, Rosario Castro, who is the sister of Luis Castro, Jesus Campos' former brother-in-law.
Quintero's motion reads in part: "In response to the question above I have continuously been harassed by phone and reporters following me to my home, calling me and my brother [Jesus Campos]. Customers recognizing my face based on what has happened in our city and how I am linked to, so much that people have been thru and lost. It affects my business on generating income because I physically go to peoples home and business. With all that Rosario has said and allows to be said MGM and its attorneys have sat down with me to inform me that they do not appreciate the information being leaked out in this manner. As a result of all of this, lawsuits have started because victims families have read timelines that change the event based on the information her and her family continue to report. I find it wrong to use the tragedy that has happened and how I am linked to it, for her and her family to try to ruin or continue to stain my reputation and character. The information and photos provided by her to anyone outside of us is wrong! I have provided the court during the trial the other actions she has done before resulting in me closing the previous business. And now this had made it hard to keep up with my child support and personal bills, this city is just so big to restart for a third time would be hard however I would do it to ensure the future of my three kids."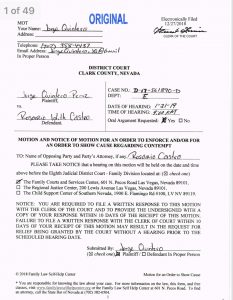 In his motion, Quintero continued: "People have seen me and my brother [Jesus Campos] on social media, articles, people sharing the post. So all of their actions have resulted in law enforcement changing my brother's situations and possibly mine in the near future which makes it hard to be self-employed and trying to fulfill my responsibilities as stipulated. These actions limit myself and my kids to attend some public events because people are aware of who I am and my family."
Luis Castro told the Baltimore Post-Examiner that his sister and he know nothing about the changing timelines that Quintero is referring to in his motion.
Castro said he has no idea what Quintero means about law enforcement changing Campos' and Quintero's situations in the near future.
The Baltimore Post-Examiner as reported in a previous story confirmed that Jorge Quintero is a convicted felon for forgery involving identity theft. He pleaded guilty to that charge on October 15, 2012. Quintero was sentenced on April 8, 2013 to a minimum of 12 months to a maximum of 30 months in the Nevada State Dept. of Corrections. The prison sentence was suspended, and he was placed on probation, not to exceed three years. As a condition of his probation, he had to comply with U.S. Immigration and Customs Enforcement directives and regulations.
According to Luis Castro, Quintero operates a handyman service. The Baltimore Post-Examiner could not locate any business license for Quintero.
Eighth Judicial District Court records obtained by the Baltimore Post-Examiner indicate that on 11/15/2018 Rosario Castro filed a failure to pay child support case against Quintero.
Quintero is also facing another child support case filed on 5/9/2018 by the woman he was a having an affair with while married to Rosario Castro. Court records indicate paternity was established with his minor child in that case. Quintero owes child support in that case in the amount of $4, 356.
As far as Campos being hounded by the press as his brother says, on December 19, 2018 ABC News' Nightline aired an interview with Jesus Campos. Campos also appeared on the Ellen DeGeneres Show on October 19, 2017. Both of those interviews may have been authorized by MGM Resorts International, Campos' employer.
On December 9, 2018 the Baltimore Post-Examiner published "EXCLUSIVE: MGM Resorts International buys Mandalay Bay Security Officer Jesus Campos' silence with all expenses paid trips, condos in exchange for NDA."
Could that be what attorneys representing MGM Resorts International are upset about?
On Tuesday the Baltimore Post-Examiner requested comment from MGM Resorts International, Jorge Quintero and Jesus Campos. They did not respond to our request.