Battle of the Bulge cancellation: Army's response to questions about axed event
Fort Indiantown Gap, PA — On Monday of this week, the World War II Historical Association (WWIIHA) voted to cancel its annual Battle of the Bulge reenactment event. The popular gathering of reenactors, outfitted with vintage WWII Army equipment, has been held at the military training base of Fort Indiantown Gap for more than thirty years. In cancelling the event, the WWIIHA noted the commemoration could conceivably go on, IF the group meets what appear to be a nearly impossible set of requirements imposed upon it by the United States Army.
In an effort to hear all voices in this important matter, the Baltimore Post-Examiner has reached out to members of the reenacting community, the press office at Fort Indiantown Gap, and other interested parties. We have assured our readers we would print those reactions if and when they become available. Below, are the questions we submitted via email to the press office at Fort Indiantown Gap. A reply was received this morning from Lieutenant Colonel (LTC) Angela King-Sweigart – State Public Affairs Officer – Pennsylvania National Guard.
Both our questions and the lieutenant colonel's reply are printed here in their entirety.
One parenthetical clause in our followup email has been added for clarity.
Sirs,
I am writing today seeking comment on the cancellation of the annual Battle of the Bulge event. Of particular interest are the following questions:
1) What part did the accident at this year's event play in your most recent assessment of the annual event?
2) Were there concerns about the event prior to the accident? If so, what were the concerns and how were they communicated to the WWIIHS?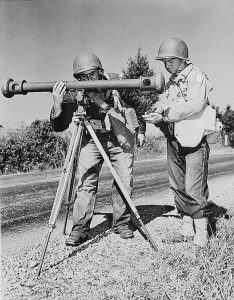 3) Do you believe the WWIIHS acted in good faith in addressing previous concerns?
4) According to a statement by the WWIIHA, "The Garrison will now also require that reenactors in leadership capacities adhere to Army standards of certification for non-commissioned officers and officers."
Question: Is this true, and if so, did the Garrison suggest any means by which this could be accomplished?
5) According to the same statement, "The Garrison will now require any and all reenactors who might wish to deploy to the "ranges" (the areas where the battle reenactments usually take place) to adhere to regular Army standards with regard to using any weapon whatsoever." and "Individual reenactors would therefore be required to be certified with these weapons to US Army standards. Since we are using historic weapons, the Army has no way to confirm our level of training as none of their personnel are trained on any of the historic US weapons or allied/axis weapons of WWII."
Question: Is this true, and if so, did the Garrison suggest any means by which the WWIIHA could satisfactorily meet this requirement?
6) Would the Garrison welcome a return of the event to Ft. Indiantown Gap?
Is there anything else you would like to add?
Respectfully Submitted,
Anthony C. Hayes
Baltimore Post-Examiner
Shortly after sending the above email, the Post-Examiner received a question from one of our readers concerning legacy weapons. Legacy weapons would be obsolete firearms – such as those used during World War II – which may still show up on modern battlefields. Considering this reality, along with the Army request that reenactors be certified to US Army standards in the use of such weapons, we sent the following followup question:
One additional question if I may:
Given that our fighting men and women often face third-world enemy combatants (using antiquated weapons), does the Army offer any training in the use of legacy weapons? If so, what weapons do they learn about?
This morning, we received the following response to our questions from LTC. King-Sweigart.
Good morning,
Thank you for your interest. Here is a statement for your use:
Fort Indiantown Gap is a military training installation. We are regulated by a number of state, federal, and military laws, regulations, and policies. Our primary users are organizations that support our state and federal missions. Other users are permitted to use Fort Indiantown Gap on a case-by-case basis when the schedule allows. Fort Indiantown Gap users must obey all restrictions to ensure regulatory compliance and the safety of our users, staff, environment, visitors, and our surrounding communities.
v/r
Lieutenant Colonel (LTC) Angela King-Sweigart
State Public Affairs Officer
Pennsylvania National Guard
Bldg. 8-41, Fort Indiantown Gap, PA 1700
The Post-Examiner will welcome comments to the Army's official response.

Anthony C. Hayes is an actor, author, raconteur, rapscallion and bon vivant. A one-time newsboy for the Evening Sun and professional presence at the Washington Herald, Tony's poetry, photography, humor, and prose have also been featured in Smile, Hon, You're in Baltimore!, Destination Maryland, Magic Octopus Magazine, Los Angeles Post-Examiner, Voice of Baltimore, SmartCEO, Alvarez Fiction, and Tales of Blood and Roses. If you notice that his work has been purloined, please let him know. As the Good Book says, "Thou shalt not steal."