Diorama-Rama: An evening of life in miniature
An evocative tribute to the late Leonard Nimoy called The Final Frontier by Risky BBQ. (Anthony C. Hayes)
What would you think if somebody invited you to a party, then used the words "miniature" and "Saturday night" in the same sentence? For many Baltimoreans, those words would imply that a quick stop by the local liquor store was definitely in order. But for a small group of talented artists and their friends, that sentence spells out Diorama-Rama.
About fifty people braved the bone-chilling cold and treacherous ice of the final night of February for Wonder Commons' first ever Diorama-Rama. The event was held last Saturday in the spacious warehouse of the Write Notepads & Co. in the Allied Binding Company building in Baltimore's Pigtown neighborhood.
The word diorama has its genesis in the movable backdrops of 19th century theatre; however, most people today associate the term with the miniature three dimensional artscapes which tell a story. Stressing "thinking inside of the box", Diorama-Rama allows both seasoned art professionals and amateurs a chance to flex their creative muscles while interpreting a prompt in miniature.
Co-hosts Robert Marbury and his wife, Alix Fenhagen, purposely planned the event with the feel of a relaxed social mixer in mind. The theme of the show was "The Last Of".
"My wife and I moved from Brooklyn, New York to Baltimore about three years ago," said Marbury, "and one of our hopes was to start a creativity center. Wonder Commons was this idea of instigating creativity in a casual environment were there is no real arts pressure. Dioramas are perfect for that, because we think of them as childlike objects; hence a lot of the anxiety for making one is gone. We've had a couple of science fair parties, where people came with their tri-fold displays, and they were really ridiculous. Sometimes you can tell they made them the night before and sometimes people made really elaborate stuff. At the first one, maybe 4 of 25 people made something, but the others said, "Whoa! I'm not coming back to this event without making something." So there are some people with this one who have been sweating it for a couple of weeks."
Marbury noted that fourteen unique pieces were created for Diorama-Rama. "Some were done by pairs of artists working together, but there were only two who regularly work in this medium. For most, this was like growing up and getting a fun and easy school assignment. We already know what the limitations are. Gotta fit in a box and tell a story. The hardest part was just saying 'We're gonna have a diorama party'. After that, the rest just rolled."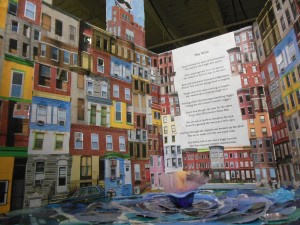 Fenhagen told the Baltimore Post-Examiner the couple had hosted a number of creative gatherings at their home. "We finally got to where we said, 'Now it's time to for people who wouldn't come to our house to join in.'"
Marbury pointed out that – unlike putting on an event where you cross your fingers and hope people will come – for Diorama-Rama there was a lot more interaction with potential participants.
"Part of the fun with dioramas is surprising everybody. You come in and nobody knows what you have brought. For instance, André and Andrew made an edible piece. They had been kinda floating this idea on social media that they had this thing they were going to make. Finally, they sent me a picture of butter and I said, 'You'd better not be making Rice Krispies Treats.'"
MICA Graduate Enters A Prize-Winning Piece
MICA graduate Sean Cook was one of the participating artists who opted to pass on the butter for a more traditional approach. The end result was a visually exciting piece which earned the award, "Best in Show".
"My 'glowy thing'", Cook explained, "is kind of a representation of a Modest Mouse album that I really like and have been listening to a lot recently. The theme for this entire event was 'The Last Of', and the title for the album is 'We Were Dead Before The Ship Even Sank'. The last cut is ironically just a ship, and there is nobody on it. So I decided to take that and create a visual representation. From the last of my college thesis. I destroyed my college thesis and turned it into that little diorama."
Though a MICA grad, Cook said his studies were not really geared toward working on dioramas but rather focused on his major in Interactive Design and Art.
"A lot of the stuff I did was with robotics and interactive exhibitions having to do with sound, so my concentration is in sound art. With my current job, a lot of the stuff I focus on is robotic elements where you are in the space and interacting with the work and then creating sound via that interaction."
"This is probably the first diorama I've made since middle school. I picked the smallest thing that I could, so that I could concentrate on how much work I needed to make (the piece) and from that I just put stuff into it."
Baltmorean Aaron Smith was another of the participants who doesn't normally work with dioramas, though he did allow that his piece – "The Cliff" – is an ongoing family project.
"I'm the Art Director at TBC, Inc. That's an ad agency here in town. Dioramas are like directing a little TV set, so in that sense, you are telling a story. I've never entered an event like this, but we had these two ready to go."
"My son Noah and his aide did 'Billy's Ghost' for a class project, and he wanted to submit it for this event. 'The Cliff' is something we've been working on for three years now. Every time we take a hike, we'll find moss or a little something and put it in there (a small terrarium). It's an evolving diorama. The dynamic changes, because it's all things we find as we are walking. The fern is from Cylburn Arboretum; the moss came from Frederick. We're always adding stuff to it."
And The Winner Is…
Though a decidedly light-hearted affair, all pieces were critically judged at the end of the night. And everyone went home with a prize! The panel of judges included Chris Rothe – Founder of Write Notepads Company; Alix Fenhagen – Arts Administrator and Ensemble member of Single Carrot Theater; Bruce Goldfarb – Baltimore writer and Nutshell Studies of Unexplained Death expert; Jaime Roslyn Kauffman – Program Director for Art with a Heart; and Jim Doran – Diorama Artist.
The winners of the 2015 Diorama-Rama:
>Most Grade School Quality – Billy's Ghost by Noah Smith
>Most Innovative Use of Materials – Avi's Paradise by André Lee and Andrew Landers
>The Cornell Prize (in honor of Joseph Cornell) – The Wire by Zoë Nardo
>The Akeley Award (in honor of Carl Akeley) – The Cliff by Aaron Smith
>2nd Runner Up – Final Frontier by Risky BBQ
>1st Runner Up – The Skeleton by DS Bakker
>Audience Favorite – The Ghoul & the Grackles by Jim Doran
>Best in Show – We Were Dead Before The Ship Even Sank by Shawn Cook
Fenhagen said she hopes that for the next diorama event, Wonder Commons can provide material which will allow those who come without a project to pitch in – perhaps in small circles – and create their own little story. "Maybe something like a Diorama Happy Hour!"
A Happy Hour?
What else would one expect with a warehouse full of miniatures?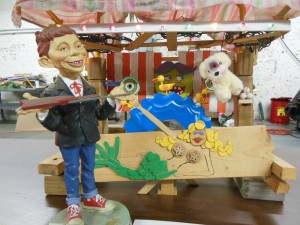 Anthony C. Hayes is an actor, author, raconteur, rapscallion and bon vivant. A one-time newsboy for the Evening Sun and professional presence at the Washington Herald, Tony's poetry, photography, humor, and prose have also been featured in Smile, Hon, You're in Baltimore!, Destination Maryland, Magic Octopus Magazine, Los Angeles Post-Examiner, Voice of Baltimore, SmartCEO, Alvarez Fiction, and Tales of Blood and Roses. If you notice that his work has been purloined, please let him know. As the Good Book says, "Thou shalt not steal."