Fall is officially here, the autumnal equinox arrived September 22 letting us know that the summer sun and hot, humid days are almost a memory – enter the cooling brisk air and the turning of the leaves. What better place to enjoy the seasonal changes than in Virginia's Shenandoah Valley, where apples are crisp, vineyards dot the landscape, hiking, biking, and our country's history permeates every nook and cranny.  An ideal weekend getaway, this fertile valley offers something for everyone's taste and enjoyment.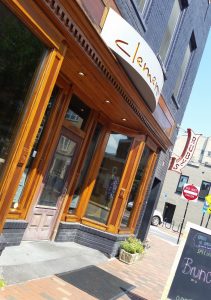 Nestled in between the Blue Ridge Mountains and Ridge-and-Valley Appalachians is Harrisonburg, Virginia – an American Main Street Award winner; a mini metropolis, and thriving university/college town.  Harrisonburg is an ideal hub, base camp, for all your activities, whether motoring through Skyline Drive for fall foliage, Mossy Creek fly fishing or indulging in the region's rich arts and culture.
Harrisonburg is not back waters Mayberry, the arts proliferate at the Forbes Center for the Performing Arts, Court Square Theater or if you love music the Golden Ponyand Clementine both hosts top acts.  Arts and crafts reside in downtown Harrisonburg like Hugo Kohl's Museum of American Jewelry Design and Manufacturing, Smith House Galleries or the Virginia Quilt Museum.  There is no reason whatsoever to have an idle moment, in fact, you should make it an extended long weekend so you can take in and indulge in all Harrisonburg offers.  Get there early to enjoy First Fridays Downtown where over 30  venues participate in visual and performing arts.
Where to spend the night?  The recently opened Hotel Madison and Shenandoah Valley Conference Center is right where you want to be, on Main Street, with free, easy in and out parking for touring the region and short walks to all that Main Street offers.  A recent visit let me get up close and personal with their Executive Chef Mike Collins, whose CV is marbled with 4 and 5 star resorts stretching from Napa Valley, New Orleans and Texas. The hotel's main dining room, Montpelier Restaurant and Bar will be the showcase for chef's creativity, commitment to local products and farm-to-table cuisine.  The restaurant should be opening any day now.  Locals will enjoy chef's planned Sunday Suppers and the easy street access to the restaurant's coffee and wine bar.  Let me not forget Montpelier's offerings of craft cocktails and 8 to 10 craft brews.  The private party for the media at the Hotel Madison's Penthouse gave Chef Collins the opportunity to show off his culinary imagination, the chili oil drizzled pork rinds with the pimento cheese dip was one of the many standouts.
The food scene in Harrisonburg is rich with diversity of cuisines: Cuban, German, Italian, Indian, Thai, Japanese and more.  There are more than 40 locally –owned restaurants and 5 walkable breweries, a flavor and taste for everyone's palate.  A contemporary menu at Clementine, a restaurant and music venue loaded with local art was a fun lunch location for Southern inspired fried chicken sandwich with bacon, pimento cheese, lettuce and a cranberry-orange compote on a house made roll and a local cider, Bold Rock Virginia Draft Dry apple cider from Nellysford Virginia.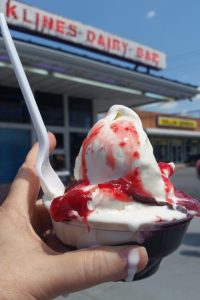 Just a couple blocks up Main Street and a right onto East Wolfe Street placed us at the Klines Dairy Bar, established in 1943, proffers old fashioned, continuous freeze method of producing a custard consistency ice cream. Three flavors only: vanilla, chocolate and the flavor of the week. Vanilla in a cup with cherries and hot fudge quenched my sweet tooth cravings.
Fine dining is only a couple steps away from the Hotel Madison at the historic Joshua Wilton House Restaurant and Inn. When there, my choice was the fish of the day, crispy seared branzino topped a panzanella salad.
Are bagels a must? Mr. J's Bagels and Deli is a short drive from Main Street and lunch just might be the Asian Cherry Glazed Brisket special from the Mashita Food Truck.  Want a good hamburger, in a funky, fun locale – Jack Brown's Beer and Burger Joint is just the place. Orders are put on a large metal clip that is slid across a wire to the grill cooks; burgers, fries and beer-that's the menu. The burgers, plain or go with specialty burgers like the Greg Brady (topped with mac n'cheese and Martin's BBQ potato chips), the Elvis (topped with peanut butter, mayo, Applewood smoked bacon and cheese) or Jack on Piggy Back (topped with a split and griddled hot dog, pickled jalapeno and American-cheddar blend cheese.) Great tunes in the background to get you bouncing in your seat and the burgers, not only taste terrific, they are reasonably priced.
South Liberty Street, close to South Main Street is the Turner Pavilion location, home to the Saturday's Harrisonburg  Farmers Market– baked goods, salad mix, eggs, flowers, teas, wine, syrup, candies, artwork, meats, coffee, sauces, ice cream, crab cakes and other numerous products.  The market is also open on Tuesdays through to Thanksgiving. Pick up that local jam or honey to bring a taste of Shenandoah back home with you.
Nothing is more American than a good slice of pie, and Harrisonburg is just that perfect wedge of what is best about small town America.  Love is the theme for Virginia in its many forms, come to the Shenandoah Valley, come to Harrisonburg and fall in love with the mountains, the people, and the arts – don't postpone the joy.
Additional tourism links:
www.VirginiasShenandoahValley.com
www.ShenandoahSpiritsTrail.com