WWE Raw marks milestone at Royal Farms Arena
Baltimore bashing Kevin Owens sends AJ Styles sailing over the ropes. (Anthony C. Hayes)
Rollins, Amore return; Owens, Jericho Qualify for Money in the Bank; Charlotte Ditches Nature Boy
Pandemonium prevailed last Monday night at Baltimore's Royal Farms Arena as World Wrestling Entertainment (WWE) returned with another exciting edition of Monday Night Raw. The near sell-out event, which aired live on the USA Network, marked the 1200th episode of the storied series and followed just 24 hours after WWE's Extreme Rules pay-per-view in Newark, New Jersey.
The event took-off compliments of Seth Rollins, who spent the last 7 months recovering from multiple knee injuries. Rollins made a brief return the night before, attacking Roman Reigns after his WWE World Championship defense against AJ Styles. Rollins, one of WWE's biggest villains the past few years, was surprisingly greeted with "Welcome Back" chants. Rollins soon stifled the chant, telling fans he didn't need them to regain the WWE World Heavyweight Championship, which he dropped following his November 4th injuries.
Roman Reigns entered the arena to confront Rollins, but was quickly overshadowed by Shane McMahon, who then booked the two in the main of event of WWE Money in the Bank on June 19th, where Rollins will get his shot at the title he never lost.
Raw was tightly packed with Money in the Bank (MitB) qualifying matches. As the name implies, the Money in the Bank match headlines the annual Money in the Bank pay-per-view. The match is a traditional ladder match where wrestlers attempt to secure a briefcase that grants them an opportunity to compete for any WWE Championship anytime they wish for the next 365 days.
The first MitB qualifier featured Sami Zayn and Sheamus. Zayn defeated Sheamus, dodging his Brogue Kick and knocking him to the floor ringside. Zayn set-up a Suicide Dive, but Sheamus punched his way out of it. Both men returned to the ring, where Zayn finished Sheamus off with a Helluva Kick in the corner. This will be Zayn's first appearance in WWE's premier ladder match.
Apollo Crews was shown in a backstage interview with Renee Young, promoting his MitB qualifier against Chris Jericho. Crews was blindsided by the enraged Sheamus mid-sentence, angry that he will not be competing in MitB this year. Sheamus was the winner of 2015's MitB, but was unsuccessful in his attempt to become WWE World Heavyweight Champion.
With an enormous cake in the ring, WWE Tag Team Champions The New Day came out to help fans celebrate the 1200th episode of Raw. The party was soon ambushed by the Social Outcasts, who then lost an impromptu 6-man tag against the champions. The scuffle concluded with Social Outcast member Heath Slater getting thrown into the cake, exploding all over even a few fans that sat ringside.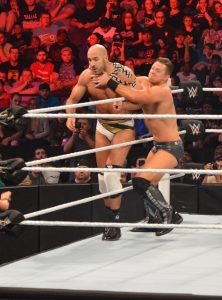 WWE Intercontinental Champion The Miz and Cesaro competed in the second MitB qualifier. The Miz spent a few minutes praising his Intercontinental title defense the night before. The Miz spent much of the match damaging the surgically repaired shoulder of Cesaro, who has been back in action for seven weeks. Despite the Miz's smart work, Cesaro's Neutralizer put him in 2016's MitB.
In another backstage interview with Renee Young, who spoke with Seth Rollins about regaining the WWE World Heavyweight Championship. More importantly, Stephanie McMahon appeared during Rollins' interview, displaying a rift between the formerly tight-knit unit of Steph and husband Triple H and Rollins.
Apollo Crews and Chris Jericho continued the show with their MitB qualifying match. Jericho made his way to ring covered in bandages following an Alabama Slam into a pile of thumbtacks the night before compliments of Dean Ambrose. Jericho attempted to lock in the Walls of Jericho, but Crews eventually grabbed the ropes. Jericho then went for a Lionsault, but Crews mistakenly kipped-up into it, rather than away from it. Jericho then finished Crews off with his Codebreaker. This will be Jericho's fifth MitB appearance.
Dolph Ziggler and Baron Corbin confronted one another in a backstage interview with JoJo. Ziggler criticized Corbin for winning their No Disqualification match the night before, but reminded him of who is wrestling to qualify for MitB.
Enzo Amore made his return to Raw, following a several-week hiatus due to a concussion suffered at WWE Payback May 1st. He hyped tag-team partner Big Cass's match against rival Bubba Ray Dudley of The Dudley Boyz. Bubba Dudley took shots at the Orioles before stepping into the ring; the Dudleyz, native New Yorkers,are Yankees fans. Duley was cleaned up nicely by Cass, ending the match with a Big Boot into the Empire Elbow.
WWE Women's Champion Charlotte severed ties with her father and manager, WWE Hall of Famer Ric Flair. Flair was ditched following her alliance with NXT call-up Dana Brooke. The younger Flair derided the elder for being on the road year-round as a child. Tired of being labeled "Flair's daughter," Charlotte declared her father as "Charlotte's dad," before sending him out of the ring and backstage in tears. The boos could have blown Charlotte into the Inner Harbor.
Dolph Ziggler's MitB qualifier finally went under way, going against Dean Ambrose. Ambrose snapped out of an early Super Kick quickly, returning with a nasty Clothesline. Ambrose eventually defeated Ziggler with Dirty Deeds.
A saddened Ric Flair was shown leaving the building backstage, shaking hands with Four Horsemen member Arn Anderson.
Before his MitB qualifier against Kevin Owens, AJ Styles took time to praise Roman Reigns after his defeat at Extreme Rules.
Styles had initially cast doubt on Roman, but now confirms Reigns is the real deal. Styles still maintains that despite the loss, he is the "The Phenomenal," not Roman.
Disappointed with his words, friends Karl Anderson and Luke Gallows came to criticize Styles, whom have continually begged to snuff-out Reigns despite AJ's wishes. Styles told the pair that though they are still friends, they should end their business relationship. Tired of AJ's denial, Anderson and Gallows high-tailed to make way for Kevin Owens.
The ring stairs made a huge impact in this match. Owens was lobbed into them early by Styles, but gave Styles his own taste of steel with a Powerbomb into the stairs. Owens evaded the Phenomenal Forearm by Super Kicking the ropes, eventually making way for a Pop-Up Powerbomb that made him the fifth 2016 MitB entrant.
After his victory, Owens took multiple jabs at Baltimore's fans. Owens then proceeded to call-out every wrestler. Roman Reigns answered, spearing Owens to finish off the show.
WWE Raw is live at 8 P.M. every Monday night on USA Network. WWE Raw will return to Baltimore September 12th, 2016. Pre-sale tickets are available via Ticketmaster until Friday using code "BALTIMORE." WWE Money in the Bank will air live on the WWE Network Sunday, June 19th at 8 P.M.

Having recently graduated from the broadcasting program at The Sheffield Institute for the Recording Arts, Jack Hash is working fervently to break into business of professional wrestling as a commentator. To keep his dream alive, Jack hosts a weekly podcast, Shooting Star Cast, where he satirically tears apart all the ridiculous happenings in pro wrestling, while singing the praises of the rays of sunshine that break through the clouds of the squared circle.