World Geography in a New York minute
My New York journalist friend Robert Walzer, who lives out on Long Island and enjoys a good pun — especially those involving the names of capital cities, states, obscure countries and ethnic groups — is always Tallinn me I should write about my experiences. Maybe he's got a point. I'm already 50 and Asian just a little more every year, and Sunni won't remember anything at all.
So all right already, here's Astoria too. On Friday, I traveled by bus from Bethesda up to the Big Apple to spend the weekend at Robert's place, since his wife, Ana, is in Mexico for a month and mine, Galit, is in Israel.
Obviously I would have preferred to take Dakar, but Gaza-leen is so expensive these days, and besides, the rush-hour traffic would have been Michiganeh, not to mention the pricey Valleta parking. So the bus it was, though after five hours of sitting, Djibouti really started to hurt.
Upon arrival at Penn Station, I was expecting hot weather, but it was pleasantly mild — actually a little Chile. On the way to Starbucks Kuwait for my buddy, I passed a wonderful New Delhi I had not seen before. I was quite Hungary and very much tempted to order a Turkey on Rye, but Beijing a vegetarian, I didn't dare.
At Starbucks, I thought about having a Danish, but decided not to since I don't want to have a Belgian waistline again. So I settled on a bagel and light cream cheese — the menu assured me Izmir-ly 380 calories. Anyway, sitting to my left was Amman — a short elderly Frenchman — happily Gabon away with his grandson.
Suddenly, without warning, the man knocked his iced Teaneck to me, all over the counter, soaking my camera bag and drenching my lap. I'm not making any Asuncions here, but I don't think it was intentional. Even so, he was completely oh-Bolivias to my situation and offered no help, not even an "excuse moi."
Kenya imagine the chutzpah of this guy?
"Jamaican me very angry," I said indignantly. "Montauk to me!" I was so mad I could break his Little Neck. I'd even Suffolk-cate the guy, then Woodbury him myself.
Yet I was determined not to let Antwerp like this make Afula me or Laos up my weekend.
Robert appeared right on time, and we walked back to Penn Station. Then our mutual friend Dave Marcus showed up, and the three of us strolled over to the Amtrak counter. Even though I hadn't purchased a ticket, the clerk allowed me to Czech my luggage anyway so I wouldn't have to schlep it all over Manhattan. The price was $4.50 per bag, Dublin to $9 since I had two bags.
"Do you plan to leave your stuff for more than two hours?" he asked. "Yes? Denmark your name and phone number on this tag and come back before we close."
Off we went to an Asian restaurant on 8th Avenue and 29th, but by then Bahrain had started, so I was forced Dubai an umbrella for the first time in my life. Since it was Robert's day off, we weren't Russian anywhere; in fact we had all afternoon to Kabul together an itinerary. (On my last visit here, we had dined at a Balkan restaurant, but the appetizer had been fried in way too much Greece, and the Serbice was terrible.)
"Bonn apetit," I said to my journalist friends. After a delicious salad with healthy vegetables like broccoli, Brussels sprouts, Lima beans and Cali-flower, and flavored with ginger root, Beirut, Oregon-o and other exotic spices, Dave said goodbye. I made sure to Thai my shoelaces so I wouldn't Tripoli sidewalk; "Taiwan at a time," my mom always advised.
On Norway out of the restaurant, Robert asked me, "So Larry, Tijuana visit some cool art galleries? It's all free today. We Congo anywhere you like."
Since we didn't have Taipei anything, I said, "Sure, why not, we have nothing Toulouse. It's certainly better than Lyon around doing nothing!" The 303 Gallery — located in Chelsea — turned out to be quite interesting, because of the colorful Marx Brothers artifacts and old political Khartoums on display.
Another gallery, the Gagosian, was starkly modern and in Prishtine condition — with black-and-white photos of naked rebels like Allen Ginsburg and Abbie Hoffman. Obviously the 1960s had its fair share of Queens. To be Syrias, all those pics of Little Dix didn't do anything for me; I wouldn't have minded glimpsing a Brest or two.
It was fun Peru-sing the exhibits, though some of them were so big Ukraine your neck just to view it all.
After Rome-ing around the galleries, Robert and I decided to catch Woody Allen's latest movie (part of which is in Italian). We waited our Turin and then went in. The film has gotten mixed reviews; some thought it was a Pisa shit, others said it was Nice. My opinion? It was rather Maine-stream, and we both found the Monica character so Hanoi-ing. Too bad Mr. Allen can't come up with more o-Riga-nal plots these days.
Unfortunately, back at Penn Station the baggage Czech was closed so I couldn't get my things. And without my charger, my out-of-date Mobile phone would Sendai.
Nevertheless, the best part of the evening was still Tacoma. As night fell, we boarded the Long Island Railroad. I was literally Flushing with excitement and Bremen with anticipation — Fiji-ting like a boychik about to get his very first Chinese massage.
With all the distractions, we missed our stop and had to walk back through an ethnic Korean neighborhood. But that's OK. Even though it was Erie and unfamiliar, at least the place had Seoul.
The massage itself was un-Belizeable. The parlor was a little second-floor walkup storefront, but not sleazy at all. It wasn't anything like Lahore house I was expecting. Again, I didn't have Taipei a dime since it was Robert's treat. The girl relaxed Mysore muscles and relieved all my tensions. Robert was getting his own massage in the next room over, but I wasn't tempted Topeka little. Not at all in fact, since I was Havana great time myself. Oman was she good. If I weren't married, I could have easily gone Tibet with her, even though she didn't speak a word of English.
It didn't matter: she could Babylon in Mandarin for all I cared. Before I knew it, my hour-long massage was over.
Early the next morning, I took the LIRR back to Penn Station and went to the baggage Czech. I gave the clerk my claim ticket, he consulted a Manila folder and handed over my stuff. That $9.00 was a real bargain; I didn't feel like Egypt me at all.
Stopping to get a shoeshine and Polish, I realized the 7:18 was about to depart from Track 19, so Iran as fast as I could, barely making it aboard. Upon arriving in Port Washington and with nothing to do, I walked around the town, taking photos of daily life.
An undocumented elderly immigrant was sitting on a park bench in front of the train station. "Vienna key," I suggested in my best Spanish. "¿De donde es usted?"
"El Salvador," he replied suspiciously. "I live here now, but Islip in the park."
On the other side of Main Street was a down-home Latino restaurant, where I was hoping to photograph the Spanish-speaking woman with a terrible Perm serving food at the counter. She was probably working under the table.
"Alaska permission," I thought, but then realized it would be better to consult the manager first, identifying myself as a travel journalist for a Hispanic magazine.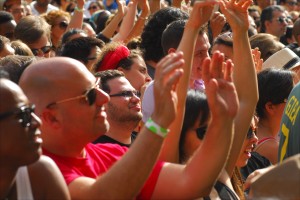 "Jew a reporter?" he inquired nervously, in broken English. "Israeli not a good idea. I could get in Eilat of trouble, Juneau what I mean?"
"¿Nome puedo tomar fotos?" I insisted. "Yukon not," the manager said firmly.
"Esta bien," I finally answered with regret, not wanting to Mecca big deal of it.
The day heated up quickly, and that afternoon, Robert and I reminisced a little about our ex-wives — my RVera and his RWanda.
But the real highlight of my weekend was the Brasil Summerfest in Central Park. Robert's daughter Fabiola joined us at this musical delight — along with her boyfriend — a talented young photographer named Balarama Heller who's trying to break into the business. Any Leeds I get for future assignments I'll han-Dover to him.
Flavio Renegado, Criolo and Bebel Gilberto all stole the show, though their rhythms were more like a rap than Iraq. Even so it was Rio nice, with the crowd numbering in the Brazillions. The only problem was we were schvitzing from the heat. Without sunscreen, I would surely get a sun-Berne.
All in all, Robert and I were Recifed very warmly by festival organizers, who gave us backstage press passes. I was particularly thrilled when Bebel closed her set with "Summer Samba," since that Tunis one of my all-time favorites.
By concert's end, it was getting very late, so I decided to have dinner with our friends Moshe and Alessandra, then spend the night at their place on the Upper West Side. Sunday morning back in Port Washington, I went to Starbucks, looking for a Freeport to plug in my dying laptop. I searched for 20 minutes, when finally a woman nearby pointed to an electric outlet that had been in Plainview all along.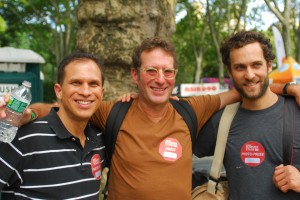 For breakfast, Robert made his famous banana pancakes with syrup. Believe me,
Maplewood have been enough, but the fact that it was 100 percent natural, from Vermont, was even better. However, my friend — a world-famous journalist — is not a very good housekeeper when left on his own. In a long phone call to his wife Sunday morning, all he did was kvetch.
"I'm not having any Lucknow," he complained. "The wireless Internet is down and there are flies all over the kitchen. I'm just a Guy Ana. What do you want from me?"
Sunday before leaving, Alessandra and I visited the Upper West Side flea market at 76th and Columbus, where I bought an antique fan for $50. The old Giza who sold it to me said it's a Zephyr Airkooler from the 1940s, though I can't vouch for her Accra-cy.
If there were more time, Idahoped to take a long bike ride or collect Seychelles along the North Shore. Iowanted also to visit Gracie Mansion, as well as the Brooklyn neighborhood where they filmed that hilarious '70s TV sitcom "Welcome Back Qatar."
But before I knew it, my weekend in the Big Apple was Ghana-ready, and I had Togo back to Maryland. That's OK, though. New York will always be there. So until next time, amigos … Abyssinia.

Larry Luxner is news editor of The Washington Diplomat and former editor of CubaNews. Born and raised in Miami and based in Bethesda, Md., since 1995, Larry has reported from every country in the Western Hemisphere. His specialty is Latin America and the Middle East, and he's written more than 2,000 articles for publications ranging from National Journal to Saudi Aramco World. Larry also runs an Internet-based stock photo agency at www.luxner.com.