Women are Faster than Men at Ultra Distances (195 miles)
Something interesting is happening in the world of running. As participation in traditional distance races has started to decline, the world of long-distance ultra running has been booming. 
In the past 20 years, participation in races over 26.2 miles has seen exponential growth with figures and graphs that look more like they came from the pitch decks of recent silicon valley tech startups than from the growth of an existing sport. 
RunRepeat.com wanted to know what was happening in the ultra world. They recently partnered with the International Association of Ultrarunners (IAU) and just published the largest study ever done on the sport of ultra running. They've analyzed 5,010,730 results from 15,451 ultra running events over the last 23 years. 
The findings detailed in The State of Ultra Running 2020, give a unique view into a sport that's been considered until now, a fringe niche within the running ecosystem. 
The key findings of this study point toward various trends that suggest as we start this new decade, more and more people are looking for a greater challenge. The marathon no longer is the penultimate event to prove your endurance might, and that ultra running is here to stay! 
One of the most interesting findings though is that women in ultrarunning close the gender pace gap with men seen at shorter distances and those female ultra runners are actually faster than male ultra runners on average at distances over 195 miles. The data shows that the longer the distance the shorter the gender pace gap. In 5Ks men run 17.9% faster than women but on a 100-miler the difference is just 0.25%.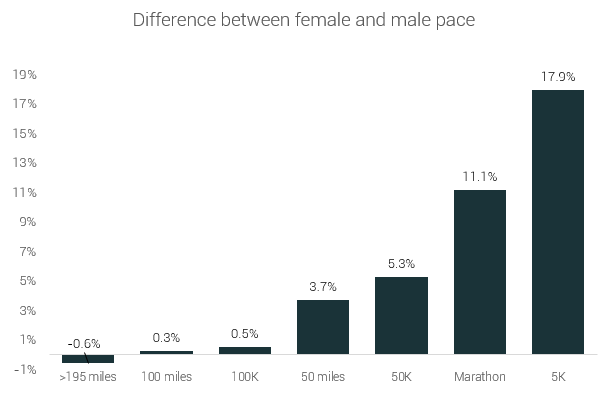 With this leveling of the playing field, RunRepeat also found that there have never been more women in ultrarunning, as of 2018, 23% of participants are female, compared to just 14% 23 years ago. 
Back to the growth of the sport, the study found that participation has increased by 1676% in the last 23 years from 34,401 to 611,098 yearly participations and 345% in the last 10 years from 137,234 to 611,098. There have never been more ultra runners.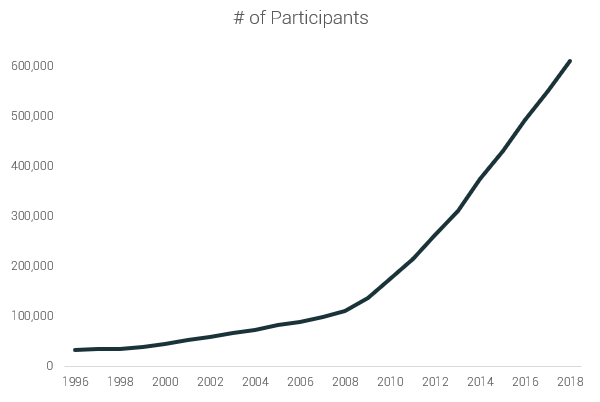 They also determined that more ultra runners are competing in multiple events per year. In 1996, only 14% of runners participated in multiple races a year, now 41% of participants run more than one event per year.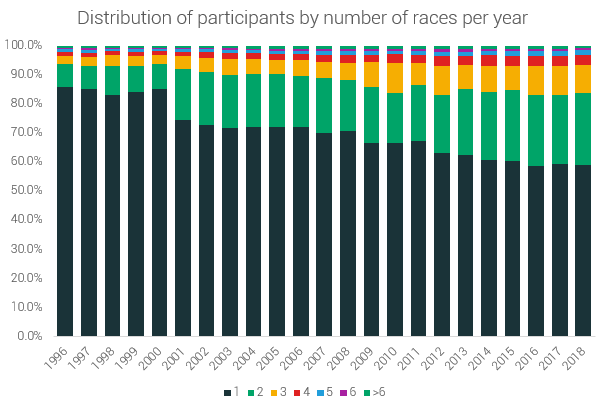 Some of the other key findings were:
Ultra runners have never been slower across distance, gender and age group. The average pace in 1996 was 11:35 min/mile, currently, it is 13:16 min/mile. The average runner has added 1:41 min/mile to their average pace, which is a slowdown of 15% since 1996. We don't believe that individual runners have become slower, but that these distances are attracting less prepared runners now because the sport is more mainstream.

The fastest ultra running nations are South Africa (average pace 10:36 min/mile), Sweden (11:56 min/mile), and Germany (12:01 min/mile). 

A record amount of people travel abroad for ultra running events. 10.3% of people travel abroad to run an ultra, for 5Ks this percentage is just 0.2%.
Runners in the longer distances have a better pace than the runners in the shorter distances for each age group. 

All age groups have a similar pace, around 14:40 min/mile. Which is unusual compared to the past and to other distances.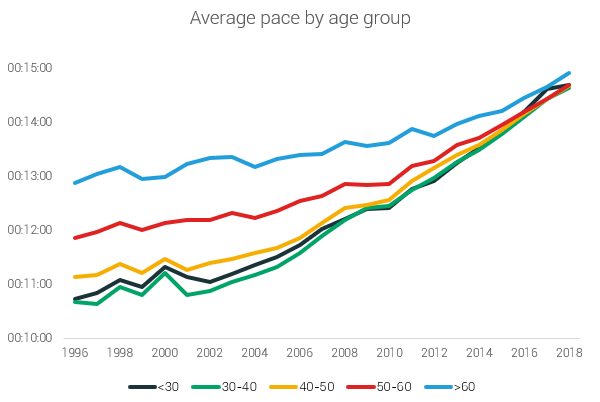 The average age of ultra runners has decreased by 1 year in the last 10 years. It has changed from 43.3 years to 42.3 years. 
While people start to make their sporting resolutions for the new year, it looks like running an ultra may be in the bucket list for those runners wanting to challenge themselves in 2020.  Ultrarunning has arrived as a mainstream sport, no longer is it just dusty trail fanatics, alone out in a remote canyon.
You can view the full study and its findings at: https://runrepeat.com/state-of-ultra-running

Paul loves adventure. Over the past 20 years, he has climbed, hiked, and ran all over the world. He's summited peaks throughout the Americas, trekked through Africa, and tested his endurance in 24-hour trail races. He has worked in the outdoor industry as a whitewater and hunting guide, gear tester, copywriter, and outfitting specialist at places like The National Outdoor Leadership School, No Barriers USA, and Sierra Trading Post. He has been quoted in NYMag, NBCNews, and Business Insider to name a few.