Trixie Little brings first-ever boylesque revue to Creative Alliance
Aussie boylesque star "Captain Kidd" will appear this Friday in Trouble in Stubble at the Creative Alliance.
What do you think of when you hear the word "boylesque"?
Old timers might laugh and wonder if you mean Milton Berle or Abbott and Costello. Newer fans may think of the comic antics of Paco Fish or Hot and Bothered.
But what burlesque show would be complete without body glitter and a carefully choreographed stocking strip?
Never mind that the artist is an athletic guy with a gruff disposition and a monkey suit. Or that another is an admittedly gorgeous tall drink of water in a spandex leotard and ladies high heels.
If burlesque is considered the purview of gentlemen, this Friday's show at the Creative Alliance should set misogyny right on its hairy rear, as Baltimore's own Trixie Little presents Trouble in Stubble: A Night of Boylesque.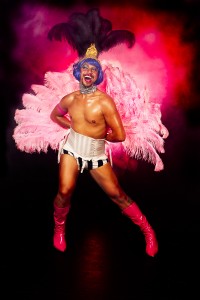 A new twist for the ecdysiastic arts in Baltimore, Trouble in Stubble will bring five international male burlesque stars to the Patterson stage for two testosterone fueled shows. Four of these performers have been recognized as the best at their craft by winning the prestigious Burlesque Hall of Fame Boylesque competition.
The lineup includes New York City's legendary "stripperformance" artist, Tigger! (2006 winner); Baltimore's globe-trotting sexy simian, The Evil Hate Monkey (2010); Aussie circus stunner "Captain Kidd" (2011), and the newest winner, Baltimore native Mr. Gorgeous (2014). Australian Fez Faanana fills out the all-male revue.
Shivannah, the Australian emcee and creative director of the all-male touring circus show Briefs, will handle hosting duties, along with Trixie Little. Ruby Rockafella kitten's the Aqua Velva drenched affair.
Little told the Baltimore Post-Examiner she has been gathering the seeds for this show for a while, but she credits Megan Hamilton, program director at the Creative Alliance, with the inspiration.
"I have written extensively on my blog about how inspiring I find many of my male burlesque colleagues, but it was actually Megan Hamilton's idea, so it was kismet! Also, I worked my connections really hard and have four Kings of Boylesque, which is almost unheard of. This a first for Baltimore, and I couldn't be more proud."
Getting five male performers of this calibre together may indeed be a feather in Trixie's cap. Little guessed that men make up less than 8% of the neo-burlesque talent pool.
"I can only think of a couple locally. In New York City, there are obviously lots more."
As mentioned, two of the stars have ties to Baltimore; and even closer ties to Trixie Little.
"Monkey is my husband, and we have worked together for over a decade. I know that we make our best art together. And Mr. Gorgeous is my best friend and acrobatic partner. All three of us are from Baltimore, we all went to the same circus school in Vermont, we all have a similar work ethic and we all share a similar warped sense of humor. They are my closest peeps."
"Tigger! (Don't forget that exclamation point!) is a NYC legend and was the very first King of Boylesque. Believe it or not, there was a time men weren't part of the Burlesque Hall of Fame. He's so many things – a radical performance artist, Shakespearian actor, librarian and amazing (often naked) human being.
"Captain Kidd co-founded the all male circus company, Briefs, that Monkey has spent the past year touring with. He's a fierce, second generation circus performer with a sick body and has a real love of trashy behavior."
That is if you consider a buff man in mascara and blue eye shadow "trashy."
"This show is really major," Little proudly added, "even by my own ridiculously high standards."
* * * * *
Trixie Little presents Trouble in Stubble this Friday night, June 20 at The Creative Alliance. Performance times are 7:30 & 10pm. Tickets are $20 ($17 for members). The Creative Alliance is located at 3134 Eastern Ave., Baltimore, Md. More information about this event may be found on Facebook or by visiting the Creative Alliance online.

Anthony C. Hayes is an actor, author, raconteur, rapscallion and bon vivant. A one-time newsboy for the Evening Sun and professional presence at the Washington Herald, Tony's poetry, photography, humor, and prose have also been featured in Smile, Hon, You're in Baltimore!, Destination Maryland, Magic Octopus Magazine, Los Angeles Post-Examiner, Voice of Baltimore, SmartCEO, Alvarez Fiction, and Tales of Blood and Roses. If you notice that his work has been purloined, please let him know. As the Good Book says, "Thou shalt not steal."