Paco Fish: Boylesque star brings wry wink to Workin' the Tease
Leading his own cheering section ~ the inimitable Paco Fish. (Stereo Vision)
When the curtain at the Lyric Opera House goes up tonight at 7pm for the MICA Exhibition Development Seminar project, Workin' the Tease: The Art of Burlesque in Baltimore, twelve of Baltimore's most scintillating burlesque beauties will be joined on stage by four male counterparts: Trixie Little's pseudo-simian companion The Evil Hate Monkey; the baggy-pants duo of Oliver Hot and Stanley Bothered; and a tall, thin balding guy with a cheese-puff fetish.
Meet Paco Fish: the man behind the helicopter hat and bright orange eye shadow.
Those who follow the antics of the comedic boylesquer know that Paco hit the road last spring for a nationwide tour appropriately called the Burlesque Vanguard. His return for Workin' the Tease marks only his second Baltimore appearance since setting out on his vagabond journey.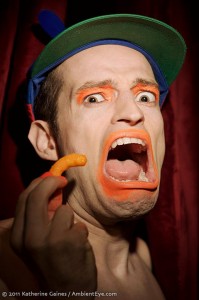 Paco grew up near Philadelphia in the Valley Forge/King of Prussia area. He moved to Baltimore a little more than a decade ago to attend college then stayed for work. Paco always had a knack for performing, but surprisingly, his entry into burlesque was somewhat accidental.
Like many other performers in the Baltimore Burlesque scene, Paco is a graduate of Trixie's Burlesque Boot Camp.
"I didn't want to do burlesque until about 4 weeks into the 7 week boot camp. To be honest, I had certain cultural preconceptions going in, so I was coming at it from a place of ignorance. I had also been somewhat jaded by some of the burlesque shows I had seen before. Turns out, I was just seeing bad burlesque. Anyway, I took the class because there was also a circus development aspect. I was doing stilt walking and juggling and thought the class would help me with performing on the stage."
"I was writing, but I'm not much of a writer. I'm a storyteller who was working in a writing medium. When burlesque came along, I realized this was the perfect medium in which to express myself. I was writing poetry and doing it live for the Stolen Heart Cabaret at the Copy Cat annex building. Suddenly, I could add a striptease component to the piece. That's pretty much where it started for me."
From there, Paco went on to immerse himself in Baltimore's neo-burlesque scene; becoming a fixture in shows around town – often with Trixie Little and the Evil Hate Monkey. That all changed – for a while at least – when Trixie and Monkey moved to New York.
"Trixie made burlesque in Baltimore. It was Trixie and Monkey, and the rest of us amateurs."
"When Trixie and Monkey moved to New York, there was a noticeable fall off in the quality of the shows here in town. To be honest, we all struggled for a while. It wasn't that the performers were bad, it was that we just didn't have the experience. Some people dropped out of the scene altogether; the rest sort of splintered and formed several different troops. I think that, by competing as we were for an audience, we pushed each other to do increasingly better shows. In the end, each group excelled in what they did best in their separate realms."
For Paco, that separate realm would be a troop he co-founded and wryly christened: Sticky Buns.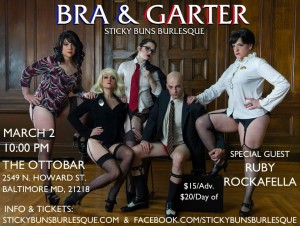 "Sticky Buns Burlesque was started with the idea of creating a team of performers who could work together to do shows which could weave a storyline into the stripping. We featured Marla Meringue, Roma Mafia, GiGi Holliday, ShortStaxx and (later) Sunny Sighed with Bal'd Lighting. I'm proud of those shows, especially the later ones. 'Strip Club Time Machine' and 'Bra and Garter' were dream shows. They exceeded anything I could imagine."
Similar to his view on the positive end-result of Trixie Little's departure, Paco sees the demise of the Red Palace in DC as a boon to the local burlesque scene.
"After a while, there was a sameness to the shows we were doing at the Red Palace. Same stage, same crowd; there just didn't seem to be any growth. When the Palace closed, suddenly performers started to scramble to find other venues, which created a kind of cross pollination between the Baltimore and DC burlesque scenes. You began to see more DC performers in Baltimore and vice-versa. Some even moved. I believe Hot Todd Lincoln lives here in Baltimore now. Again, it opened the doors for a growth in talent. It also weeded out some of the marginal performers."
I didn't ask who was weeded out, but wondered if Paco has a favorite performer?
"Sunny Sighed is amazing. From the standpoint of pure showmanship, she may be the most talented performer in Baltimore – which is saying something, because we have some great people performing here. Marla Meringue, Kay Sera; Miss Joule puts on fun shows in DC. I'm not a fan of (geeky burlesque sub-genre) Nerdlesque, but I'm also hearing a lot of positive things about Cherie Sweetbottom."
Paco waxed for a few minutes more about his talented Baltimore and DC area colleagues, then turned to the subject of his tour, his approach to his craft, and to the future.
"I came to Baltimore for school and work. This city shaped who I am. Now, I'm looking to see where life takes me. In showbiz, success is often measured in terms of notoriety, but I would be happy with steady work in obscurity. Fame is a means to an end, but it's a tool, not a goal, for me. As long as I get to be out there and can share, I am satisfied."
"The Vanguard took me to 39 states in 44 weeks. I left Baltimore for Boston/Cambridge to do The Great Burlesque Exposition and a tribute show; then headed across the northern part of the country – basically chasing nice weather – from there. The tour also took me to 3 provinces in Canada and to England for a show at the Double-R Club. Matt Frazier was a huge help in setting up that particular show. Burlesque is a tight-knit community. Everybody helps everyone else out. Doing a show out of town? Someone will offer you a bed or a sofa to crash on for the night. Of course there were girls. I fell in love five times on the road, but each time, I eventually had to leave. I just met some incredible people."
One of the incredible people Paco met was an auto mechanic in Gillette, Wyoming.
"I broke down and almost got stranded in Gillette. It was a Sunday – hot as hell – and I found a mechanic who also happened to be a mini-van fan. His favorite model was a '99 Chrysler; same as mine. Thankfully, he got my van into his shop and fixed me right up."
Paco said his favorite show was a Good Ladies Production in Montreal, entitled Bad Ladies and the Detective. Conversely, his low point was a show in New Orleans.
"Bad Ladies and the Detective was a multi-media / narrative burlesque show. Lady Josephine and Cherry Typhoon put the production together. An amazing show; very much in the vain of the scripted shows we used to do with Sticky Buns."
"The show I did in New Orleans was just the opposite. I was exhausted after a long drive and so many weeks on the road. There was a last minute change of venue which resulted in a poor crowd. I just wasn't there, either physically or mentally. I feel bad about that, but in show business you occasionally have nights like that."
Having traversed the country, Paco said his memorable slice of America is southern Utah. "The beauty is staggering. So far out of my reality. This may sound weird, but I actually got angry at it's beauty. I kept saying, 'You are not on planet earth.' It was just unreal."
"I also did a show in Tucson and I loved it. I'm thinking that may be a place where I could settle someday. The city and the burlesque scene there is growing. I'd like to be involved in that evolution. At least for the winter. I think I'd prefer the summers in Vancouver."
"Everyday while I was on tour I was living my dream. But the Burlesque Vanguard was only a teaser. Moving forward, working on the road will be my way of life. I'm taking a breather here in Baltimore, but I will be back on the road for the next eight months."
"Life on the road can be grueling, but I realized, while on a quiet hike near Missoula, Montana, that if I am true to myself as an artist and only one person comes to my show, I am true to my art."
"I should point out here that I don't consider Burlesque to be an art form. To me, it is a way of life – a perspective like Punk Music. It is freedom. You can do whatever you like. You can take a serious subject and make it trivial or treat the same subject with the utmost sobriety."
"Burlesque can take on a social aspect – challenge you to look at the world from a different point of view. When you can look at something as insignificant as a cheese doodle and make that the most important thing in the world, I think you've hit that nerve."
"Do you mean like a clown," I asked?
"Exactly. But the role of the clown in society is essentially missing. You don't have anyone today to play the court jester to the ills of our society. I do what I can with situations I personally find to be absurd. The cheese doodle bit is actually my way of dealing with my own eating disorder. I think I am getting better in that vain. I try to follow Doctor Lucky's rule # 1 ~ Do Your Research."
I wondered if that research meant looking toward any particular role model?
"When I'm asked about role models, I think about Harpo Marx and Buster Keaton for their clown logic. I'll look to Bill Hicks for his perspective; to Bill Cosby for his structure. I try to combine those elements into my act. But let's face it: with what I do, there is no one real role model for me. And nobody goes to a burlesque show to see a guy strip."
"Ultimately, I believe it's about finding your inner clown; finding your innocence. I haven't found that yet. But I'm still searching."
*  *  *  *  *
Paco Fish will be appearing on stage at the Lyric Opera House Tuesday April 22 at 7pm to kick off the opening of the Maryland Institute College of Art (MICA) exhibit Workin' The Tease: The Art of Baltimore Burlesque. Sean Scheidt's provocative burlesque transformations series debuts that night as part of the exhibition. The exhibit will run through May 7 at the Lyric Opera House, Cathedral St, Baltimore, Md. More information about the exhibit and the opening night burlesque show may found by visiting the WTT event Facebook page.
Valeria Voxx, Doctor Ginger Snapz, Maria Bella and Kay Sera will be appearing on stage at the Lyric Opera House Tuesday April 22 at 7pm to kick off the opening of the Maryland Institute College of Art (MICA) exhibit Workin' The Tease: The Art of Baltimore Burlesque. Sean Scheidt's provocative burlesque transformations series debuts that night as part of the exhibition. The exhibit will run through May 11 at the Lyric Opera House, 140 W Mt Royal Ave, Baltimore, Md. More information about the exhibit and the opening night burlesque show may found by visiting the WTT event Facebook page. – See more at: https://baltimorepostexaminer.com/sean-scheidt-burlesque-models-open-iconic-project/2014/04/18#sthash.PqbI3t1X.dpuf

Anthony C. Hayes is an actor, author, raconteur, rapscallion and bon vivant. A one-time newsboy for the Evening Sun and professional presence at the Washington Herald, Tony's poetry, photography, humor, and prose have also been featured in Smile, Hon, You're in Baltimore!, Destination Maryland, Magic Octopus Magazine, Los Angeles Post-Examiner, Voice of Baltimore, SmartCEO, Alvarez Fiction, and Tales of Blood and Roses. If you notice that his work has been purloined, please let him know. As the Good Book says, "Thou shalt not steal."