Celebritease brings Burlesque's best together for a worthy cause
In the mid 1950s, when rhythm bands rocked with the sensual sounds of the saxophone and women gloried in the gentle curves which nature bestowed upon them, Jennie Lee was one of the brightest stars in the world of burlesque.  Her skillful twirling of tassels was unsurpassed; her voluptuous figure (42D"–26″–37″), earned her the memorable moniker, "The Bazoom Girl".
Jennie Lee enthralled appreciative audiences, not only on the stage but also in movies and pin-up magazine spreads.  She even inspired a young Jan Berry and two of his high school friends – Arnie "Woo Woo" Ginsburg and Dean Torrence – to write and record a toe-tapping love song extolling her ample charms.  That song – Jennie Lee – reached number 3 on the Billboard charts, not only making the buxom beauty a household name, but also starting Jan and Dean on their own fabled ride.
Along with being a dedicated performer, Lee helped to found a union for burlesque dancers.  And she began collecting and preserving costumes, photos, and other memorabilia from her fellow stage stars.  Lee lived with the hope of someday creating a space to not only exhibit the artifacts but also to school a new generation in the classic burlesque tradition.
Lee's dream finally came to fruition following her untimely death at age sixty-one, when fellow luminary Dixie Evans led the effort, first to expand Lee's sizable collection, then to secure the contents and the space which now make up The Burlesque Hall of Fame (BHoF).
This weekend, burlesque performers and fans from around the world will honor Jennie Lee's dream and Dixie Evan's untiring effort when they gather in Las Vegas for the 2013 Burlesque Hall of Fame Weekend.  Joining the contemporary performers will be a group of living legends – retired artists who will participate in panel discussions, teach classes, sign autographs and may even perform.
To help bring these stars from a by-gone era to Las Vegas, more than twenty of D.C. and Baltimore's top burlesque performers came together recently at Washington's Bier Baron for Celebritease – a charity show to raise funds for the Burlesque Hall of Fame Weekend Legends Challenge.  The Challenge is an international fund-raising drive.  The goal is to help cover the costs of conveying the stars of burlesque's heyday to Sin City for the Hall of Fame Weekend.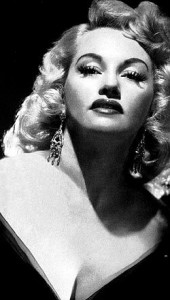 Celebritease featured an amazing array of talent, including burlesque comics and strip-tease artists, belly dancers, live music and more!  Adding to the fun was a raffle with prizes donated by burlesque performers and area businesses.
D.C.'s own Miss Joule and Malibu of Tilted Torch produced the show at The Bier Baron, and they also brought their own special brand of sultry to the stage.  Veteran hosts Hot Todd Lincoln and Shortstaxx were the evening's ribald tag team emcees.  Tapitha Kix and Deidre Cupcakes shared stage kitten duties.
Among some of the more delightful moments of the night were the seductive moves of local favorite Cherokee Rose and a titillating turn by the attractive and aptly named Cherie Sweetbottom.  GiGi Holliday turned up the heat while putting her capital G's in Go-Go, and the always entertaining Kay Sera breaststroked her way to more than one flailing swimmer.
After a short break from the bawdy fun, musical guests The Sweater Set serenaded the audience with several numbers of wry silliness.  Later in the show, Ruby Rockafella one-upped Malcolm McDowell with her sexy take on A Clockwork Orange. 
The remainder of the generous cast included:
Abby
Alyssum Pohl
Anna Steasya
Aurora Wells
Bona Fyde
Cherie Nuit
Lola Rose
Missy Aggravation
David Goody of Leesburg, Virgina walked away from Celebritease with two of the prize packages from the raffle drawings.  Goody's haul netted him a tarot card reading, two tickets to a local hot spot and memorabilia signed by both Dixie Evans and Dita Von Tease.
The evening paid off big for the Burlesque Hall of Fame Legends Challenge, as the event raised almost $1400.00 for the cause; a fitting way for today's performers to acknowledge the contributions of  yesteryears stars.
The Burlesque Hall of Fame is located inside Emergency Arts, at the corner of Fremont & 6th Streets in historic Downtown Las Vegas.  Information about the museum and the Hall of Fame Weekend may be found here.

Anthony C. Hayes is an actor, author, raconteur, rapscallion and bon vivant. A one-time newsboy for the Evening Sun and professional presence at the Washington Herald, Tony's poetry, photography, humor, and prose have also been featured in Smile, Hon, You're in Baltimore!, Destination Maryland, Magic Octopus Magazine, Los Angeles Post-Examiner, Voice of Baltimore, SmartCEO, Alvarez Fiction, and Tales of Blood and Roses. If you notice that his work has been purloined, please let him know. As the Good Book says, "Thou shalt not steal."