How to Train Your Dragon 2: Visuals and characters will astound you
3 out of 4 stars
The imagination and innovation that went into Dreamworks' How to Train Your Dragon in 2010 made the film one of the biggest surprises of that year, both in artistic achievement and box office grosses.  The blend of complex character relationships, beautiful animation technology, and fantastic creature designs led to its ultimate success.  A second film was truly just a matter of time.
Now that it has arrived, the sequel to the film adaptation of Cressida Cowell's books proves that the formula still has magic.  A solid voice cast, well-handled action sequences, eye-popping visuals, and a daring storyline make How to Train Your Dragon 2 an exhilarating treat for all ages.
Once again, "this is Berk".  The small Viking village once at the heart of an ongoing struggle between humans and dragons now finds itself a haven for both species some five years after the events of the first film.  Our hero Hiccup (Jay Baruchel) has begun to explore beyond the shores of Berk to map out other landmasses whilst upon the back of his adorably ferocious Night Fury dragon, Toothless.
Hiccup's love interest Astrid (America Ferrera) and he discover a band of dragon thieves led by Eret (Kit Harington), who himself answers to the ruthless clan chief Drago Bludvist (Djimon Hounsou).  Hiccup and Astrid join up with their fellow dragon riders (Jonah Hill, Kristen Wiig, Christopher Mintz-Plasse, and TJ Miller) to stop the thieves, but get sidetracked when Hiccup is captured by a mysterious dragon tamer (Cate Blanchett) curious about his motives and abilities with dragons.
The voice cast proved itself before, and has only improved with its new additions.  Blanchett fits right into the Viking crowd here and proves to be quite a strong voice actress.  Harington does so as well, proving he has some comic chops beyond his dramatic Game of Thrones flare.  Hounsou's intimidating resonance helps to complete the villainous image, but the lack of dimension in Drago's dialogue lets the skilled actor down in the end.
Baruchel shows incredible improvement as a voice actor here.  Whereas the first film called for an adorably awkward comic, here Hiccup has been granted some true dramatic weight and depth which Baruchel handles gracefully from start to finish.  It is a well-balanced, nuanced performance.
Writer and director Dean DeBlois (Lilo and Stitch and How to Train Your Dragon) still makes the relationship between Hiccup and Toothless the center of the story, a choice that paid off in spades once before and does once again.  The adorably dog-like characteristics of the massive dragons provide for so many opportunities to show an endearing pet/master relationship that effortlessly reveal stakes.  And the character development between films should not go unappreciated, as we see clear shifts in Hiccup's character as well as those in a few others.
If DeBlois could have improved anything, maybe he could have cranked up the volume on the dialogue's humor.  Huge sections of the picture take too much time with the drama of the story and sometimes are just plain dull.  That being said, when the drama goes big and takes huge risks with its target audience, it nails these scenes and creates some truly poignant moments in the picture.  Likewise, when the big laughs come, they come big and in ingenious ways.  The majority of the humor comes from the behavior of the dragons themselves, proving how a fantastic director can really be all you need to put together a solid comedy.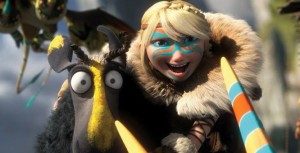 Dreamworks animation continues to show improvement when it comes to its visual effects and artistic animation.  The textures and silhouettes here feel incredibly real and stylistically apropos, and the dragons once again have been beautifully rendered by the art team.  Staying faithful to Cowell's vision, the staff still manage to put their stamp on the creatures with interesting body angles and shapes, creating new skeletal structures and interesting geometric combinations when it comes to body symmetry and form.
But the lighting is what truly gives the picture its genius.  Roger Deakins (Fargo and Skyfall) has become a go-to artistic consultant when it comes to animated cinematography and lighting, and his assistance truly helps the images pop here even without 3D to help.  The flying sequences once again make the best use of Deakins' skill, and DeBlois's direction in these moments shines.  The visuals only fall short in body movement and facial expression, both of which sometimes feel a bit forced in their attempts to match the delivery of the fine voice actors.
Dreamworks has always had its work cut out for it.  You can always place safe bets on Pixar's showings during Oscar season.  But let us not forget, the very first Oscar for Best Animated Feature went to Dreamworks' iconic pop culture/fairy tale mashup: Shrek.  Dreamworks has always been a contender where animation is concerned, and its Dragon franchise stands right at the top of its mountain of achievements.  The so-so script fades away next to the beautiful visuals and emotionally honest characters.  Buckle up and take a chance on this thrill ride.

Mark McCarver was born and raised in Houston, Texas and has been involved in theater and film since he was a kid. He spent the past few years acting and directing across Texas before moving to Washington, DC in the fall of 2012 to get a taste of the East Coast's entertainment industry. Mark holds a BA in Drama from Trinity University and trained at the Syracuse University – London Drama Program and Shakespeare's Globe. He is a company member with Half Mad Theatre in Washington.