Consider yourself forewarned: Cirque du Soleil's latest show isn't like anything the world's largest theatrical producer has ever assembled.
Toruk – The First Flight, which will play at Royal Farms Arena from June 8-12, focuses on telling a story instead of using words to bridge amazing circus acts that highlight shows such as Ovo, Amaluna, Joya and Varekai, which played at the arena last summer.
"This show is different," said Gabriel Christo, a 28-year-old Brazilian who plays Ralu and is in his fourth Cirque du Soleil show. "It's a experience with changes of scenery and characters you've never seen before."
Toruk – The First Flight is inspired by director James Cameron's 2009 blockbuster movie Avatar, which takes place on a moon named Pandora that's home to blue-skinned creatures known as Na'vi. But Cirque du Soleil's version takes place 5,000 years before the movie, as two young warriors — Ralu and Entu — try to save their people after a natural disaster threatens to kill the planet's lifeline, the sacred Tree of Souls.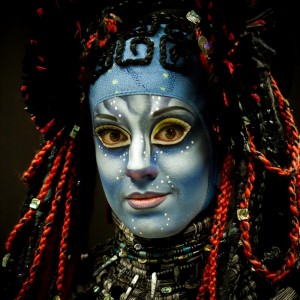 Still, the link between Toruk and Avatar, which generated more than $2.78 billion at the worldwide box office to make it the highest-grossing film of all time, shows Cirque du Soleil is trying to evolve into a another genre, one vastly different than basing shows on Michael Jackson and The Beatles.
"It's a lot more acting for me, which is challenging because I want the audience to believe I'm Ralu," said Christo, who had held mainly acrobatic roles since joining Cirque du Soleil more than seven years ago.
Toruk's set also distinguishes the show.
The Tree of Souls is 80 feet wide and 40 feet tall, and the total projection surface, which includes the stage floor, two lateral screens and the Tree of Souls, is about 20,000 square feet, which is more than five times the size of a standard IMAX screen. The show uses 38 video projectors — 22 for the stage floor, eight to send projections into the audience, six for the Tree of Souls and two for the lateral screens.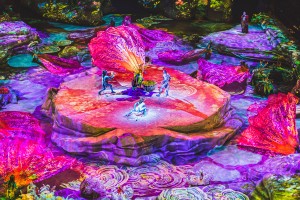 "The projectors are amazing because we can change the environment so quickly. We can go from a lava field to a rainforest in a matter of seconds," Christo said. "It creates a very immersive show for the audience."
Toruk has a 35-member cast, which is small for one of the company's shows. However, 115 costumes are used in the show, an average of 3.3 per performer. The costume department, which needed 437 yards of fabric and 120 fishing rods just to create the flowers for the Tawkami, created more than 1,000 pieces, including shoes and jewelry.
The Storyteller, voiced by Raymond O'Neill, narrates how Ralu and Entu try to save their civilization. The duo interacts with numerous Na'vi clans, with each specializing in a skill. The Omaticaya has gymnastics; the Tawkami has aerial dance and silk flying; the Anurai has balance; the Tipani has pole acrobatics; and the Kekunan is fantastic with kites.
"This is the first Cirque du Soleil show that uses a storyteller," said puppeteer Nick Barlow, adding the characters only speak Na'vi. "It's Cirque du Soleil, so of course there are amazing acrobatics. But the acrobatics are integrated into the story."
Since each clan resides in different landscapes, which include flowery fields to the desert, the constant changing of imagery to alter the terrain provides another element, as do the puppets.
"There are no hand puppets or finger puppets here – the puppets we use are massive," said Barlow, whose working on his first Cirque du Soleil show. "A lot of them involve more than one puppeteer to operate."
Cirque du Soleil's Toruk – The First Flight
Where: Royal Farms Arena
When: June 8-10 at 7:30 p.m.; June 11 at 4 p.m., 8 p.m.; June 12, 1 p.m., 5 p.m.
Tickets: $35, $50, $70, $90, $105