Thousands in Baltimore pay tribute to fallen Detective Sean Suiter
Part of the color guard at Mt. Pleasant Church to honor Baltimore City Police Detective Sean Suiter. (Michael Jordan)
Funeral services were held today at Mt. Pleasant Church in Baltimore for slain Baltimore City Police Detective Sean Suiter. Suiter died on November 16 at the University of Maryland Medical Center, after being shot in the head the previous day with his own service weapon.
The eighteen-year veteran of the department was 43. He leaves behind a wife and five children.
Suiter's death, after what police have termed as "a violent struggle" in a vacant lot with an unknown assailant, shocked an already beleaguered Baltimore City. His murder was the 306th homicide in Baltimore this year.
Suiter is the 137th Baltimore City Police officer to die in the line of duty since the department's inception — the 66th killed by gunfire.
Hundreds of officers from as far away as Chicago and New York joined Baltimore City Police and other Maryland jurisdictions in paying homage to their fallen colleague. Kilt-clad pipers and a full honor guard greeted the hearse, as it arrived at the packed church this morning.
Inside the sanctuary, police, parishioners and area clergy joined Suiter's grieving family. Dignitaries – including Gov. Larry Hogan, Mayor Catherine E. Pugh and Commissioner Kevin Davis – were also present to speak to the life of Officer Suiter.
After an opening prayer by Senior Pastor Bishop Clifford M. Johnson, Jr., Davis stepped to the lectern to offer condolences on behalf of the men and women of the Baltimore Police Department.
Noting Suiter's exemplary police record and his military service in Operation Iraqi Freedom, Davis said, "Sean never once stopped serving this city or his nation for his entire adult life, and not many people can say that."
Mayor Pugh, who was with the detective's wife as Suiter's life slowly ebbed away, said, "My heart grieves for Detective Sean Suiter and his family, but my heart also grieves for our city. Every day, we know that when a police officer leaves their home, the hearts and souls of their family leave with them. They come to protect and serve. They are our peacemakers."
Hogan began by extending his sympathy to the family on behalf of the people of Maryland, saying, "Almost two weeks have passed since a loving wife was robbed of her husband. And a father was taken from his five beautiful children. Two weeks since the officers of the Baltimore Police Department lost a brother and since the State of Maryland lost a hero.
"Sean dedicated his life to public service. Sean Suiter spent the greater part of his life serving others in unsafe places – in unsafe times. I know by the outpouring here today that Sean was well loved and well respected."
Marquis Suiter – one of Sean's five children – next delivered the moving poem, "As I Sit In Heaven", conveying ethereal words of comfort from his father to his mother.
As I sit in heaven
And watch you everyday
I try to let you know with signs
I never went away
I hear you when you're laughing
And watch you as you sleep
I even place my arms around you
To calm you as you weep
I see you wish the days away
Begging to have me home
So I try to send you signs
So you know you are not alone
Don't feel guilty that you have
Life that was denied to me
Heaven is truly beautiful
Just you wait and see
So live your life, laugh again
Enjoy yourself, be free
Then I know with every breath you take
You'll be taking one for me!!!
Speaking on behalf of Suiter's homicide unit, Detective Jonathan Jones remembered Sean as, "A good guy – a good person. That smile radiated as he walked through the door.
"Suiter had a special way of dealing with his family in the department. But once his tie went on, he was all business. He went out there and did what he did best – trying to bring peace to families."
Jones concluded, "I would be remiss if I didn't think about Psalms 23:4 – 'Yeah, though I walk through the valley of the shadow of death, I shall fear no evil.' The emphasis is on going through the valley of the shadow of death – not staying there.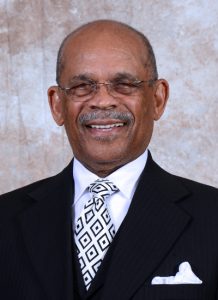 "We have a very particular job as a homicide family. We actually stay there in the valley – bringing out those who sometimes get lost. That's what Sean did – Sean was the epitome of that. His heart, his mind was dedicated to the work of bringing peace to the families. And now I say to Nicole and everyone, may peace be with you. Champ, we've got it from here."
Other family members and police colleagues spoke of their love and loss, before Bishop Johnson delivered his closing message.
Johnson said in part that he hoped the perpetrator of Suiter's murder would soon fall under the power of spiritual conviction.
"Sometimes people amaze me. They don't realize that they might get by but won't get away."
Turning to Suiter's faith, Johnson said, "The most important thing about his obituary is that he came to know Jesus. You may not believe this, but the safest place in the world is in Jesus Christ. I don't know a whole lot about being a policeman, because I've never been one, but I can tell you, in my mind, I would not be a policeman without being in Christ.
"If ever the city, if ever the state, if ever the nation needs believers like Sean – it's now. He could be the way he is because he had an intimate relationship with the Lord Jesus Christ. He was like the salt in the police department, as is evidenced by what we see here. He was the kind of man who was a man of integrity."
Following the service, Suiter's body was laid to rest at Dulaney Valley Memorial Gardens.
(See our photo story of Detective Sean Suiter's funeral)

Anthony C. Hayes is an actor, author, raconteur, rapscallion and bon vivant. A one-time newsboy for the Evening Sun and professional presence at the Washington Herald, Tony's poetry, photography, humor, and prose have also been featured in Smile, Hon, You're in Baltimore!, Destination Maryland, Magic Octopus Magazine, Los Angeles Post-Examiner, Voice of Baltimore, SmartCEO, Alvarez Fiction, and Tales of Blood and Roses. If you notice that his work has been purloined, please let him know. As the Good Book says, "Thou shalt not steal."