It is official, the celebrity chef known throughout the world, Gordon Ramsay, is in Baltimore today to open his first East Coast Gordon Ramsay Steak. The restaurant has filled in the Jack Binion Steak House space at the Horseshoe Casino.
Their spokesperson sums it up, "Acclaimed chef, restaurateur, TV personality and author Gordon Ramsay will be in Charm City to celebrate the grand opening of the first Gordon Ramsay Steak on the East Coast. Ramsay and Horseshoe Baltimore are bringing the renowned restaurant concept from Paris Las Vegas, where it has received rave reviews since opening in 2012."
Last night the restaurant was packed with local influencers (social media), writers and "city movers and shakers." Drinks were flowing, the ice sculptured raw bar was never empty and the passed hors d'oeuvres giving everyone a taste of Gordon Ramsay Steak's menu to come. Most impressive was the beef tartare that came out under a dome of smoke and then presented to the guests. Per my last look at their website, the menu has not been posted.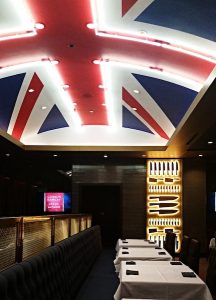 Obviously Chef Ramsay will not be in this kitchen cooking on a daily basis. Top toque goes to Chef Samantha Love, who previously headed up the kitchen at Johnny Sanchez, which was also located in the Horseshoe Casino.
The space has been updated though the bar area pretty much remains the same. The main dining room's ceiling is recessed and painted with the Union Jack. Glass wine cabinets are on both sides of the dining room entrance.
This is definitely a date night or high roller dining establishment with the average entrée price being $60 (per the website). As I type this, the menus are not on line as yet. They will be open for dinner service.
And as long as there is no baseball or football games at the Baltimore stadiums, parking is always free at the Horseshoe Casino
Level One – Horseshoe Casino
1535 Russell Street
Baltimore, MD