Andrew Connors probably takes the movie "Toy Story" more seriously than any other millennial.
"I've watched it at least 10 times and I've seen the second and third 'Toy Story' movies almost as much," he said. "I want to know every detail that's in the movie."
Connors' main focus was never Buzz Lightyear, Jessie, Hamm or Rex. It's been Woody, the toy sheriff who's been a mainstay in the trilogy that first graced the screen in 1995. Connors has studied Woody's every move so he could bring him to life for the past two-plus years in "Disney Live! Mickey and Minnie's Doorway to Magic, an interactive show that will play three shows at the Lyric Opera House on Dec. 8-9.
"It took a lone time to study Woody's movements because he's a doll and he's so lanky," Connors, 24, said. "I want to be true to the character so the audience can recognize him right away."
The audience will go on an unforgettable journey when Mickey Mouse, Minnie Mouse, Donald Duck and Goofy enter mysterious portals that take them throughout the Disney universe. They'll meet more than 20 characters, including Snow White and the Seven Dwarfs, Aladdin's Jasmine and Genie, Tangled's Rapunzel and Flynn and Cinderella.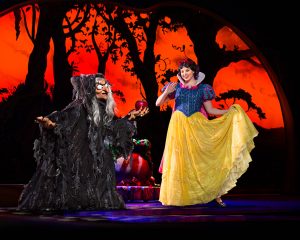 "This show is about bringing to life the magical places and moments that exist with the world of Disney in a very authentic and modern way," Alana Feld, the show's producer, said. "By using magic and illusions, we've reimagined iconic scenes and enhanced them, creating a great connection to the characters and stories for our audiences."
"Mickey and Minnie's Doorway to Magic" starts with high-energy choreography set to an original song "Magic is Here" and the show proceeds to treat the audience to an authentic take on Disney stories that have lasted for generations.
"What makes this show extraordinary are the adventures Mickey, Minnie, Donald and Goofy have every time they enter a different whimsical doorway and the amazing things they do in each world they visit," Fred Tallaksen, the show's director and choreographer, said. "One moment Mickey and Minnie are jumping rope alongside the Toy Story gang in Andy's room and the next they have traveled to Agrabah to unleash the power and comedic antics of Aladdin's Genie."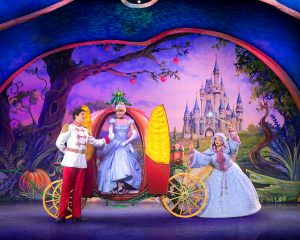 The 90-minute, two-act show is written by the brother-sister duo of Adam Wilson and Melanie Wilson-LaBracio, while Jim Steinmeyer created the illusions that make the show magical. His work is on display when Rapunzel and Flynn Ryder soar through a starry sky amidst the floating lanterns.
"When the Disney characters present the illusions rather than a magician, something special happens," he said. "Not only is the audience experiencing this genuine moment within the Disney stories, but the characters add to it with their presence and unique personalities."
Scenic Designer Christine Peters and Lighting Designer Sam Doty created a set that includes a 75-foot- curtain that bridges the different chapters, as the animation used by Walt Disney in its first animated featured show, "Snow White," is vastly different than what it used for its 50th, "Tangled."
"The design process always starts with a central idea," Peters said. "For this show, it was the image of doorways and the hints they give as to what adventures lie behind them. From the asymmetrical shapes of the doors themselves to the way the curved portals frame the stage, we are able to convey a fun-house vibe full of intrigue and excitement."
Connors said the show always remains true to Disney since it could be the first – and only time – audience members will experience Disney live.
"It was important for the costuming to be familiar but contemporary so it is relatable to Disney fans young and old," Leon Dobkowski, the show's costume designer, said. "The challenge with the ensemble garments is finding silhouettes and colors that balance the overall collection yet still provide an authentic representation of each story."
Connors, however, said the audience plays as big a part as anyone.
"Our show is very interactive with the audience because we want them to be part of the show," he said. "We want them to leave feeling they had the best time of their life."
If You Go
Disney Live! Mickey and Minnie's Doorway to Magic
Where: Lyric Opera House
When: Dec. 8 at 7 p.m.; Dec. 9 at 12 p.m., 3 p.m.
Tickets: $15-$40 and can be purchased via (800) 745-3000 or ticketmaster.com