There are of course a number of factors that make and keep a restaurant successful.
The most obvious is the food.
Next, you can add pricing, atmosphere and location.
But let's not forget one very important aspect of any restaurant, regardless of the type of clientele of how fancy it is: How about the people who not only own it and run it, but everyone there.
Think about it: When you enter most restaurants who is the first person you see?
That's right – the host or hostess.
The way you're greeted sometimes can set the tone for your entire visit. Were you ever greeted for example by someone who barely registers a smile or appeared like it was an effort to say good afternoon or evening? I know I have.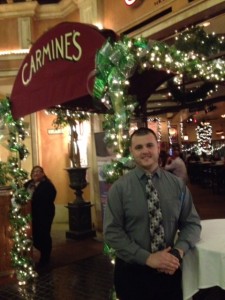 One time I asked my party to leave. And they did, though one person said she didn't care about the greeting.
Let's face it. Today, there are many restaurants from which to chose, meaning each one has to make that extra effort to make your visit pleasant and increase the chances of you returning.
If a patron only comes once, that is not the path to success.
So what I'm saying here is the people the restaurant hires is so important to the ultimate success of the business. I won't even get into talking about surly wait people.
All of this is for me to get a chance to thank three people who work at Carmine's in Atlantic City, where I dined recently after walking nearly a half mile to get there.
Carmine's is in the Tropicana and I was staying at a hotel way down the boardwalk. I decided to walk instead of taking a cab because it was a beautiful late autumn evening, in case you were wondering.
I'll begin with Robin Flores, who they call "mom."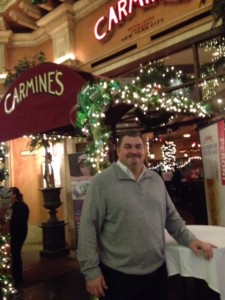 After watching her patrol the dining room I understood why. She has been there since the restaurant opened in 2004, when she was the oldest server and knew more than anyone there.
I'm sure she could easily run the restaurant today. She hails from Kenilworth, N.J.. and in now living 10 minutes away.  If she needed a job title it would be supervisor, host and server.  She told me
Carmine's "is home to employees and guests."
Next, we'll introduce Corey Herold, the bar manager who has been there for eight years. He opened the Las Vegas restaurant and trained in D.C. He also spent time at Virgil's Bar-B-Cue at 44th and Broadway in New York. He's definitely a Jersey boy living now in Egg Harbor City. He's 26, so most likely has a good future with the company. During my last visit, Corey came up to me and made sure I got a table and immediate service.
Finally, there's the assistant general manager Randy True. He calls Maine his home state. He has been with Carmine's for two years and is retired Navy. I guess that explains why he was wearing a sailor hat. He has worked in the restaurant business since 1997 with jobs in Cherry Hill and Myrtle Beach.
I asked some of the employees what they thought of him, and please don't tell him I did this, and everyone thinks he's a super manager.
He described Carmine's as "family in every way."
In short, this is a bustling place where no one walks out without a bag loaded with food.  ()

Eddie Applefeld is a Baltimore native and a graduate of Towson University. He has been in the broadcasting profession for over 30 years. Currently he is the Promotions Director of WCBM radio. Before that, he was part of the Rouse & Company show on WQSR, host of a cable TV show called Dining Out and adjunct instructor at Towson.
His past accomplishments include being named a finalist in Baltimore Tourism's Employee of the Year Program and winner of Toastmaster's Speaker of the Year contest. He was also twice a heartthrob for the American Heart Association's gala fund raiser.