'The Other Woman': A very enjoyable threesome
3 out of 4 stars
It's so easy to like The Other Woman, a chick flick that's so girly that tickets should come with cosmopolitans and appletinis.
Of course, women will enjoy this film. They'll be nodding in unison as Leslie Mann, Cameron Diaz and Kate Upton team to make their cheating's man life as miserable as possible.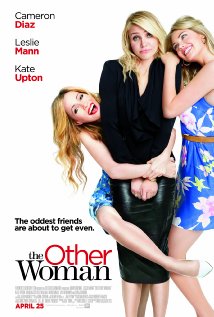 Guys will like it because…
They like watching movies with hot chicks.
They really like watching movies where hot chicks get drunk and act silly.
They really, really like watching movies where hot chicks get drunk and act silly – while in bikinis that cover up just enough to prevent the movie being rated NC-17.
Ladies will like it because…
The man whose sole purpose in life is to try to have sex with his hot, stay-at-home wife (Mann), his slutty, lawyer mistress (Diaz) and his oh-my-god-is-she-hot younger mistress (Upton) gets what's coming to him.
That man (Nikolaj Coster-Waldau), is well, hot, and rich, making it easy to see why women throw themselves at him.
It's a hilarious chick flick.
The phrase "hilarious chick flick" hasn't been used since 2011's" Bridesmaids," which proved there's a market for these films after it raked in nearly $170 million. And while Bridesmaids' Kristen Wiig, Maya Rudolph, Melissa McCarthy and Rose Byrne are funnier than the trio in "The Other Woman," there's a reason McCarthy and her friends weren't filmed in bathing suits.
Upton and Diaz, yeah, their pictures might appear in the dictionary if you looked up "hot chicks in skimpy bikinis."
"The Other Woman" embraces what it is. If you are going to be a film about sex and vengeance, than you have to cast women who play – and more importantly look – the role.
Diaz isn't embarrassed that she did the nasty with a married man 50 times in two months; she justifies it. Mann uses humor to mask the pain of giving up her career so her cheating husband can thrive in his. Upton is eye candy, but really, really sweet eye candy.
When you see her, you'll thank me for the head's up.
The plot is simple, but it's executed well and the movie flows throughout its 109 minutes. It's the classic story of good versus evil – the betrayed women against the evil, cheating man – that uses hair removal cream, dog saliva and laxatives as weapons.
"The Other Woman" is by no means a great film and it won't win any awards, though the way Upton looks in a bikini is worthy of an Oscar. But "The Other Woman" is a film that will make everyone laugh, which is exactly how the film is marketed.
Guys, there's plenty of chick flicks you want to avoid like a slobbering drunk girl at last call, but this isn't one of them.
Ladies, this is one's for you, considering what's playing now: a football movie "Draft Day"; a comic book film "Captain America: The Winter Soldier"; a computer dork saga "Transcendence"; an action-packed, shoot-em-up called "Brick Mansions"; and kid flicks "Rio 2" and "Bears."
Suddenly, there's no other choice than "The Other Woman."
You'll thank me in the morning.

Jon Gallo is an award-winning journalist and editor with 19 years of experience, including stints as a staff writer at The Washington Post and sports editor at The Baltimore Examiner. He also believes the government should declare federal holidays in honor of the following: the Round of 64 of the NCAA men's basketball tournament; the Friday of the Sweet 16; the Monday after the Super Bowl; and of course, the day after the release of the latest Madden NFL video game.