The Light Ekphrastic exhibit spotlights work from UMBC contributors
One of Baltimore's most intriguing virtual art projects is currently making a tangible appearance in Catonsville, as The Light Ekphrastic returns to the cozy David Mikow Gallery. The exciting new show – with an emphasis on contributors from the UMBC community – launched last Friday evening, February 19th, in the home-based gallery of UMBC professor Carolyn Forestiere.
Conceived and collated in 2009 (with a first issue debut in February 2010), The Light Ekphrastic is a quarterly online journal dedicated to the creation of new written and visual artworks through collaboration between artists. Last Friday night's opening event included several readings of the written word on display, along with informal discussions by artist/writer pairs about the ekphrastic processes they used to create new works inspired by the works of their partners.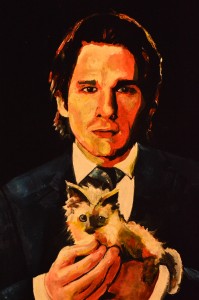 Series curator Jenny O'Grady told the Baltimore Post-Examiner she has been managing the project since day one. O'Grady said the chance to showcase the work in a non-virtual setting first happened in 2012.
"While working for UMBC Magazine, I interviewed the folks who own this gallery. They created this space as a place to show UMBC related art work. During the course of that interview, I realized that here was a chance to bring my online journal into the real world! It's funny, but that had never occurred to me before.
"This is our third show here at the David Mikow Gallery, and I'm very excited about the turnout. It gives people a chance to come in and ask the artists about the process. I'm also glad that events like this allow the artists and writers to come together and talk about the experience. In many cases, this is the first time the collaborators have had a chance to meet in person.
O'Grady said she paired everything on the gallery walls in a way that reflects which piece inspired the other. "As you walk about, what you see hanging on the left was the original work, and to the right is what the original inspired.  I think for the viewer, it's just easier to look at it that way."
Contributing artists and writers for the current show include: Elinor Abbott, Amy Arthur, David B. Bagwell, Dayna Carpenter, Juliana Converse, Melissa Cormier, Marlayna Demond, Jim Doran, Cheryl Fair, Katie Feild, George Hagegeorge, Mary Huddleston, Janet Little Jeffers, Mia Jordan, Christopher Justice, Dave K., Mandy May, Catherine Moore, Erin Ouslander, Carol Stephen, Prasanna Surakanti, and Gregg Wilhelm.
Poet/writer Christopher Justice spoke of his collaboration, with artist David B. Bagwell, on a piece called Circles and Squares – a poem re-imagined as a mixed media monoprint background with pen and ink.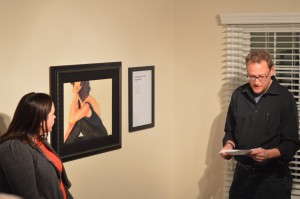 "One of the things which intrigued me about working on this exhibition," Justice began, "was knowing I would be paired with Dave. I knew he worked with many different strange kinds of art, and that he had these geometric things going on, so I gave him several of my poems to work with.
"As I reread the one he chose for this exhibition, it looks like there may have been an argument going on with a female where we didn't quite see eye-to-eye on something. Dave's art perfectly responds to that.
"Dave and I have done several other things together but never something like this, so this project has created a weird new chapter in our friendship. Who knows? Perhaps we could do this again at some point.
"Ekphrasis is a rhetorical concept which has been around for centuries. It goes back to the classical Greeks. I'll use it sometimes with students who are struggling. It's a good prompt to get them writing. I may use a song and get them to write about the music; a bit of photography – there is all kinds of media one can use."
For his part, Bagwell said he was elated to have taken part in the project. Pointing to the art, he noted, "Well, I got the squares and circles. You see where that comes in. The only thing I left out (of the drawing) was the bees."
After concluding his remarks, Justice capped the event with a reading of his poem, Squares and Circles ~
Squares and Circles
Where she sees circles,
I see squares,
and the window is closed,
so the hornets, wasps, and bees don't enter.
Where she sees triangles,
I see rectangles,
and the window is opened, slightly.
These hornets, wasps, and bees
seek a new Nectar,
and we're left to ponder,
like numb angels,
their intoxicating, zigzag flight.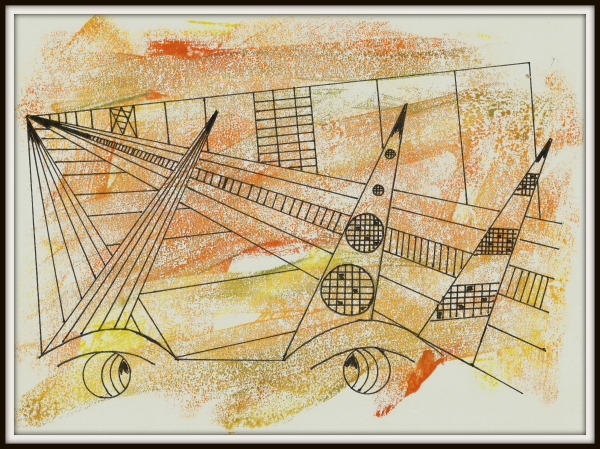 The Light Ekphrastic show runs now – April 10. The David Mikow Gallery is located at 1002 Vineyard Hill Road, Catonsville, MD 21228. Please note that the gallery is located in several rooms of a private home and is open by appointment by emailing Carolyn Forestiere. More information about the ekphrastic project – including a guide for artist and writer submissions – may be found by visiting The Light Ekphrastic.

Anthony C. Hayes is an actor, author, raconteur, rapscallion and bon vivant. A one-time newsboy for the Evening Sun and professional presence at the Washington Herald, Tony's poetry, photography, humor, and prose have also been featured in Smile, Hon, You're in Baltimore!, Destination Maryland, Magic Octopus Magazine, Los Angeles Post-Examiner, Voice of Baltimore, SmartCEO, Alvarez Fiction, and Tales of Blood and Roses. If you notice that his work has been purloined, please let him know. As the Good Book says, "Thou shalt not steal."