Magical Realism Tarot reveals the arcane artistry of Cheryl Fair
What does the future hold?
For photographer and filmmaker Cheryl Fair, the answer lies somewhere in her mystical past and in the magic she is currently calling forth in her studio. But this studio endeavor has nothing to do with candelabras or a crystal ball, unless such images just happen to appear on one of her enchanting new tarot cards.
Tarot cards – as a game of sport – have been around since the 1500's. But sometime in the eighteenth century, mystics and gypsies began using the cards as a means of divining the future. In the curious suites, occultists claimed they could discern intimate details of a client's life while explaining certain secrets as a way to guide a person along their journey.
When used for divination, the seventy-eight card Tarot deck is divided into two different parts (Arcana) which denote greater and lesser secrets. In the greater arcana, the Magician may represent action or aspiration; the High Priestess – love and intuition. In the lesser arcana, court cards – the king, queen, knight and page – carry items such as pentacles, cups, swords and wands. The key to esoteric tarot is in the revelation a participant gains from his or her reading.
Fair told the Baltimore Post-Examiner her interest in Tarot began as a child.
"I come from a family background of card reading. Both my mother and grandmother did card readings for people using regular playing cards. As a child, I used to watch my mother do the readings and was fascinated by it. She did not teach me directly, but I learned quite a bit by watching her. I bought a tarot deck when I was 18 and started practicing with that, learning more over time."
"When people hear that, they often ask if we were gypsies? The answer is no – we are a mostly Irish/European mix. I'm not sure where the tradition came from or if it started earlier than my grandmother."
Fair said she also studied astrology and wrote a monthly horoscope column called Asterisk for The Urbanite from 1996 until 2003.
"My interest in metaphysics has been lifelong and has influenced my art. And my photographs often have themes from mythology and feature depictions of various gods and goddesses."
Combining a lifelong interest with her art seemed only natural to Fair. But bringing the two together to create her own seventy-eight card Tarot deck took almost a quarter of a century.
"I've wanted to make my own tarot deck for years. I first attempted to do this in 1989, when I was working with film and mostly in black and white. I only shot one color photo in that series and I used it in this current project. It's the Empress photo of Juli Moon – an extraordinary tattoo artist. I reworked it digitally in 2014, to fit in with the rest of the new deck."
"The deck is called The Magical Realism Tarot. It's named after the art style that the images are in. Magical Realism is used most often to describe a genre of literature. The House of Spirits by Isabel Allende is probably the most well known example. It is also used for visual art. Magical Realism is where the fantastic is introduced into an otherwise mundane environment."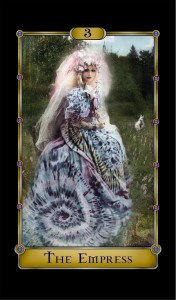 Some of Fair's "mundane" environments include her studio or her own backyard. The magic comes from transforming the images she captures there into something ethereal and enticing.
"I see beauty everywhere I go, and with the ability to change what I don't like in photoshop, it's pretty easy to get what I want. Some of the pictures are more like a 'green screen' sort of thing, where I shot it in the studio against a plain background and then added other elements, such as scenes that I shot other times, in other places. Sometimes, we would go to a place that is nearly right and I just added and subtracted elements. A few cards have elements that are from public domain images. Some scenes are from several locations – like I'll have the grassy field I shot in West Virginia in front of a forest I shot in Maryland and a sky that I shot in New England."
"Each image is a collage. One interesting example would be 'The Tower'. I shot the water tower in Roland Park, which is a fairly plain tower, and added lightning, flames and atmosphere. The people were shot outdoors, to get a similar light, but weren't really falling – and they were shot on different days."
While mulling over her tarot project, Cheryl Fair has enjoyed a noteworthy career. Her work has appeared in numerous publications, including the Washington Post and the Baltimore Post-Examiner. For a while in the 80's she had a "fairly steady stint" with the Baltimore City Paper. She has also contributed to art and music magazines, and her work may be found in a few books, including two books on graffiti art. Then, too, she spent years in the music business, making music videos, doing band promotion, managing bands, and running a recording studio.
"Of course, like most artists, I have had a wide variety of jobs. A couple of them were great. I was the executive director for Maryland Volunteer Lawyers for the Arts, from 2004 – 2007. And some not so great. I worked in a family portrait studio during the '80's. That was one of the weirdest jobs I ever had!"
Working so many jobs in the arts afforded Fair the chance to accrue a copious circle of contacts in the creative field. That circle is well represented in the broad range of people who have taken part in her tarot card project.
"Artists in Baltimore tend to work on each other's projects. We have an outstanding creative community here. I've had a great time working on other artists projects, just as they've worked on mine."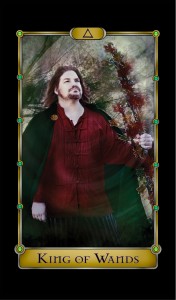 "Paula Millet designed the borders and backs for the cards and did the graphic layout. Paula has a background in museum exhibit design and recently finished a project for the Smithsonian African Art museum. Clarke Bedford created the metal sculptures that I used as the knights helmets and the 'Pentacle' in all the pentacle cards, and he made the art car that we used as 'The Chariot'. Clarke makes sculptures from found objects and is also a photographer, actor and an amazing multi-talented artist – he also worked as a conservator for the Hirschorn until last year. So two of the main contributors (and one of the models) have ties to the Smithsonian. Rae Beth Designs created the crowns for the Queens in the deck and for the headpieces on the Wheel of Fortune card. Rae Beth makes headpieces full time, for everything from weddings to films. Hollie Chantiles Shortino did the face painting on Death. Hollie is a painter who graduated from MICA and also runs Hive Artspace, a gallery in York, PA. George Hagegeorge – my husband – is a musician, record producer, and photographer who helped with some of the photo shoots. George did the proofreading for the deck, and was extraordinarily supportive throughout the entire process."
"The models are all creative people, too. When I started the project, it was just natural for me to work with the people who I'd worked with before, and since most of my work involves entertainment and the arts, the models came from that talent pool."
"For the models, I asked them to play a certain role, and if they said yes, I talked with them about the concept and their ideas for costume, hair, etc. If they weren't already familiar with the archetype, I would send them images of classic tarot cards and explain what I had in mind."
Most of Fair's models were completely at ease with the concept of creative transformation. A number, in fact, are popular performers in the Baltimore/DC Burlesque community.
"I knew from the beginning that I wanted Maria Bella (founder of Gilded Lily Burlesque) to be in it, and since she plays trumpet, I thought she'd be great as the Judgment card. When I asked her, it turned out that she was already doing a burlesque act with that theme, so it was perfect! I thought Nona Narcisse would be great for The World, for a number of reasons, partly because she is multi-racial – and gorgeous!"
"Mourna Handful was my first choice for the Queen of Cups, because astrologically she is a water sign. And she has the perfect look for the part. I wanted all of the Cups cards to have blue or green hair (to represent water) and Mourna's hair was already blue. I've worked with her so much for the past several years and I love her expressive eyes!"
Other burlesquers who appear in the deck include Kitty Bermuda as Temperance; Sophia Sunday, who posed with her real life fiancée Mark, as the Lovers; Little Luna (one of the founding members of Gilded Lily Burlesque who moved to New Orleans a couple of years ago) as the Page of Pentacles; and Nicole Reynolds, another former Gilded Lilly performer, as the Page of Swords.
"Nicole came up from Atlanta for the photo shoot in the dead of winter and walked barefoot on the frozen ground for the photo. I think we created a powerful image with that one, and she said it was worth it, but at the time I felt bad that I was asking so much of her."
Along with the burlesque performers, Fair said the deck includes dancers, musicians, actors, tattoo artists, a talented hairdresser, a martial arts master and an improv comedienne. Some of the musicians, for example, are Baggypantsrich (The Fool), Brian McGarvey (The Heirophant), Chad VanPelt (King of Pentacles), Jeff Holland (King of Swords), Chris Ciattei (The Devil) and John Irvine (one of the Devil's slaves).
In one case, the project turned into a family affair.
"Orlagh McKenzie, a young ballerina with a bright future, plays the Page of Cups. She's a senior at Carver, the high school for the arts in Baltimore County. Her sister Anlara, who plays Strength, is also a dancer, but is now in college. Anlara played The Sun in a music video that I made when she was two years old, and now I got to work with her again as a young adult. Anlara and Orlagh's parents, Tracy (The Star) and Harry (the Hanged Man) are also in the deck. Tracy is a very talented hairdresser and craftsperson, and Harry is a martial arts instructor and musician. I had asked Harry to do the part of the Hanged Man back when I was shooting the series on film. He said yes, but we didn't ever get to do the shoot. It was interesting to do it so many years later. Harry has a great understanding of the Odin myth that's depicted on the Hanged Man card and was perfect for the part. The only member of the McKenzie family who wasn't in the deck was the youngest, Calum, who was simply not the right age for any of the parts."
Fair also appears in the deck, perhaps fittingly, as the High Priestess.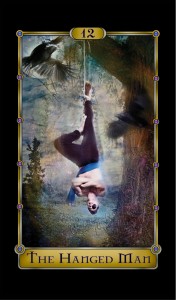 "Someone else was supposed to play the part but changed her mind at the last minute, so I decided – after much encouragement from my family and friends – to play the part myself. It was more fun than I would have expected it to be, and I had help from my husband, who actually pushed the button on the camera once we were all set up; and Brandon Rohrbaugh (the falling man in The Tower card), who assisted with the costume and props."
"It takes a certain selflessness to model for a fantasy image, because the model is giving up their own identity, so that they can portray a character. It is more like acting than modeling. I'm easygoing during the shoot and I like it to be playful, because the images will have better facial expressions and body language. Once I'm working on the image by myself, in post-production, I am a stickler for detail and feel completely responsible for the final outcome."
The final outcome – Fair's completed tarot card deck – will be available in time for Christmas, but only for those who contribute before November 1 to the project's Kick-Starter campaign. After the first of the New Year, the cards will be offered to the general public at her Etsy store, through independent bookstores and gift shops and at the Magical Realism Tarot website.
Fair said some of the people in the project use tarot as a meditative device, adding that she and Little Luna also use the cards for readings – by appointment only.
With so much sorcery, this reporter wondered if either Fair or any of the others involved had any mystical experiences while cultivating this project?
"Only the natural magic that comes from artists working together," she laughingly explained.

Anthony C. Hayes is an actor, author, raconteur, rapscallion and bon vivant. A one-time newsboy for the Evening Sun and professional presence at the Washington Herald, Tony's poetry, photography, humor, and prose have also been featured in Smile, Hon, You're in Baltimore!, Destination Maryland, Magic Octopus Magazine, Los Angeles Post-Examiner, Voice of Baltimore, SmartCEO, Alvarez Fiction, and Tales of Blood and Roses. If you notice that his work has been purloined, please let him know. As the Good Book says, "Thou shalt not steal."