Pink Talking Fish beautifully combines 3 iconic bands
After a two-and-a-half-week hiatus from their winter tour, Pink Talking Fish is back on the road, making a stop Wednesday at Rams Head Live in Baltimore.  The area's flash flooding prior to show time prevented many fans from making it on time – my headcount for the opening song, Momma Dance was somewhere in the 30s. But the venue filled to a respectable crowd as the first set progressed through Nothing But Flowers.
When I first heard of this band my initial reaction was "huh? How is this even possible?"  The band – Eric Gould on bass, Richard James on keyboards, Zack Burwick on drums and Dave Brunyak on guitar – performs a fusion of the music of Pink Floyd, Talking Heads, and Phish. Can three bands this diverse even exist musically on the same stage?
Yes, they can, and Pink Talking Fish brings it off quite well in a high-energy and well-played performance.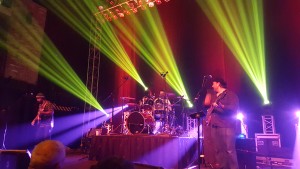 The three-and-a-half-hour show moved between the three bands' catalogs evenly and reflected a balanced intensity and quality of musicianship.  I tried to discern who was PTF's special child and couldn't declare a winner.  The second set opening sequence of Run Like Hell > Ghost / Your Pet Cat> Burning Down the House was perhaps the best representation of this shifting favoritism. The Floyd song was menacing, driven with a crack shot snare drum from Burwick, the Phish song with Brunyak's inspired soloing skills, and the fantastic funky groove laid down by Gould and James on Burning (which also had one of the night best mid-song jams), all showcased the band's abilities and kept fans engaged and eager to see where it would lead to next.
The sequencing also worked well through a flowing first-set progression of Have a Cigar> Divided Sky > Once in a Lifetime>Divided Sky. Have a Cigar was beefed up with a funkier base line than the original while retaining the lyrical cynicism, and the Talking Heads classic sandwiched beautifully between the Phish jam like it should have been there all along. The second set mash up of Sheep>AC/DC Bag > Sheep seemed to be the only weaving that didn't have some natural transition into and out of each other.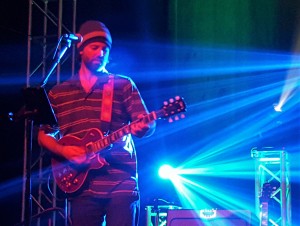 Sheep's relatively quiet mid-point keyboard section jumped into a high energy Phish interlude, then dropped right back into the mellow Floyd section a few minutes ahead of where the song rebuilds to its crescendo. Pushing the transition back into Sheep to where the lyrics resume would have been a bit more seamless.
The second set concluded with the band thanking everyone for braving the storm to come out, with James joking "This one's called Blame it on the Rain" before jumping into Phish's Bathtub Gin.
The encore consisted of Wish You Were Here and Character Zero.
Set 1: Moma Dance>Nothing But Flowers, Have A Cigar>Divided Sky>Once In A Lifetime>Divided Sky, Mother, Timber Ho>Cross-eyed And Painless
Set 2: Run Like Hell>Ghost/Your Pet Cat, Burning Down The House, Money>Maze, This Must Be The Place (Naive Melody), Sheep>AC/DC Bag>Sheep>The Great Curve, Bathtub Gin
Encore: Wish You Were Here>Character Zero

Chris Swanson is a live music and sports fanatic and a long-time Maryland resident. He holds tightly to what some consider an unreasonable affection for the Baltimore Orioles and older music venues. Chris has a Communications Degree from the Franciscan University of Steubenville.