'The Happytime Murders': Puppets, Porn, Profanity
2 out of 4 stars
If the late, great Jim Henson were alive, he'd be fuming at what his son, Brian, has done to his beloved Muppets.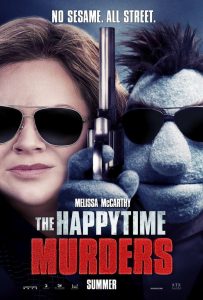 Henson, who dedicated his career of turning Kermit the Frog, Miss Piggy and Gonzo into some of the world's most recognizable characters, probably never could have thought that his own blood would have turned the furry monsters into profane, sex-crazed, drug-addicted criminals.
Muppet purists, take a breath: All of your lovable, child-friendly pals don't appear in "The Happytime Murders," an R-rated film that defines mediocrity, provided you are into hardcore sex, gruesome killings and enough f-bombs that would make "The Wolf of Wall Street" proud.
Somehow, Brian Henson thought it would be a good idea to direct a movie about the city of Los Angeles where puppets and humans coexist, albeit with people treating the creatures like second-class citizens.
Presumably, Jim Henson never envisioned a movie where a puppet octopus milks a cow to orgasm and has a rabbit addicted to chicken porn. He probably also didn't think Brian would have puppets passing out after snorting sugar – aka puppet cocaine – and getting wasted on maple syrup – aka puppet alcohol.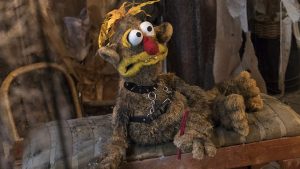 Finally, would Jim want the world to see puppets getting blown to stuffing by shotguns and ripped apart by lap dogs who mistake them for chew toys? If you think so, see "The Happytime Murders," a raunchy comedy that falls about a six-pack short of being as vulgar as "The Hangover."
The movie centers on a blue-skinned former cop – now a private investigator – Phil Phillips (voiced by puppeteer Bill Barretta) and his ex-partner, L.A. detective Connie Edwards (Melissa McCarthy). Phillips was the first puppet to become a police officer, until a fatal mistake got him fired and ruined his relationship with Connie.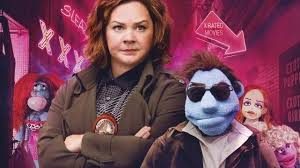 The once-close partners engage in insults as they are forced to work together to find who is killing puppets who once starred in a hit TV show, including Phil's brother, who is a victim of a violent demise.
While Phil and Connie hunt the killer, he's approached by a client/love interest Sandra (Dorien Davies), who is a cross between Jessica Rabbit and Sharon Stone in "Basic Instinct."
The movie is a series of crude, lewd examples of puppets behaving badly to attract cheap laughs, which it achieves, at times. But there's a limit to how much nonsense an audience can take.
By film's end, this much will be clear after you spend 90 minutes in the theater: you'll never look at licorice or silly string the same way again.

Jon Gallo is an award-winning journalist and editor with 19 years of experience, including stints as a staff writer at The Washington Post and sports editor at The Baltimore Examiner. He also believes the government should declare federal holidays in honor of the following: the Round of 64 of the NCAA men's basketball tournament; the Friday of the Sweet 16; the Monday after the Super Bowl; and of course, the day after the release of the latest Madden NFL video game.