The best bands you haven't heard: About
I'm early to BloomBars, a community arts space in Northwest D.C., giving me a chance to speak with John Chambers, just one of the many dedicated people who make this space a reality.
"The show is going to be awesome, the bass sounds amazing!" he promises.
A great introduction to a band I have never heard of.  Since we are early, my friend and I are invited to sit inside before the show starts.  While we wait, we speculate about the show, and await the arrival of the band.  There are more signs of a promising show, the band has set out fortune cookies that hold a link to download their album.
Seriously, that is genius.  As we wonder what the band will be like, who we think are more spectators enter the room, looking bright and excited for the evenings musical experience.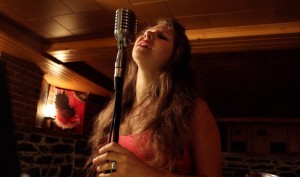 It turns out that these would be fans are the band, About:, the Montreal based trio consisting of Barbara Flnck-Beccafico, Laurent E. Malo, and Michéle Bernier.  They immediately come and introduce themselves, and it feels more like we are being introduced by mutual friends rather than meeting for the first time.
It is their first time playing in the States, which makes sense as they have only been a band for six months.  This fact becomes more and more surprising as I learn how together their entire concept is.
The trio value the experience of life, how "we're going to change, to evolve, to grow up and learn", and they want that change to be expressed in their music.  This is the inspiration behind their tetralogy, four short albums of four songs released over a year period as opposed to a single LP.  Each short album is inspired by one of the Four Noble Truths of Buddha, and it give About: the opportunity to "compose in the present feeling, and not over analyze".
Then there is the music.
About: is accompanied by projected images created by Malo, and the combination of audio and visual is consuming.  The microphone of Flnck-Beccafico is a beautiful throwback from the 1930s, a gift from her father, she tells us from the stage.  Behind the microphone, she looks like a modern Edith Piaf.
Supporting the vocals, Malo stands in control of his guitars and Bernier inexplicably builds walls of sound with her simultaneously playing keyboard and drum machine.
As the show goes on, it becomes more and more difficult to tell whether About: is playing in front of 10 or a thousand people.  Malo moves without inhibition, and its hard not to feed off his energy.  Next to Flnck-Beccafico, the show takes on a classic-rock vibe.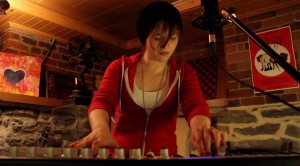 But with Bernier in the mix, the show takes on an distinctive and unique feeling.  Steering the ship by providing the bass, keys, and drums, Bernier seems to hold the whole production together. It is a real treat as the show goes on to see her join her bandmates in their energetic movements.
Self described as Psyche-Folk Lo-Fi, About: tries hard not to limit the description of their sound, hoping that their "sound would invent itself."  They list Bjork and Radiohead as major influences and both seem fitting.  Their music is very expansive and full, layered with dream-like keys, deep bass.  It pairs perfectly with the grounded, earthy guitars and vocals, creating a sound that is both familiar and new.
The first of their four short albums, Dukkha, is available for download now on the band's website.
Bryan Flynn is a recent graduate of the University of Maryland where he studied English and American Studies. Living in Washington DC, he spends his nights behind a local bar, as well as works with a local arts space to book shows and bring people together through music and art.