Stanford Kitchen: Hitting the right notes in Owings Mills
The made-from scratch offerings from the new Stanford Kitchen at the Boulevard College Center are hitting the right notes.  What was the former Stone Cove Restaurant, located in close proximity to Stevenson University; the Blueridge Restaurant Group has hit the bull's-eye with the redesigned space, service and American classic dining options.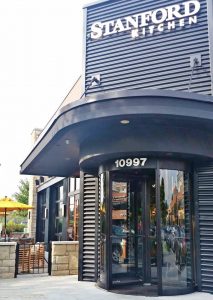 My companion, who had previously eaten in Stanford Kitchen, and I dined early. When we arrived, the bar was filled with businessmen, the garage-styled doors were rolled back to the al fresco dining patio and there were a few parties seated in the main open-kitchen dining room.  By the time we finished having dinner, the dining room and al fresco patio were full of patrons.  The restaurant has in a short time, accrued a loyal and repeat following. In fact, they have a loyalty reward program for those who dine at any of the Blueridge Restaurant Group Restaurants; Stanford Grill, Stanford Kitchen, and Copper Canyon Grill.
Having dined at the mother ship, Stanford Grill, in Columbia, I can say they continue to follow suit with generous portions for fair market pricing. You can dine simply with a Crab Cake Salad or Chopped Veggie Salad, the Stanford Cheeseburger of grilled Angus beef, Monterey Jack and cheddar cheese or your choice of the day's featured sandwich.  Indulge in the entrée selections like the Wood-Fired Rotisserie Chicken, Salmon or the Barbecue Pork Ribs with french fries and coleslaw.
Wanting to sample one of their specialty cocktails, we indulged in the Peartini – pear vodka, amaretto and house-made sour mix – a pear lover's dream for sure.  The wine list keeps mainly with the restaurant's American theme with numerous by-the-glass and bottles of California wines with a few selections from New Zealand and France.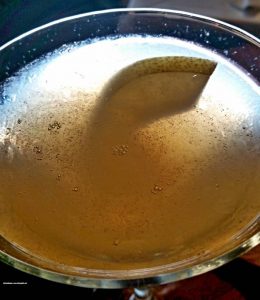 Our meal started with the House Salad with goat cheese and Caesar Salad – both came with Stanford's wedge of jalapeno infused cornbread.  My companion was angsting whether to get the rotisserie chicken again; she had enjoyed it during an earlier visit or try something new, the salmon which came with tabbouleh.  Salmon was the choice and she was quite pleased.  I opted for the 10 oz. Prime Rib, suitably paired with smashed potatoes, au jus and horseradish sauce.  The prime rib was too much for one sitting, they started a to-go box with a fresh au jus.
Service staff are well trained and each back up each other's tables for better than usual service. Considering how unbelievably tough it is for restaurants to find capable staffing nowadays, we were pleased with the service.
Dessert you asked?  The portions are huge, did I say HUGE, yes, I did, and reasonably priced at seven dollars. Though the dessert menu is limited to three offerings, you won't go wrong with made-in-house key lime pie, bread pudding and the chocolate sundae.  Do consider sharing a dessert, they are easily sufficient for two with sweet tooth cravings.
The menu on line is not the exact one we received that evening, but it will give you an overview of offerings and pricing.  They are open seven days doing lunch and dinner.
Even though we were guests of the Stanford Kitchen, I would go back on my own dime and I don't say that often.  Stanford Kitchen will become, if not already, favorite from residences and workers in the area.  There is plenty of free parking.
Stanford Kitchen
10997 Owings Mills Blvd
Owings Mills, MD  21117
410-902-1000

For Dara Bunjon if it is food, Dara Does It, in fact, that is the name of her company which offers creative solutions for the food industry the likes of public relations, marketing, social media, cookbook compilations, food styling, culinary events, networking and freelance writing. You will now find Dara applying her broad range of culinary skills as a food stylist for television chefs/cookbook authors the likes of Steven Raichlen, Sara Moulton, Nick Malgieri, and Nathalie Dupree. Dara Bunjon lives, eats, dreams and writes about food and isn't hesitant to share her views and experiences about restaurants, culinary trends, recipes, cookbooks or even her childhood food memories. She has been on the food scene for too many years to mention. Known both in Baltimore and nationally, Dara Bunjon is a former member of Women Chefs and Restaurateurs' national public relations committee.
In the past, she has written for Style Magazine, Foodservice Monthly, Mid-Atlantic Restaurant Digest, Urbanite and other sundry publications. Since 2004 she has maintained an award-winning food-related blog called Dining Dish. She co-authored her first cookbook Yum! Tasty Recipes from Culinary Greats in association with Studio Spear. And has written Baltimore restaurant reviews for Gayot.com
Dara believes food is subjective; everyone's taste is different and she enjoys bringing you to her table to commiserate and enjoy lively discourse.
Considered one of Baltimore's food influencers, you can follow her on Twitter and Instagram @daracooks.