Sex Tape lacks logic as well as humor
1 out of 4 stars
We all know what today's funny men and women can do on screen.  The idea that filmmakers will depend on these talents to make up for creative shortcomings instead of using those talents to enhance material sounds lazy because it is.  Sex Tape takes some of Hollywood's biggest comic actors, places them in a confused, nonsensical situation, and asks them to make magic.  The resulting film is dull and humorless, despite the actors' best efforts.
Jay (Jason Segel) and Annie (Cameron Diaz) have a fairly typical life together: married, two kids, suburban home.  However, trouble lurks in paradise as the two struggle to rekindle their sexual relationship in the midst of raising their children and dealing with work drama.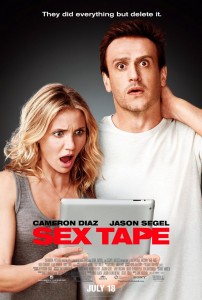 While Annie is looking to sell her "Mommy" blog to a large scale toy company headed by an odd owner (Rob Lowe), Jay works a radio job that (inexplicably) grants him access to more iPads than an Apple Store, many of which he gives away to friends with his personal playlists pre-uploaded.  Chaos ensues when Jay and Annie decide to make a sex tape to spice up their marriage and the recording accidentally uploads onto all of the giveaway iPads from the Cloud.  Jay and Annie race to collect the iPads before any of their friends, including fellow parents Robby (Rob Corddry) and Tess (Ellie Kemper), watch the video.
This premise is insane.  I use simple phrasing to sum up what cannot be put lightly.  Screenwriters Nicholas Stoller (Get Him to the Greek and Muppets Most Wanted) and Segel himself struggle with a story by fellow writer Kate Angelo (Will and Grace and The Back-Up Plan) that is so contrived, it creates a premise in which a man with average financial means can afford to just hand out iPads to his mailman.  Yes, the writers successfully poke fun at the fact that no one really understands the Cloud or how it actually works.  But between this one bit and the other references to the iPad's uses and features, the entire film becomes a 90-minute Apple commercial (and not a subtle one).  This pandering, next to Annie's laughable attempts to make money off of her blog, never feels authentic to the real world and creates shaky ground for the characters to stand on.
The few culturally referential jokes make big waves, but most of the rest of the gags seem so in-house and quirky that they completely alienate the audience.  Random shock humor needs a quick setup followed by a well-timed follow-up, and clearly the editors for this picture do not understand slapstick humor.  Many of the killer jokes appear to have been cut and replaced with reaction shots edited together so sloppily, you cannot help but wonder "What joke was cut here?"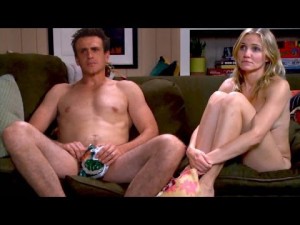 A bit more edge and some faith in material could have bumped up this picture's laughs substantially.
But it is the lack of care for these characters and their conflict that destroys this film in the end.  The writers display such a harsh sense of judgment right at the finish line that any previous conflict loses all sense of irony and the entire endeavor subsequently feels like one big moralistic fable of sexual perversity.
The couple has been placed in a harsh spotlight where their sex lives are concerned, which adds an intriguing note off the bat.  The idea of examining the importance of intimacy and sex in a long-term relationship seemed to have been given new life in the keenly observant opening five minutes.
But then the ending scene destroys any of this curiosity and replaces it with a "lesson of the day" that begs audiences to practice harsh prudence.  Perhaps the earlier observations simply came from the more astute director Jake Kasdan (Walk Hard: The Dewey Cox Story and Bad Teacher), who may have struggled to find nuggets of true wisdom in this insensitive screenplay.
Segel has proven plenty of times before that he knows his way around a comedy.  However his newly lean face lacks any of the usual dynamic spark of which we know he is capable.  His autopilot take on this character completely obliterates any possible comedy he could have mustered.  This oddity truly disappoints next to Diaz, who is giving it everything she's got from start to finish.  She has blossomed over the years into a gifted comedienne, and displays her keen sense of control and value for reaction with aplomb.  She garners quite a few laughs in one scene between herself and Lowe at his character's home, a bit so off the wall that it could have inspired its own short film.  And Corddry and Kemper seem to be having fun, considering their talents are being wasted.
Thankfully Harrison Holzer shines brightly as their son Howard, showing an incredible sense of comic timing at such a young age.
Comedy ain't easy, but it should never be this hard.  A confused message trapped behind a doomed premise bogs down the actors' best attempts and makes any dialogue or themes moot.  The tired trope of the bored married couple has shot down yet another promising attempt.
Maybe next time we can keep those scenes that were cut out and risk ticking off the censors.

Mark McCarver was born and raised in Houston, Texas and has been involved in theater and film since he was a kid. He spent the past few years acting and directing across Texas before moving to Washington, DC in the fall of 2012 to get a taste of the East Coast's entertainment industry. Mark holds a BA in Drama from Trinity University and trained at the Syracuse University – London Drama Program and Shakespeare's Globe. He is a company member with Half Mad Theatre in Washington.