Second Edition Books & Music keeps retro relevant in Columbia
Bright stacks of books rest on tables, shelves and in crates upon the dull sidewalk.
In a window behind them, The Go-Gos, Cyndi Lauper, and Lynyrd Skynyrd mingle in a mosaic of album covers- a sun-bleached glimpse back into a time before iPods.
The lively storefront offers a refreshing contrast within the bleary-looking plaza. Without it, it would be easy to overlook Second Edition Books & Music, nestled modestly between the Motor Vehicle Administration and a sushi restaurant in Columbia, Maryland.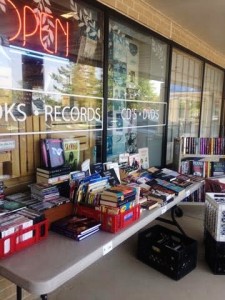 Through the door, each customer is embraced by the inviting smell of old paper, followed closely with a warm, "hey! How are ya?" from a smiling blonde woman, peeking from behind one of many corners.
Second Edition- a sprawling, cozy maze of shelves with varying heights, colors and personalities- is a living throwback to simpler, less screen-obsessed times.
"The digital age is definitely effecting us," said Kathy Byer (the friendly greeter), who with her husband John purchased the store from its previous owners in 2005. "So, we're really grateful for the people who still appreciate the physical. The tangible. The smell."
The store, which buys, sells and trades used books, movies and music, has been in this shopping center for more than 20 years. Most of their vast, well-organized inventory is sourced straight from their customers, many of whom enter the store with huge bags of items to sell or trade.
"We decided to change a little, occupation-wise," said Kathy of she and Johns' decision to take over the store. "We literally signed for it on a napkin at the deli, a few doors down."
Married 19 years, the couple (previously a car sales manager and stay-at-home mom to two now-Marines) runs the store full time, with just three other employees. "We live together, work together, and parent together," said Kathy brightly, "right, honey?"
But, they do their best not to let the pressures of running a business interfere with their home life. "It gets hectic," said Kathy, "but we identify the home as a 'no work zone.' [We] cannot discuss work within the four walls."
It's a busy Saturday morning, and both owners bounce cheerfully from shelf to shelf, up and down step-stools. As they tidy, they chat amicably with customers, which, as told by the non-stop sound of the door chime, there's no shortage of.
But, in our increasingly digitized times, what keeps business steady?
"We're all about bargains and treasures," said John, as one-by-one he inspects a towering stack of CDs from a hopeful seller. "But, customer service is our top priority."
"We're very fair in our prices," added Kathy, "and if we don't have what someone's looking for, we order it. Plus, we have a great membership program with thousands of subscribers," which for $9.99 a year offers a free item for every three purchased, as well as special discounts for members.
She beams at John. "My brilliant husband thought of that."
The store's location certainly doesn't hurt sales, as the MVA's bored, meandering clientele often wander through the doors. For that, said Kathy, "we are so blessed!"
Luckily for Second Edition, they're one-of-a-kind in this area (the closest used bookstore is about a half-hour away). Though other thrift establishments that sell similar things, like Goodwill, exist in the area, they can't match the unique shopping experience offered at place like this.
"The quality of [our] product, and our customer service," said Kathy, set Second Edition apart from other second-hand options. In addition, customers are able to walk out with actual cash for the items they bring in.
"And," she said, "we keep it fun! It's not like a library. We love music, and what we play is different every day, depending on who's working." This morning, she's feeling Maroon 5.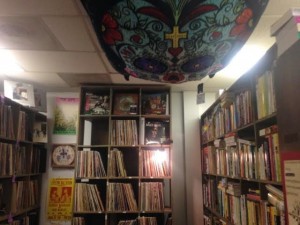 Music itself has offered a boost in business here, as the addition of a vinyl section about eight years ago continues to bring in a "fresh wave" of customers.
"The younger generation's really getting into it again," said Kathy. She laughed, "I didn't think turn-tables would ever be a big thing again, because the kids have to get up off their keisters to turn 'em!"
One privilege that's expected from today's generation- the convenience of online shopping- is an obvious and proven threat to brick-and-mortar specialty shops. But, Second Edition has harnessed the power of the internet in combination with in-person selling, offering many items on Amazon, Ebay and Craigslist.
In-store, the Byers have stirred up sales with quirky, Day of the Dead themed memorabilia, as well as a line of hand-crafted bags with designs inspired by The Grateful Dead, which hang in vibrant rows behind the counter. Soon, they'll be selling educational children's toys from the Melissa and Doug brand.
"We're always trying to evolve," said Kathy.
Outside, where the sun makes ripples in the heavy air, a woman with glasses and a neat bob cut skims over books on the "one dollar" table. Specials like this help the store keep the constant flood of new inventory in check, while overflow is often donated or recycled.
"I've been shopping here for 10 years," said the browser, Kathy Lane of Columbia. "The selection's so wide, and very affordably priced." Through the store's changes, she said, "the service has always stayed great."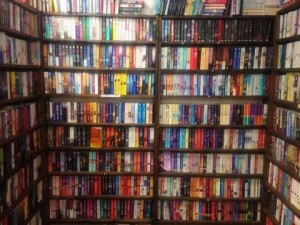 Back inside in the children's section, where a "Harry Potter" video plays on a tiny TV, a dark-haired young man named Douglas [last name not given] and his five year-old, Olivia, browse through a box of Beanie Babies.
"It's a really cool store," said Douglas. "The employees are so nice, and super knowledgeable about [what they sell]. I used to live right down the street. Now I live in Frederick County, but whenever I'm in the area I always make a point to stop in."
By noon the store is bustling, as a trickle of customers becomes a stream. A long line has formed at the counter, and the book-lined walkways are getting tougher to squeeze through. But through the chaos, Kathy and Johns' laughter and laid-back hospitality never falter.
"We really love our customers," said Kathy, and John nods in agreement.
The feeling, it seems, is mutual.
For more information or to contact Second Edition Books & Music, visit their website or "like" them on Facebook.

Lauren Molander, a Baltimore native, is on a long-winded journey to find her place in the world. She majored in Media and Communications Studies at UMBC, and hopes to build a career working with words.
Lauren is unusually enthusiastic about roller coasters, SNL, fancy teas, cosplay culture and the broody music of her early teenage years. In her free time, she can be found playing with makeup, beating the same video games repeatedly, begging her cats for affection, reading books by funny people and binging on anime.
She is still waiting patiently for her (tragically delayed) letter from Hogwarts.