Seasons 52 opens in Columbia: A restaurant for all seasons
Because I of my British disposition, when someone asks me 'Was everything exceptional, madam?' when I leave a restaurant, even if I'd had a really bad time and the food had been awful, I'd be inclined to say 'Yes, lovely thanks' just because I don't want to cause a scene and hurt their feelings.
However, when the maître'd asked me this particular question when I left Seasons 52, I confidently and happily replied: 'It was, thank you very much.' Because it was exceptional.
Seasons 52 opens  today (August 7), but I was there for a media preview food and wine tasting dinner and I didn't really know what to expect. Here's why.
I sigh when I read about Columbia, Maryland acquiring yet another chain restaurant – Sonic, Buffalo Wild Wings, Maggianos, Shophouse Southeast Asian Kitchen etc etc. I cringe because I get so fed up of the chain places and their lack of soul and charm. So I guess I was a little skeptical about Seasons 52.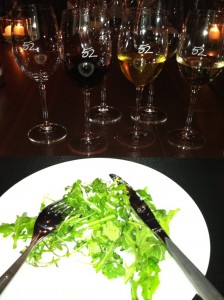 However, Seasons 52 is different. It's all about farm to table and prides itself on being 'a celebration of what's good now'. Seasonally inspired ingredients that are at the peak of their freshness are key in the dishes and they use rustic cooking techniques that bring out natural flavors and are inherently lighter. And this is the 'wow factor' for me, as a nutritionist – nothing on the menu more than 475 calories.
Which means that you can indulge a little more in the ever-changing selection of global wines! (I didn't say that with my nutritionist head on!). 
Plus, Seasons 52 felt like a grown up restaurant. There were no kids in there, and long may it stay that way. I have a six year old and there are plenty of places to take him, but Columbia needs a place that is child-free, where grown ups can just be grown ups and relax. And, whilst Seasons 52 doesn't say 'no kids', I get the impression that it is very much an adult place – the menu and the emphasis on wine, plus the lighting, private rooms and piano bar suggest as much. 
So…the food and the wine? What did I make of it? Having just come back from California, where my palette had adjusted to tasting some very excellent wines, I wasn't sure the wines would live up to what I had just experienced. Wrong again! 
From Argentinean Malbecs to South African Chenin Blancs, the wines were excellent and paired beautifully with each of the seven courses. Each one had been hand–selected by George Miliotes, one of fewer than 250 Master Sommeliers in the world, and he had more knowledge about wines than I had ever heard before.  My favorite wine was from Napa Valley (Sinksey, Caneros), so I guess my taste buds were still in California mode!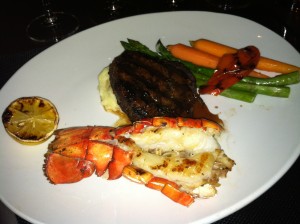 The food was exceptional; I didn't lie to the maître'd. My favorite dish had to be the Warm Harvest Mushrooms and Arugula truffle dressing with shaved Parmesan. I love salad that has been 'pimped' and this was the best salad I had tasted in a long time. The entree of Lobster and Steak – a classy 'surf and turf' blew me away, and the selection of desserts was wonderfully eclectic and generous – and just enough to take satisfy that sweet desire.
The staff at Seasons 52 seem particularly proud to work there and share their love and knowledge of the food and wine with genuine enthusiasm. I'm already thinking 40th birthday parties and piano bar in the private rooms! Plus, we have a child-free evening on the agenda next week, and I'm thinking this is the perfect place to go.
Welcome to Columbia, Seasons 52. A very classy addition. 
10300 Little Patuxent Parkway, Columbia 
410-715-1152

Claire Bolden McGill is a British expat who lived in Maryland for three years and moved back to the UK in August 2015. Claire wrote about her life as a British expat on the East Coast and now works in travel and hospitality PR in the UK. She still finds time to blog about her repatriation and the reverse culture shock that ensued – and she still hasn't finished that novel, but she's working on it. You can contact Claire via twitter on @clairebmcgill or via her blog From America to England.