Pride and Prejudice and Zombies turns the Bennets into butt-kicking beauties
2.5 out of 4 stars
Seth Grahame-Smith just won't let Jane Austen rest in peace.
The man who pitted vampires against Abraham Lincoln has turned to the undead to breathe life into her literary classic, even though she's been buried for nearly 200 years.
Seven years ago, Grahame-Smith took Austen's timeless classic Pride and Prejudice about lovers from different social classes in 19th century England and decided it would be cool if he had them battle blood thirsty zombies on their way to the altar. His book instantly became a bestseller, so it was only a matter of time before Hollywood would ravage Austen's masterpiece.
Austen couldn't have possibly imagined when she wrote Pride and Prejudice that more than two centuries later audiences would be watching the Bennet sisters – in cleavage-friendly dresses, no less – slice and dice their way through zombies hell-bent on bringing the apocalypse.
But in Hollywood, nothing is sacred, not even Austen's critically acclaimed book that sold around 20 million copies before Grahame-Smith threw in some modern zombie fiction in his parody Pride and Prejudice and Zombies and turned the Bennets into butt-kicking beauties.
Grahame-Smith did the same thing to Abraham Lincoln. It wasn't good enough for Honest Abe to sign the Emancipation Proclamation; he also had to kill vampires in Abraham Lincoln, Vampire Hunter, which Grahame-Smith wrote in 2010 before it was made into a movie that grossed $116 million at the worldwide box office two years later.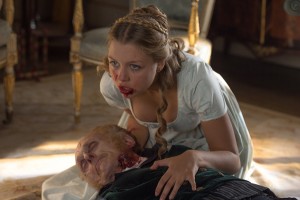 Now, Grahame-Smith and director Burr Steers have sunk their teeth into Austen, who at least gets a writing credit in the film. But if you've read Austen's original, which has become a staple in high school English classes, it's hard to imagine Austen would have wanted zombies trying to suck the life out of the lavish parties she so meticulously described when she first put pen to paper.
But Lily James (Downton Abbey, Cinderella), who plays heroine Elizabeth Bennet, and Sam Riley (Maleficent), who plays her suitor Fitzwilliam Darcy, don't mind getting their hands a little bloody in a movie that's just a few decapitations away from going from a PG-13 to an R rating.
It's easy to cheer for Elizabeth and her four other sisters – Kitty (Suki Waterhouse), Jane (Bella Heathcote), Lydia (Ellie Bamber) and Mary (Millie Brady) – especially if you like pretty women in revealing clothing killing zombies. The rest of the cast, which includes Lena Headley (Lady Catherine de Bourgh), Douglas Booth (Charles Bingley), Matt Smith (William Collins) and Jack Huston (George Wickham), are above average but become invisible as soon as the zombies start stumbling onto the screen.
Regardless, James and Riley are clearly the stars in an extremely predicable film that almost makes you feel guilty if you enjoy it, since it would be akin to watching Romeo and Juliet profess their eternal love for each other while battling werewolves.
But it doesn't matter if you've read Austen's Pride and Prejudice or Grahame-Smith's version of it; if you're a fan of zombie movies, Pride and Prejudice and Zombies falls somewhere between Brad Pitt's memorable World War Z and the not-so-memorable Scouts Guide to the Zombie Apocalypse.

Jon Gallo is an award-winning journalist and editor with 19 years of experience, including stints as a staff writer at The Washington Post and sports editor at The Baltimore Examiner. He also believes the government should declare federal holidays in honor of the following: the Round of 64 of the NCAA men's basketball tournament; the Friday of the Sweet 16; the Monday after the Super Bowl; and of course, the day after the release of the latest Madden NFL video game.