Pompeian announces job growth, increased presence at Walmart
Baltimore-based Pompeian is the fastest-growing olive oil brand at Walmart, with sales that have increased by 238% since 2015. Recognizing this achievement, Mayor Catherine E. Pugh, city and state officials, and representatives from Walmart were on hand this morning at the facilities of Pompeian, as the firm celebrated a 30% increase in American job growth and an investment of $3 – $5 million in American manufacturing per year since 2013. The company also unveiled its new state of the art Quality Control and Research & Development Center.
Pompeian, and some 500 other Maryland suppliers and manufacturers, are part of Walmart's 10-year commitment to buy an additional $250 billion in products supporting U.S. jobs. A century-old company, Pompeian currently employs 115 individuals at its Baltimore plant, with an entry level rate of $14.05 an hour. Additionally, Pompeian has invested in a Contanda Storage Tank Farm located at the Port of Baltimore.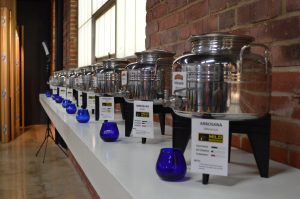 "It is a big honor that Walmart has selected Pompeian," said Mouna Aissaoui, Chief Operating Officer at Pompeian. "About 110 years ago, an entrepreneur from Italy partnered with a Jewish entrepreneur here in Baltimore and they decided it made sense to bring olive oil from other countries and bottle it here in Baltimore. This is what we still do here today. Pompeain is committed, not only to creating jobs, but to creating good-paying jobs which offer our employees benefits. We also have a commitment to keeping up with new technology and innovations. Walmart has been a great partner in this sense.
"Pompeian has increased its sales at Walmart since 2015 by 238%. I would like to know if any other suppliers did this with Walmart. We didn't do this alone. We did this because everybody believes in our mission to supply high-quality products at the best value possible to every single consumer in the United States."
"I have a theory about economic development," said Walmart executive Joe Quinn. "If you drive through an area like this and you see a building with a sign for its products, you don't understand very often how many jobs and the economic base which is created in a facility such as this. What Walmart is doing as a company is trying to work with suppliers like Pompeian because of what it means to a city like Baltimore.
"As I walked in here this morning, a couple of women told me their facility just down the road has been making the labels for Pompeian for the last 65 years. That's another aspect of job creation that people don't think about that often – a large company like Pompeian teaming with a smaller local vendor to turn out product for sixty-five years. That again is jobs, its economic development, and that's what matters to a city like Baltimore as it deals with the day-to-day challenges of economic development.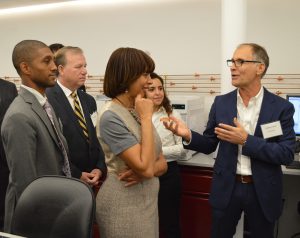 "We call our core customer 'Mom', because she is the one running the family budget; she worries about heathcare and the kids' education. When you say to her, 'What are the things that are important to you?" price is number one. But number two: that family feels much better if the olive oil they are using on their salad is made in Baltimore as opposed to being made in another country. That matters a great deal to people, so Walmart has a huge respect for companies like Pompeian that are thinking about these issues everyday and are putting on the table what people want to enjoy with their family."
"We are proud to celebrate Walmart's commitment to building opportunity in Baltimore," said Mayor Pugh. "Their investment in Pompeian is also an investment in the revival of local manufacturing and our growing workforce. We're grateful to be a part of this expansion because when companies support and grow operations here, it encourages the kind of economic development that helps our communities and residents flourish."
The official celebration continued with a tour of the Pompeian facility. This included stops at shipping and receiving, the manufacturing and bottling areas, and a look at the new laboratory.
One interesting fact we learned from Engineering Manager Salim Benjelloun is that Pompeian supplies products which retail and restaurant outlets then use under their own house labels. Papa Johns Pizza was one such outlet Benjelloun recalled by name.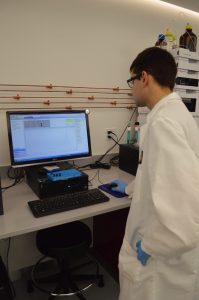 Inside the lab, chemist Alex Vargo explained what the technicians look for as they consider the quality of the product.
"We look at the molecules inside the oil and determine if there are any adulterants or anything that is not supposed to be in there. We also have the ability to check the quality of the oil. We advertise all our products to be less than one-half percent acidity."
Stepping over to one sophisticated instrument, Vargo continued, "With this machine, we look for the fatty acids. Oil is a triglyceride, which means it has three fatty acids attached to an alcohol. Each different kind of plant (olive oil tree) is going to construct its triglycerides differently. So by looking at the different fatty acids that are assembled, we can determine if it comes from an olive, canola, corn, soy, etc. So these are very sophisticated instruments we are using to look for adulterants."
Reinforcing what Vargo had said, Benjelloun added that one drop of grapeseed oil is enough to ruin an entire batch of olive oil.
The tour concluded with a tasting of olive oil. Like fine wine, each variety has its fans. Benjelloun encourages buyers to carefully look at the label.
"Some customers like it robust, some like it smooth. Others like it dark, so everyone has their preference. For us, Spain is the major source, because it makes 40-50% of the olive oil in the world. We have now merged with a Spanish producer, so this is an important step for our company.
"Olive oil is produced from fruit grown in the Americas (Argentina, Chile, California and Canada) as well as all across the Mediterranean. Some countries may produce a very high quality oil but not enough to maintain our volume. Depending on the time of year, you may see one county of origin on the label, and three months later you will see five countries of origin which were blended to give you that same quality. That way we can continue to make the product affordable. If you're not big enough to source like we do, your quality will change from year to year. But when you have resources such as we do — to import, bottle, store and ship it out as it is made — then you can maintain the quality and acidity and cost."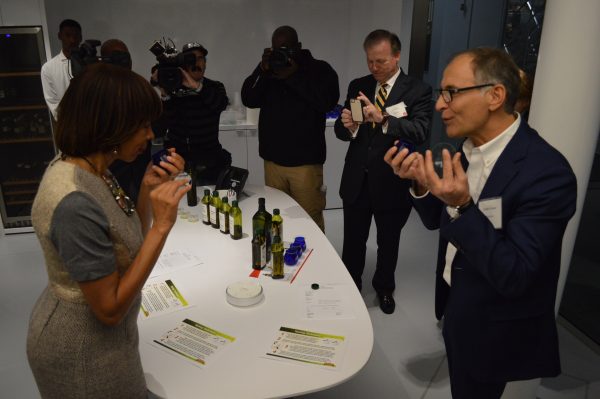 Anthony C. Hayes is an actor, author, raconteur, rapscallion and bon vivant. A one-time newsboy for the Evening Sun and professional presence at the Washington Herald, Tony's poetry, photography, humor, and prose have also been featured in Smile, Hon, You're in Baltimore!, Destination Maryland, Magic Octopus Magazine, Los Angeles Post-Examiner, Voice of Baltimore, SmartCEO, Alvarez Fiction, and Tales of Blood and Roses. If you notice that his work has been purloined, please let him know. As the Good Book says, "Thou shalt not steal."