Penny Marshall: 'Laverne & Shirley' a TV comedy for every generation
When Laverne's New Year's Eve date dumps her, an ailing Shirley comforts her. (Wikimedia)
Actress/director Penny Marshall passed away on Monday, December 17, 2018, but certainly not before making her mark in the world, particularly in the entertainment world.
Marshall was best known for her role opposite actress Cindy Williams with Laverne & Shirley, the hit ABC sitcom of the 1970s and early 1980s.  Essentially, Marshall and Williams were "Frick and Frack" without the Swiss connotation or the ice; and Lucy and Ethel for a new generation.
Set in the late 50s and early 60s, but presented with a 70s state of mind, Laverne & Shirley featured Marshall as Laverne Dafazio, and Williams as Shirley Feeney in a series spinoff of another one of ABC's other popular period sitcoms of the day: Happy Days, which starred Ron Howard (once the lovable little tyke Opie on The Andy Griffith Show; CBS, 1961-1968) as the All-American Richie Cunningham, best friend to Henry Winkler's Arthur Fonzarelli, AKA "The Fonz" or "Fonzie"—the hood-with-a-heart.
For an early episode of Happy Days, the show's writer/producer Garry Marshall, older brother to Penny, was in need of two women to play "fast girls" as dates for Fonzie and Richie. Garry, who died in 2016, explained it all during an interview in 2015 with The Tolucan Times, published in Toluca Lake, California, where he owned and operated the prestigious and popular Falcon Theatre (now under management by his daughter, following his death).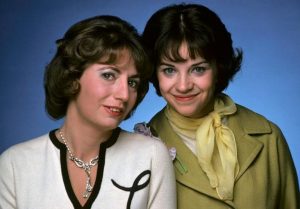 As the elder Marshall explained it, "I wanted to do a show about girls from the other side of the tracks; we needed Fonzie's friends… and Richie needed it! Penny and Cindy were a writing team. I asked them to do one episode and they were good together."
The viewers agreed.
The episode became so popular, a spinoff series was created and Laverne & Shirley was born. In the process, physical comedy returned to television from where it was long absent—due to the more realistic and character-driven sitcoms introduced in the early 70s by shows like All in the Family and The Mary Tyler Moore Show.
Although Laverne & Shirley's humor was accented with guffaws and pratfalls, Penny Marshall and Cindy Williams brought a sense of poignancy to their performances, bonding their on-screen personas with "high hopes," which doubled as a title to one of their signature songs.
While working for the fictitious Shotz Brewery in Milwaukee, Wisconsin did not exactly add to any sense of sophistication, their middle-class status ultimately became the core of their combined appeal. Laverne and Shirley may not have lived glamorous lives or adorned elegant clothing, but they always sought to better themselves and found satisfaction and comfort with the simple things in life.
In doing so, they created both their unique individuality and team spirit, which, in turn, endeared them to the audience. Although neither character was traditionally or particularly stylish, both were attractive, if maybe a little brash.
The result: They delivered their own special brand of allure. With her trademark nasal voice, crooked nose, and protruding smile, juxtaposed with her olive skin and shapely form, Marshall delivered a street-tough, somewhat provocative performance as Laverne. With her diminutive stature and meek personality, in combination with her flawless alabaster skin and big blue eyes, Williams presented Shirley as the optimum and virginal girl next door.
"Relatable," is how Williams recently described Shirley. "She always strived to see the glass half full. She was a mirthful dreamer with many moments of deep self-doubt, in other words very human… she didn't choose to be independent. She dreamed of being a housewife with a husband, two kids, and a collie, but that was not the hand that life dealt her. Like most of us, she had to work to survive, and she took great pride in her job as a bottle-capper. Apparently, it paid off, because she was once voted Employee of the Month!"
Both Williams and Marshall were the adorable alternative to the other.
After bit parts on ABC shows like Then Came Bronson and That Girl, Marshall graduated to a semi-regular role as Mryna Turner, whiney secretary to Jack Klugman's sloppy Oscar Madison on that network's 1970 to 1974 hit comedy The Odd Couple, which was envisioned by her brother Garry from the original Neil Simon stage play-turned-1968 film.
Then came Laverne & Shirley, which in some ways might be considered a female take on The Odd Couple, and the actress attained her personal best in sitcom land. As Garry Marshall told The Tolucan Times, "Penny is the best at many things."
As to when they all first realized the impact Laverne & Shirley had on the audience, Cindy Williams puts it this way: "One day, early on in the series, Garry told us proudly that we had 60 million viewers, which was a historic amount of viewers. Penny and I could never grasp the meaning of this until 1976 when we rode in the Macy's Thanksgiving Day Parade and the crowd tried to break through the barriers. We looked behind us to see what they were so excited about until we realized to our amazement that it was us."
Regarding the iconic characters that she and Penny Marshall played on Laverne & Shirley, Cindy Williams concluded: "Basically, we were young people, just starting out and trying to make it work—you know, just trying to get $12 together to pay the bills. And I think when you play that out in a physical way, it resonates—almost like a cartoon."
But with a lot of heart.
(This article first appeared online at Geeks Media)
Herbie J Pilato is the Founder and Executive Director of The Classic TV Preservation Society and author of several classic TV companion books. He has been part of TVWriter™ for 20 years and is Contributing Editor Emeritus.