Our Quito Ecuador, Amazon River and Galapagos Islands Experience
My wife, Ann, and I, landed in Quito, Ecuador, on February 15, 2015, for a 16-day tour. The city rises to 9,350 feet above sea level. It's the capital city of Ecuador and second highest capital city in the world. It sits at the eastern slopes of the active Pichincha volcano, which is part of the Andes Mountain chain.
(The Andes are a special case in themselves. They extend 4,300 miles along the west coast of South America and as far south as Cape Horn, at the southernmost tip of Chile.)
It was a cloudy day when we landed in Quito, which I understood isn't unusual. With my private pilot background, I could appreciate the care a pilot would have to take with regard to his descent into a city that often sits in the clouds at such a high elevation.
I understood from another passenger that pilots had insisted over the years for improvements to the airport runways at Quito, particularly a need to increase their length. Their safety-related complaints were heard and, wisely, newer and longer runways were built to accommodate them at a new airport. It is known as "Mariscal Sucre International Airport." It was completed in February 2013.
I found out that the word "equador" is Spanish for "equator." It rightly deserves that name, since Quito is located only sixteen miles south of the equator.
We felt very much at home in Quito – it is charming and its historic center is very well-preserved with monuments, pictorial arts and sculptures. (Think Baltimore's Mount Vernon area.)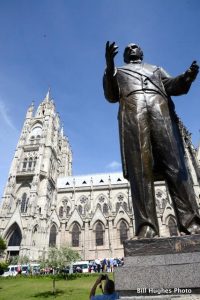 We took the time to check out the city's biggest cathedral, the presidential palace, the large public square in the city's center, the La Basilica Church, Independence Plaza, along with Quito's oldest street, Calle La Ronda.
I love old city streets and plazas, too, especially when the kids are outside kicking a soccer ball around. They hold a special attraction for me. It must be the "Locust Point" in me.
The next day, we enjoyed a special concert from the Disabled Children's Orchestra, with its director leading the music-making playing his trumpet. We then visited the Inti Nam Museum, which sits directly on the equator. It was indeed all very enjoyable. It was a joy to watch the music playing bring such joy to the faces of the children.
In all, we spent three nights in Quito. The locals, we must say, were very friendly and welcoming.
We then headed for Coca for three nights. This was our base for our visit to the Amazon. It's located on the Napa River in the river's watershed. We stayed in the rain forest, took boat rides on the river, and nature walks. We tried out a blow gun and were introduced to native medicinal plants. We also had a lovely lunch hosted by the village people.
After that enchanting excursion in the Ecuadorian rain forest, we boarded a plane on February 18th from the port city of Guayaquil headed for the islands of the Galapagos.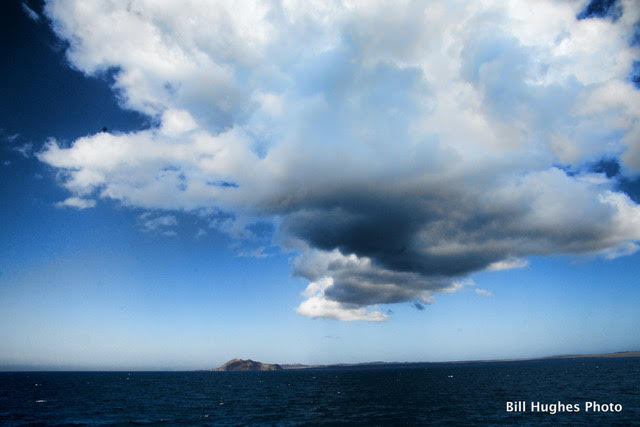 The Galapagos are situated about 600 miles due west of Ecuador. After we landed, we boarded a small vessel, a 16-passenger boat, which became our home base for the next week or so. We would use a small dinghy, the locals call them zodiacs when we wanted to explore the islands. We did this a couple of times a day.
The wildlife sightings were indeed spectacular. We saw plenty of birds, such as herons, doves, lava gulls and pelicans. The landscape is mostly volcanic. When we motored into a tidal pool, it revealed plenty of octopi, starfishes and rare fur sea lions. On just about every little island we explored, there were iguanas, gulls and tropical birds – some red-billed.
Our tour brochure promised "an adventure of Darwinian proportions." It sure hit the mark and then some with that promise. We often found ourselves hiking through a forest of opuntia cactus. Our tour guide was first-rate in every respect and the outfit that sponsored our exciting journey, Overseas Adventure Travel, lived up to our high expectations and more.
Our tour guide was also a certified naturalist. So from him, we learned all the facets of the Galapagos, including its history, magnificent wildlife, climate and more.
While on the Galapagos, we made a stop at the "Charles Darwin Research Center" on Santa Cruz Island. It is dedicated to the "preservation of the islands and to maintaining the purity of their endemic species." I thought we were touching base with history with this visit.
Our brochure claimed, and I believed it, "that more than half of all the plants and birds here (in the Galapagos) – and nearly all the reptiles here – exist nowhere else on Earth." Indeed, the Galapagos are special to humanity.
We took some time to also do some swimming and snorkeling. Below the surface of the waters of the blue Pacific is, indeed, another world of exciting discovery, like checking out the beautiful manta rays and sea turtles.
Our splendid journey, of wonderful memories and sights ended on March 2, 2015. On that date, we flew home to Baltimore, Maryland, from Quito, Ecuador.

Bill Hughes is an attorney, author, actor and photographer. His latest book is "Byline Baltimore." It can be found at: https://www.amazon.com/William-Hughes/e/B00N7MGPXO/ref=dp_byline_cont_book_1