Olney offers A Christmas Carol as Dickens intended
Screen adaptations and theatrical productions of Charles Dickens' timeless classic, A Christmas Carol, abound, but few have ever experienced the story as Dickens intended – in a homespun Victorian setting. Luckily, Olney Theatre Center favorite Paul Morella has been filling that void for the past six years, presenting the tale in the storytelling style so popular in mid-nineteenth century England. Morella is back again this year, with his unique adaptation of A Christmas Carol: A Ghost Story of Christmas, in the cozy confines of Olney's Mulitz-Gudelsky Theatre Lab.
For those totally unaware of the plot outline, Dickens' novella (which was originally published in December 1843) revolves around the life of a recalcitrant old miser, named Ebenezer Scrooge.
Scorning Christmas, and all that makes one merry, as "Humbug", Scrooge retires to his home one Christmas Eve, only to be visited by a series of scathing specters. The haunting reveals not only his baneful past and present, but also a barren future, lest the old miser change his ways. Dickens had hoped to score a financial boom with the publication of A Christmas Carol (he didn't), but the otherwise wordy author actually went one better in concisely creating a universally despised and yet beloved character. In the end, Dickens offers the hopeful moral that no one is beyond redemption – the theme which underlines the Christmas Season.
Besides presenting the story as Dickens would have it – not unlike the way a father would tell a ghost story to his children – Morella's solo version also embraces the classic in an almost word-for-word format. The result is an adaptation which uses nearly 100% of the author's novella. Morella also relies on the somewhat abbreviated parlor presentations Dickens himself used in sharing the story more than 100 times with his contemporaries.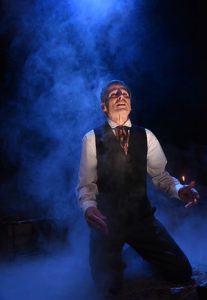 Morella's show – done at times with ghostly green gels or by dim candlelight – is a roller coaster ride from start to finish. Morella whisks about the stage with a light but purposeful air. Props such as an ottoman double for the pan containing Mrs. Cratchet's hot holiday pudding, while Morella's posture melds seamlessly from one person into another. There are points where the actor does slip somewhat with his various character accents, but that is almost to be expected, as he embodies nearly 50 personae during the course of the play. No one will confuse Morella with George C. Scott or Alastair Sim (two of filmdom's better known Scrooges) but again, Morella is more or less playing the part of Dickens' narrator, to a mostly satisfying dramatic effect.
The single set is nearly as dire as the damnable life of Scrooge, and the eeriness of the scene is only heightened by the lighting of Sonya Dowhaluk and the sound design of Edward Moser. A "smoke" effect is also used, but the steam only serves to clear the nostrils for the imaginary meals which supplant Scrooge's psyche-turning bowl of gruel.
A Christmas Carol: A Ghost Story of Christmas may not be this year's prize-winning goose, but it is far from the turkey we expect as the fall turns to winter. Better put: it is a pleasant repast from so many over-blown productions of Dicken's immortal tale which inures the senses each and every yuletide season. A tip of the top hat to Olney Theatre and to Paul Morella, for bringing a touch of warmth with this enthusiastic, heartfelt telling.
* * * * *
A Christmas Carol: A Ghost Story runs now – December 31 in the Mulitz-Gudelsky Theatre Lab at the Olney Theatre Center. Please note that the run includes Saturday and Sunday matinees. Olney Theatre Center is located at 2001 Olney-Sandy Spring Road in Olney, Maryland. Running time for the show is about two hours with one intermission and is recommended for ages 10 and up. For more information, please visit the Olney Theatre Center.

Anthony C. Hayes is an actor, author, raconteur, rapscallion and bon vivant. A one-time newsboy for the Evening Sun and professional presence at the Washington Herald, Tony's poetry, photography, humor, and prose have also been featured in Smile, Hon, You're in Baltimore!, Destination Maryland, Magic Octopus Magazine, Los Angeles Post-Examiner, Voice of Baltimore, SmartCEO, Alvarez Fiction, and Tales of Blood and Roses. If you notice that his work has been purloined, please let him know. As the Good Book says, "Thou shalt not steal."