Naked Girls Reading DC: Baring all for the love of literature
Audience members and readers relax for an evening of classics with Naked Girls Reading DC. (Anthony C. Hayes)
One of my fondest memories from childhood is the weekly story time segment my second grade teacher hosted in the public school library. A beautiful young brunette with a captivating smile, Miss Ford shared books such as Danny and the Dinosaur, A Wrinkle In Time, and The Mellops Go Spelunking. Each story stoked my eager young imagination and in the process sparked a lifelong love of reading. And a love of listening – especially when the words are conveyed with a beautiful smile.
Cherokee Rose, Cherie Sweetbottom, GiGi Holliday and Alice Darling also have an abiding love for books. And a love for reading aloud – especially when they are wearing nothing but a smile.
The fetching quartet compose the core of D.C.'s chapter of Naked Girls Reading (NGR).
Naked Girls Reading (which, as advertised, features four lovely ladies reading in the buff), was launched in Chicago in 2010. The series arrived in DC about three years ago with Chi-town transplant Cherokee Rose.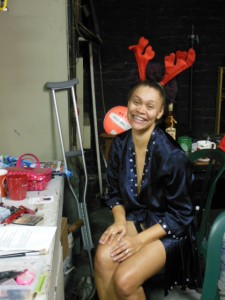 "The franchise was founded by Michele L'amour and Franky Vivid," said a very relaxed Rose during a backstage interview with the girls before the December holiday show. "Today there are chapters all over the world. I was part of the group that started in Chicago. When I did that first show, I was not so comfortable. It was something I wanted to do, and I remember Greta Lane, who was part of the Chicago Starlets, telling me, " Trust me, within 5 minutes you'll forget you are naked."
"You don't forget," interjected Cherie Sweetbottom. "I don't."
"I did," rejoined Rose. "The first time I did it, I was actually terrified. I kept thinking, 'I can't believe I said I was going to do this. I need underwear! I need a g-string!' But Greta said, 'Trust me, you'll forget.' And within 5 minutes of sitting down on stage, I absolutely forgot that I was naked. I was out there with the other ladies, just talking and doing my thing. That was good, because that first show was a Naked Ghouls Reading, and I was also doing nude tarot card readings that night, so unlike the other girls who got to cover up during intermissions, I never got to robe. I was naked the entire first time. I was never not naked!"
Sweetbottom admitted that she still gets butterflies whenever she performs, but Rose said as the producer, she gets them for everything else.
"I worry if the stage is set right, if the lights are right, do we have all of our readings and is everything else in order? But as soon as I walk on stage, I think, 'Yes! This is the easy part. I am naked.'"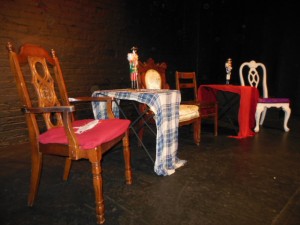 Getting past the nudity and the nervousness, the cast is there to put on an entertaining show. Not only are they good readers, they are good active listeners. As they interact, no sacred cow goes un-milked, and their witty repartee keeps the audience mentally glued to the page.
As for the hearers, Rose said the readings draw a wide-ranging audience.
"We get young people; we get couples; we get people coming for their first dates. We had one gentleman come in and say, 'I saw your promo poster in a local record store. I like readings. I like naked women. Sure I'll go see this.'"
What kind of character is he?
"He is the most lovely gentleman you'd ever want to meet," asserted Rose.
"He posts on his Facebook page about going to the opera. He said, 'I've been trying to get my friends to come, but they think it's seedy. I tell them, it's not seedy – it's a wonderful show and they're very entertaining. They know what they are doing.' Ultimately, it's about getting people over that hump and knowing it's not just about being naked."
"I've never had any strange encounters because of doing these shows," Rose continued, "but I've had interesting encounters, in getting to meet people I don't think I would have otherwise gotten to meet. Like well known authors. For instance, we got to live-tweet with Neil Gaiman (collective sigh backstage). Who would have thought that would ever happen in our lives?"
"There have been other authors who also tweeted back. Had we been regular people, I don't think they would have done that, but because we are doing this show, they think, 'This is different. OK, we're down for this.'"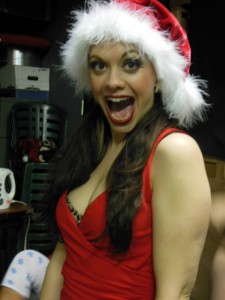 When asked about favorite authors, the names Poe, Neil Gaiman, JRR Tolkien top Cherie Sweetbottom's list. Cherie also has a fondness for the lyricism of the King James Bible. For Rose, they change every month – depending on the theme.
"Cherie and I love Laurell K. Hamilton," said Rose. "I love Tim Burton. Most of us are Harry Potter fans."
"I always read Poe at our Halloween show," beamed Sweetbottom. "I love Poe. Giving a Baltimore shout-out."
Darling somewhat sheepishly added, "I did three consecutive months of Terry Pratchett."
As with the Holiday show this reporter attended, NGR does an assortment of themed readings. All agreed that their favorite is called Nerdettes.
"It coincides with Awesome Con DC," explained Rose, "so last year three of us went to Awesome Con in costume. It was amazing. We got to hand out flyers and pose for pictures with little kids. That night, for our reading, we all had theme music to enter."
Darling recalled, "That was one of the hardest decisions I've ever made – what to enter to!"
Sweetbottom couldn't remember what she read that night but said her theme music was a thirty second snippet from Game of Thrones. Darling said she read from John Scalzi's Redshirts and a paper on Superman's powers.
One rule for NGR is you cannot repeat a reading. This rule is waved for the Holiday show, where the girls can share something they love to read. "Like a holiday tradition," said Rose.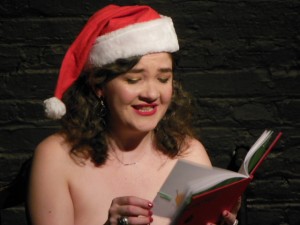 The Holiday show marked Darling's one-year anniversary with NGR.
"I showed up for a reading and thought, 'This the most perfect amusement I've seen in my life. How do I do this?' I was just relentlessly polite. I even made them brownies once."
Unlike the other regular readers, Darling does not have a burlesque background.
"I don't really have a performing background, though I did play with an orchestra when I was a kid. But I saw this and thought, 'This is the best thing in the world!'"
For Pria Puss, this was her first NGR show as a performer. Pria was sitting in for GiGi Holliday, who had another gig that evening.
"I'd heard of NGR but didn't realize there was a DC chapter. I knew GiGi, so I came to the Comedy show and that was awesome. Then I came back for the Mythology show because I'm a huge mythology geek. That was exciting, too. I had done a burlesque show with Cherokee and GiGi (Chocolate Lounge) and got to know Cherokee a little better through that. I kept Face-booking them and was disappointed that I couldn't make the audition show. Cherokee said, "Well, if you're interested in subbing one month, you've already come to the shows which is the first requirement.' Then she wrote me and asked me if I wanted to read in December. I replied, 'Yes!' and said, 'I already know exactly what I'm gonna read.'"
"It's surprising (attending as an audience member) because they read such a variety. I didn't know about Laurell K. Hamilton until I came for the mythology reading. Then I went online and bought four of her books at once. It's definitely a good show for broadening your reading list."
Rose agreed, saying, "In the long run, we want to encourage reading. In one Italian paper, the writer said, 'If illiteracy is the problem, then Naked Girls Reading is your answer.'"
In the abstract, this all sounds good, but I had to ask if the girls had gotten any blow-back about what they do?
"The people who are critical are the ones who have never been to one of our shows," said Rose. "They don't have to take our word for it."
Offended? Intrigued? If you'd like to see more (a whole lot more) the girls will be reading again this Friday night, February 20 at the DC Arts Center in Adams Morgan. Allow plenty of time for travel (Adams Morgan is an absolute nightmare for parking), but see the show – Naked Girls Reading Presents Authors of the Rainbow – or one of the upcoming monthly readings and judge for yourself.
It may remind you of story time in elementary school.

Anthony C. Hayes is an actor, author, raconteur, rapscallion and bon vivant. A one-time newsboy for the Evening Sun and professional presence at the Washington Herald, Tony's poetry, photography, humor, and prose have also been featured in Smile, Hon, You're in Baltimore!, Destination Maryland, Magic Octopus Magazine, Los Angeles Post-Examiner, Voice of Baltimore, SmartCEO, Alvarez Fiction, and Tales of Blood and Roses. If you notice that his work has been purloined, please let him know. As the Good Book says, "Thou shalt not steal."