Poe, Vincent Price lovingly remembered at annual event
A capacity crowd listens as Victoria Price recounts the life of her late father, actor Vincent Price. (Stacy Atwell)
The setting was perfect.
With darkness descending and cold drizzle falling on the grave of America's most famous horror writer, hundreds huddled just a few steps away, inside the sanctuary of a stately old church, to celebrate the lives of two men who have come to be intrinsically tied to one another: Vincent Price and Edgar Allan Poe.
Behind the Mustache: The Lives of Vincent Price and Edgar Allan Poe gave fans a chance to honor Poe on the eve of his 206th birthday and to celebrate the life of actor Vincent Price, who passed away twenty-one years ago. On hand to laud Poe was John Astin, best known for playing Gomez in The Addams Family. And remembering Price was his daughter Victoria, author of Vincent Price: A Daughter's Biography. The celebration took place at Westminster Hall and Burying Grounds, 519 West Fayette Street, Baltimore, Maryland.
Edgar Allan Poe has long garnered worldwide fame, not only for his moving poetry, but also for tales of terror and suspense such as The Tell Tale Heart, and for inventing the detective story with his character C. Auguste Dupin. Almost equally famous is Price, who during a 60 year acting career, embodied many of the personalities Poe so vividly depicted in his writing.
Victoria Price spoke first, and in a presentation which lasted close to an hour, fondly recalled memories of a man whose life was immersed in art, movie-making and burlesque.
Burlesque????
"St. Louis had a beautiful art museum," Victoria explained, "but they didn't have a first rate theatre. They were, however, first rate in burlesque, so my dad developed quite a fondness for burlesque. His nickname in high school was Carrie, because he had a crush on a stripper named Carrie. My mother told me that burlesque remained such a part of my dad's life, that at very inopportune moments at parties, he could be heard yelling, 'Take it off! Take it all off!'"
Price also enjoyed sports, including baseball and deep-sea fishing. But it was in acting he lived his dream, despite the early advice of a famous friend.
"At Yale, dad studied art history, English, and poetry. And he also sang in the glee club. But he had a secret ambition to become an actor, so he sought out the advice of a famous friend – James Thurber, the great American humorist, essayist and cartoonist. Now, dad had never been cast in anything at Yale; he had never been cast in high school. He told Thurber about his secret ambition, and Thurber laughed at him and said, 'Are you kidding me??? You don't have a chance at becoming that.' So my dad decided he would pursue artistry and went off to study at the University of London. However, dad did have the last laugh, because in a 1944 New Yorker essay about giving young people advice, Thurber wrote, 'Ever since I told Vincent Price not to become an actor, I never give young people advice."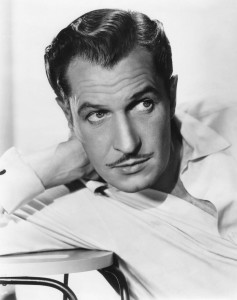 Better advice would come from the first lady of the American stage, Helen Hayes.
"In 1935, while appearing on Broadway, my father was offered a million dollar contract to come out to Hollywood. But Dad was very humble and he always wanted to learn. So he went to Helen Hayes to ask if he should accept the offer. She asked him, 'Do you feel you know your craft?' and he said, 'Well, no, how can I? I've only been in one and half plays!' And she said, 'Exactly. If you don't want to be a flash in the pan, you turn down that contract and you learn your craft,' and he did.
Price would learn his craft by doing summer stock and then returning to Broadway, and while working with Orson Wells' Mercury Theatre. But it would be in Hollywood, and in the sinister roles he is best known for today, that he truly found his niche.
"The first time he knew the audience hated him, he felt at home."
Only Vincent Price, she said, could sit quietly behind two terrified teenaged girls in a darkened movie house – watching one his horror films – and then at the climax of the picture, lean forward and with his distinctive voice ask, "Did you like it?"
Victoria concluded her reflections with a short glimpse of Vincent's appearance on the Dean Martin roast of Bette Davis, and by recognizing two people – Tim Burton and Michael Jackson – for bringing her father's unique persona to a new generation of fans.
"As long as there is Halloween, there will be Thriller," she said.
* * * * *
John Astin's gripping forty minute presentation focused primarily on letters about Poe, including one which recounted the recollections of an old classmate, Dr. Creed Thomas.
Thomas was quoted in part as saying, "Poe was a quiet, peaceful youngster, and seldom got into a difficulty with his schoolmates. He was as plucky as any boy at school, however, and never permitted himself to be imposed upon."
Astin also shared several poems, including The Raven, To Helen and Eldorado.
Gaily bedight,
   A gallant knight,
In sunshine and in shadow,   
   Had journeyed long,   
   Singing a song,
In search of Eldorado.
   But he grew old—
   This knight so bold—   
And o'er his heart a shadow—   
   Fell as he found
   No spot of ground
That looked like Eldorado.
   And, as his strength   
   Failed him at length,
He met a pilgrim shadow—   
   'Shadow,' said he,   
   'Where can it be—
This land of Eldorado?'
   'Over the Mountains
   Of the Moon,
Down the Valley of the Shadow,   
   Ride, boldly ride,'
   The shade replied,—
'If you seek for Eldorado!'
At one point, the actor paused for a few moments of personal refection about how Poe has impacted his own life.
"I was touring with the one-man show, Once Upon a Midnight, when 9-11 happened, and I was scheduled to perform on Staten Island shortly after the attack. We briefly considered cancelling the performance, but the more I thought about it, I realized that since Poe dealt with so much tragedy, that perhaps his words might resonate with the audience. So I went on and found out later that there wasn't a single person in the house that hadn't lost someone they personally knew in the attack."
* * * * *
The celebration concluded with cider toasts to Poe and Price, and with song, as tenor Andrew Lincoln sang "The Meeting of the Waters" and "The Parting of the Glass."
After the event, many migrated to the Annabelle Lee Tavern in Highlandtown for dinner.
Lou Ann Homan and Morgan Sauer had traveled from Indiana. For the pair, it was their first trip east to visit any of the sites associated with Poe, and a chance for Sauer, a high school senior, to "call" Homan on a promise she had  made to undertake such a venture.
"We left Indiana Thursday night, and traveled for 22 hours on a train to Richmond for their Poe celebration," Homan said. "It's kind of fun to think that we took a train to attend a Poe event. We spent twelve hours doing everything Poe-related in Richmond. Then this morning (Sunday) we arrived in Baltimore at 1:47pm and took a cab to the Poe House and Museum before heading to Westminster Hall. We really had no idea what to expect, and we were a little surprised by the turn-out."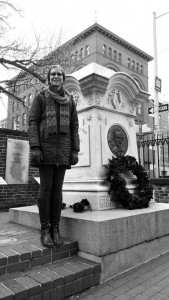 Their impression?
"What a wonderful event! We've had the best time here. I cried while listening to John Astin."
Homan added that she teaches at Trine University in her hometown of Angola, Indiana. Each October she sponsors a Poe Night there.
"We fill the house every fall for our event," she said, adding, "Poe lives quite well in the Midwest."
* * * * *
Baltimore's Poe birthday festivities concluded on Monday afternoon with a wreath laying at his grave. About 25 fans were on hand as Victoria Price joined actor Tony Tsendeas and Jeff Jerome, Curator Emeritus of the Edgar Allan Poe House and Museum, for this ceremony.
(More images from the two events may be found at Stacy Atwell's Flickr pages here and here)

Anthony C. Hayes is an actor, author, raconteur, rapscallion and bon vivant. A one-time newsboy for the Evening Sun and professional presence at the Washington Herald, Tony's poetry, photography, humor, and prose have also been featured in Smile, Hon, You're in Baltimore!, Destination Maryland, Magic Octopus Magazine, Los Angeles Post-Examiner, Voice of Baltimore, SmartCEO, Alvarez Fiction, and Tales of Blood and Roses. If you notice that his work has been purloined, please let him know. As the Good Book says, "Thou shalt not steal."