Vincent Price: Behind the mustache with Victoria Price
When the curtain rises this Sunday afternoon at Baltimore's Westminster Hall, for the annual Edgar Allan Poe Birthday Celebration, fans will have a chance to hear two very special guests. One is the inimitable John Astin, who portrayed Poe in the one man play, Once Upon a Midnight. The second is author Victoria Price, daughter and biographer of the late film star Vincent Price.
Perhaps no other name is as intrinsically tied to Poe as is Vincent Price. In numerous recordings and films, Price came to personify the macabre cast of characters which permeate the pages of Poe's often ghastly short stories and poems.
The Baltimore Post-Examiner caught up with Victoria Price this week to talk about her father, her book, and her upcoming visit to Baltimore.
How did you come to be involved with this year's Poe birthday celebration?
I was invited! Jeff Jerome (Curator Emeritus of the Edgar Allan Poe House and Museum) heard that I was doing some things over Halloween with the Poe Museum down in Richmond, Virginia. I had given a talk about my father's life, and obviously my dad is so connected with Poe. I think Jeff mentioned that to people in Baltimore, and they thought it would be a good idea to put together a fundraiser with John Astin and me to benefit the Westminster Hall Preservation Trust. That's what we've done, and I'm very excited about coming.
Have you ever been to Baltimore?
I came to Baltimore during the spring break of my senior year of high school. Dad was doing Oscar Wilde at the Morris Mechanic Theatre. He was fantastic! I think it was one of the best things he ever did as an actor. It was an incredible show and a wonderful thing for his career as well, after so many years of what came to be a kind of typecasting. To be able to do a part which was so rich and diverse – complex and poignant was really wonderful. We spent about a week together in Baltimore and ate a lot of seafood.
Were you on hand when the famous picture of your father next to Poe's grave was snapped?
I remember going to the Poe Museum specifically. I don't know for sure if the photograph of (Vincent) beside Poe's grave was taken at that time, but I do know that he was involved with Jeff Jerome in supporting the museum.
Your biography was originally released in 1998, but I see a new edition came out last fall.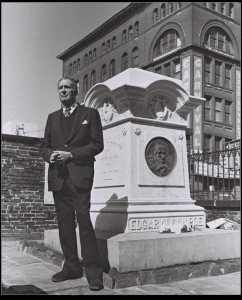 Yes, a new release with a new preface. There is also an audio book and several other Vincent Price titles in the works, so I'm excited about that.
What compelled you to write the book?
The reason I wrote the book was not because I wanted to write his biography. I actually don't think kids should write their parent's biography. They can't be exactly objective. But he and I had been working on a book about his life in the visual arts. I was in fact in New York meeting with an interested publisher when my father died. He was very excited about it, but then after Dad died, everyone wanted a biography. Not just a book about art. I had a decision to make. I knew there were people who were way bigger horror fans and knew more about his career than I did, but I knew that if I didn't write this book, that the thing he cared about most would not have been captured and recognized.
Remember, he was 51 when I was born, and I didn't really become conscious of his fame til I was 5 or 6, so I could have some objectivity about the first 55 years of his life. I'm also an academic at heart, so getting to interview 250 people about my father's career was fascinating. I'm just glad that I did it. It gave a me a real place of peace about him. And now that I've written the book and go to horror conventions and meet these amazingly wonderful horror fans, I actually have a much greater understanding of the horror genre and appreciation of it.
That's interesting, since in your book, you readily admit that you never watched your father's horror movies. Why is that?
The reason I didn't watch those films was my dad was the least scary person on the planet. He'd walk into a room, and it was like someone took the roof off and the sun shown through. He was just so full of joy, humor and laughter, and I just couldn't reconcile that person who I knew him to be, with someone who would lop off someone's head with a pendulum or throw them in a vat of hot wax. I didn't like seeing him do that to people, and I didn't like him murdered in the all the ways he was murdered. I mean, I adored my dad.
And I don't like being scared.
When I was thirteen, he took me to see Earthquake; one of those disaster movies that came out in the 70's. It was shown in Sensurround – one of those gimmicks where the whole place shook – and that night, I couldn't sleep. I kept imagining the hill was coming down, and we were all going to be buried. So the next morning I came down for breakfast, and I said, "Dad, that was so scary. I was worried we were having an earthquake." I was just so terrified. He thought that was the silliest thing he had ever heard of – to be scared of a movie. But I was scared. I've always had an active imagination.
Of course, I'm not a kid anymore, so I can watch his movies now. They're tame compared to what you see on TV. I'm a big fan of The Black List, and in any given episode, there is something more violent and gruesome than anything you'd see in any of my Dad's horror movies. So now, I can watch Dad's films and recognize the humor in them and appreciate the kind of character portrayals he was doing. I definitely have a different take on them now than when I was a kid.
Getting back to Poe, do you have a favorite story or poem?
I remember being in 8th grade and reading Poe. Dad had written the introduction to the paperback edition, and I recall feeling like we were part of the Poe family. I felt like we were so connected. The Tell Tale Heart is a favorite, and I remember being very struck by the Maelström. I've actually downloaded an app, so that I can listen to Poe on my trip east to Baltimore.
There are also the phonograph records, right?
Yes! Along with the films, Dad also recorded several albums of Poe stories. There was also a TV special which my mother did the costumes for. Dad had such an incredible speaking voice and a real love of language. It was always a pleasure to hear him.
Your father seems to have had a good sense of humor. That shows in films like The Comedy of Terrors with Peter Lorre.
Yes it does. Think of how much fun they had making it. Dad was also a big sports fan and I think he would have had a laugh with your piece about who Poe would root for in the game between the Ravens and the Patriots.
There was a serious side, too. In his book about The Hollywood Squares, Peter Marshall mentions a story of an autograph seeker and Vincent's promise to his dying friend, Dolores del Río. Do you know if that incident is true and, if so, could you say anything about it?
It is true, and it's the final story in my book. I first heard that story from (film actor) Alan Bates. Without giving it away, all I will say is that story really encapsulates who he was.
You've mentioned his film, television and theatre work and his love of art and literature. Vincent was also a gourmet chef and much more. He really was a Renaissance man.
Dad famously said, 'If you limit your interests, you limit your life.' He lived this life of unlimited curiosity and generosity of spirit. I think that's one of the reasons, in a funny way, he is almost more famous now than he was back then.
* * * * *
Behind the Mustache: The Lives of Vincent Price and Edgar Allan Poe takes place this Sunday, January 18, at Westminster Hall and Burying Grounds, 519 West Fayette Street, Baltimore, Maryland. Doors open at 3pm and the show starts promptly at 4pm. Those who purchased tickets to this event will be able to buy Victoria Price's biography of her iconic father, Vincent Price, for $25. A portion of the sales will be donated to the Westminster Preservation Trust. Victoria Price will also be on hand on Monday January 19, at 3pm for a wreath laying ceremony at the grave of Edgar Allan Poe. The wreath laying ceremony is free and open to the public.
UPDATE: You can check out our coverage of the Poe celebration by reading our story: Poe, Vincent Price Lovingly Remembered at Annual Event.

Anthony C. Hayes is an actor, author, raconteur, rapscallion and bon vivant. A one-time newsboy for the Evening Sun and professional presence at the Washington Herald, Tony's poetry, photography, humor, and prose have also been featured in Smile, Hon, You're in Baltimore!, Destination Maryland, Magic Octopus Magazine, Los Angeles Post-Examiner, Voice of Baltimore, SmartCEO, Alvarez Fiction, and Tales of Blood and Roses. If you notice that his work has been purloined, please let him know. As the Good Book says, "Thou shalt not steal."