Martin O'Malley tears into Trump Homeland Security official at the Irish Pub Dubliner in D.C.
BALTIMORE – When Martin O'Malley was mayor of this city, he kept a sign on a wall above his City Hall desk that said, "No Irish Need Apply."
It was O'Malley's reminder of those heartless rejection slips that appeared in the front windows of countless American businesses early in the 20th century.
"No Irish need apply" – and no other questions needed to be asked.
The signs spoke to two audiences. They informed Irish immigrants they should look elsewhere for work, and they signaled to everyone else that there must be something different, something to be avoided, about these people.
But they hinted at something broader than the Irish, and continue today: this nation's ongoing dispute with itself, and the endless argument about "different" newcomers who wish fervently to become part of the extended American family and are told not to apply.
It's a dispute brought to a boil by President Donald Trump, who bad-mouths desperate immigrants for use as political pawns, and it had its most recent dramatization last week, according to reporting in The Washington Post.
This time the instigator was O'Malley, the former Baltimore mayor and governor of Maryland so conscious of his Irish roots that he's gone back to Clombur, in an Irish farm country called Kilmilkeen, to search out his ancestors.
In O'Malley's reading, the old, lamentable "No Irish Need Apply" signs are directly translated today as "No Latinos Need Apply" for full entrance to America.
As reported by the Post's Laura Vozzella, O'Malley last week confronted Ken Cuccinelli, President Trump's acting deputy secretary of the Department of Homeland Security, at The Dubliner, a Capitol Hill Irish pub.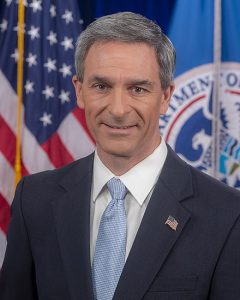 Cuccinelli's roots aren't so different from O'Malley's. His father's people come from Italy, but his mother's from Ireland. There, all comparisons end. Cuccinelli's anti-gay, and he's a climate-change denier – all antithetical to O'Malley positions.
Also, Cuccinelli's aligned with President Trump on the treatment of immigrants.
As the Post reported, O'Malley tore into Cuccinelli – O'Malley at full blast, Cuccinelli listening silently and then making a hasty exit.
O'Malley blasted the Trump administration's separation of migrant children from their parents. In a follow-up text to Vozzella, he called Cuccinelli "the son of immigrant grandparents who cages children for a fascist president."
In other words, as a descendant of immigrants, Cuccinelli carries a special shame for such actions.
But the sentiments are nothing new for Cuccinelli. Four years ago, he accused President Barack Obama of encouraging "an invasion" of undocumented immigrants. As a Virginia state senator, he tried to strip citizenship from American-born children of immigrants and wanted illegal immigrants banned from attending state colleges.
All of this offends O'Malley, who's been a champion of "Dreamers," and okayed driver's licenses and in-state tuition for undocumented immigrants when he was governor of Maryland.
That sign in his office – No Irish need apply – never leaves his mind or heart.
But it's a variation on Trump administration policies today. It's not just that Trump has called for tighter immigration rules – no country can allow limitless immigration. It's that this president has so consistently demonized immigrants, especially those who aren't white, and so clearly used them as political pawns.
That's what set O'Malley off last week. He knows a bad sign when he sees it.

Michael Olesker, columnist for the News American, Baltimore Sun, and Baltimore Examiner has spent a quarter of a century writing about the city he loves.He is the author of five previous books, including Michael Olesker's Baltimore: If You Live Here, You're Home, Journeys to the Heart of Baltimore, and The Colts' Baltimore: A City and Its Love Affair in the 1950s, all published by Johns Hopkins Press.