Las Vegas Metro Police told 'Back Off!' as they watched child prostitution in progress
LAS VEGAS — Retired Las Vegas Metropolitan Police Department (LVMPD) Sgt. Garry Dale said he was ordered to back off arrests involving child prostitution while conducting a surveillance operation with other detectives.
Dale posted the comment on Facebook after the Baltimore Post-Examiner published, 'EXCLUSIVE: Las Vegas Metro Police Sgt. Norm Jahn fired after ordered to 'stop being proactive on vice crimes'.
Dale's comment was beyond disturbing: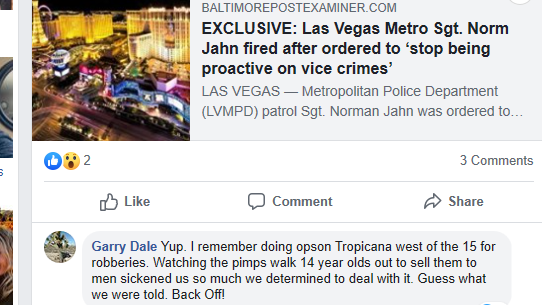 "I remember doing ops on Tropicana west of the 15 for robberies.  Watching pimps walk 14 year olds out to sell them to men sickened us so much we determined to deal with it.  Guess what we were told.  Back Off!"
So, as I understand Dale's comment, police officers were told to back off from taking action for a crime in progress.
And not just any crime; Under-age females, children, being trafficked to men for the purpose of sex as cops watched and did nothing to stop it.
I don't know what supervisor gave them the order to back off, but that order was wrongful and illegal.
You don't sit by, orders or not, and watch children become the targets of what amounts to rape by sick and twisted men.
The Baltimore Post-Examiner reached out to Dale however he did not return our request for further comment.
We do not know the time period when this incident occurred.
Dale's LinkedIn page indicates he retired in 2007 with over 23 years of service.
What Dale's comment does do is reinforce what the Baltimore Post-Examiner was told by others.
In our October 29 article and then in our November 1 article, 'Sgt. Norm Jahn story Part II: How Las Vegas Metro Police destroyed a good cop,' we recounted how now-retired LVMPD Sgt. Norman Jahn, who supervised a squad of 13 officers who patrolled the Las Vegas Strip, was told to back off from enforcing vice crimes.
Jahn became the target of harassment and retaliation by LVMPD superiors for doing his job and following a departmental policy that stated all personnel were to "vigorously" enforce vice crimes.  Jahn was fired in 2011.  The conclusion of his story will be forthcoming.
The Baltimore Post-Examiner has published numerous articles on Las Vegas Township Justice Court Judge Melanie Andress-Tobiasson, who told the Baltimore Post-Examiner in May of 2018 in an on-the-record recorded interview how her complaints to LVMPD Vice detectives starting in 2015 about unlicensed after-hours clubs that were fronts for prostitution, frequented by under-age females and off-duty LVMPD police officers, fell on deaf years.
For her efforts, Tobiasson, as we reported in a prior story, was intentionally outed as a confidential source of information by Vice Detective Justine Gatus.
Gatus' reward; Gatus was transferred by Sheriff Joe Lombardo, the head of the LVMPD, to the Homicide Bureau.
One more thing.
I don't want to hear from anyone that maybe Dale and his detectives were told to back off because they would have jeopardized an ongoing investigation.
That doesn't fly with me.
You intervene and you get the children to safety, that's the primary responsibility of law enforcement.
By the way, if you read the first two stories on Norman Jahn, that is exactly what he and his squad did more than once.  They intervened and got juvenile prostitutes to safety and we know what happened to him.
THE LAS VEGAS MEDIA – HEAR NO EVIL, SEE NO EVIL, SPEAK NO EVIL
I investigate stories from Las Vegas that are published by the Baltimore Post-Examiner, an online news outlet.  I have broken more stories about the October 1, 2017, Las Vegas Massacre, the now three-year unsolved Land/Kauffman double homicide and Judge Melanie Andress-Tobiasson.
The Las Vegas Sun, the Las Vegas Review-Journal, News 3, FOX 5 Las Vegas, 8 News Now and 13 Action News, to name a few, do not believe my stories are newsworthy and would be of interest to the Las Vegas community.
Any community news media outlet that remains silent and does not report stories of concern to the community they serve, pays the price by losing their integrity as a news organization.
Apparently in Las Vegas, the "First Commandment" of the local news media is not to criticize Sheriff Joe Lombardo and the LVMPD.
When Judge Tobiasson makes the statement that she was told by a homicide detective in 2016 that the police had all the evidence that indicated that Shane Valentine, Dominique Thompson, and Frankie Zappia executed Sydney Land and Nehemiah Kauffman, that is not of interest to the Las Vegas media.
When Homicide Detective Mitchell Dosch told Connie Land, Sydney's mother, that the investigation was botched because of events that were "out of his control," that is not of interest to the Las Vegas media.
When firefighter/paramedic Steve Land, Sydney's father, went into his daughter's apartment after the crime scene was cleared and found evidence left behind by the LVMPD in the same blood-stained room where his daughter was brutally shot in the face, that is not of interest to the Las Vegas media.
Shame on you all. Why are you afraid to cover the news?

Doug authored over 135 articles on the October 1, 2017 Las Vegas Massacre, more than any other single journalist in the country. He investigates stories on corruption, law enforcement and crime. Doug is a US Army Military Police Veteran, former police officer, deputy sheriff and criminal investigator. Doug spent 20 years in the hotel/casino industry as an investigator and then as Director of Security and Surveillance. He also spent a short time with the US Dept. of Homeland Security, Transportation Security Administration. In 1986 Doug was awarded Criminal Investigator of the Year by the Loudoun County Sheriff's Office in Virginia for his undercover work in narcotics enforcement. In 1992 and 1993 Doug testified in court that a sheriff's office official and the county prosecutor withheld exculpatory evidence during the 1988 trial of a man accused of the attempted murder of his wife. Doug's testimony led to a judge's decision to order the release of the man from prison in 1992 and awarded him a new trial, in which he was later acquitted. As a result of Doug breaking the police "blue wall of silence," he was fired by the county sheriff. His story was featured on Inside Edition, Current Affair and CBS News' "Street Stories with Ed Bradley". In 1992 after losing his job, at the request of the Federal Bureau of Investigation, Doug infiltrated a group of men who were plotting the kidnapping of a Dupont fortune heir and his wife. Doug has been a guest on national television and radio programs speaking on the stories he now writes as an investigative journalist.