LAS VEGAS — On August 15th the Las Vegas Metropolitan Police Department's Vice Bureau sent out a BOLO (be-on-the-lookout) flyer to area hotel/casinos advising that if "either of these two subjects, Frankie Zappia and/or Samera Long are on your hotel property, please contact Sgt. David 24/7 @ 702-845-4685.
The case number on the flyer, 19080007-6223, indicates it's in connection with a criminal case that originated on August 7, 2019.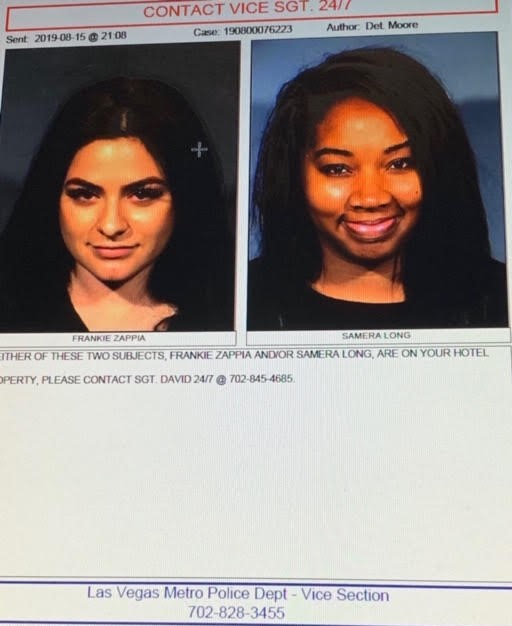 Las Vegas Township Justice Court records indicate that Frankie Zappia was convicted of soliciting/engaging in prostitution on June 2, 2016.   Samera Long was convicted of soliciting/engaging in prostitution on July 22, 2019.
On August 9, 2019 Zappia and Long were both charged with soliciting/engaging in prostitution and both were released on their own recognizance on August 10 with a court return date of October 9, court records indicate.
The judicial officer set to hear Long's case on October 9 is Judge Melanie A. Tobiasson.

Prostitution is illegal in Clark County, Nevada
Many tourists who come to Las Vegas are under the false impression that soliciting and or engaging in prostitution is legal in Clark County, Nevada.
Prostitution is not legal in Nevada counties with 700,000 or more residents and that includes Clark County which Las Vegas sits in. Prostitution is also illegal in Washoe County, which includes the city of Reno, along with Lincoln and Douglas counties and Carson City, the capital of Nevada.
Prostitution is legal in Nevada only at licensed and regulated brothels in counties that allow it. Registered prostitutes must be tested weekly for sexually transmitted diseases like gonorrhea and monthly for HIV and syphilis. Condoms are mandatory. If a customer becomes infected with HIV after a sex worker tests positive, the brothel owner can be held liable.
Streetwalking and other forms of sex for money are illegal everywhere in Nevada, just as it is in every other state.
Prostitutes frequent just about all Las Vegas casinos/hotels and loiter on the premises to pick up customers known as "johns" in the business.
A trick-roll is a term used when a prostitute steals money from a "john."  Trick-rolls occur in a hotel room while the john is sleeping, taking a shower, or is intoxicated from alcohol or drugs. Often times the prostitute covertly adds knock out drops to a johns drink, waits for him to pass out, then loots his room.
Many times the hotel guest will notify security and say that their room was burglarized in the night while they slept, in an effort to conceal their involvement with a prostitute, however, a thorough investigation by security usually uncovers the truth.
Trick rolls are a multi-million dollar business in Las Vegas.
Las Vegas is also a hub for child sex-trafficking and has been such for years.
Frankie Zappia and the 2016 unsolved Land/Kauffman double homicides
Judge Melanie Andress-Tobiasson told the Baltimore Post-Examiner in a May 2018 on-the-record recorded interview that Las Vegas Metropolitan Police Department Homicide Bureau Detective Jarrod Grimmett told her that Frankie Zappia, Zappia's pimp Dominique 'Domo" Thompson and convicted felon and long-time pimp Shane Valentine, were involved in the October 2016 murders of Sydney Land and Nehemiah "Neo" Kauffman.
"Shane, Domo, and Frankie, whose step-dad is a police officer by the name of Dano Giersdorf, go to Neo's house and execute Neo and his girlfriend, Sydney Land, whose dad is a fire captain." "I told you about the detective that was originally on the case, he told me all the evidence they had that showed it was Shane, Domo and Frankie," Tobiasson said.
Shane Valentine and Dominique Thompson are currently in prison on charges unrelated to the murders.
Frankie Zappia denies involvement in the murders
In 2017 Frankie posted the following on her Facebook page:
"I would like to post this because I feel people need to know….. Sydney Land was my best friend. We did everything together. She knew me better than I knew myself. She was everything to me. I had never met someone like her my whole life. She was always there for me. I was in jail for four months and she's the only person I wanted to talk to every day. And I did. She never missed a phone call. She was always there. No matter if I was being dramatic or not….. then she passed away….. and everyone felt the need to blame me for it. I'm a 22-year-old girl just like she is, I'm human and I have feelings. Sydney was my everything. She was my bestest friend in the whole world. I would never put her in danger. It's been a whole year since she left, and till this day people have my name in their mouth just so they have someone to blame. Sydney knows it wasn't me. Sydney knows I was her biggest fan. Sydney knows how much love I have for her. I cry every day over her. And the fact that people keep saying I had something to do with her passing breaks my heart….."
Editor's Note: Listen to Podcast about the murder of Sydney Land and Nehemiah "Neo" Kauffman.
Closing comments
According to the police, Frankie Zappia was the last person to see Sydney Land alive.
If the Las Vegas Metropolitan Police Department indeed has all the evidence, as Judge Tobaisson said Detective Grimmett told her, that Frankie Zappia, Shane Valentine and Dominique Thompson were involved in the murder of Sydney Land and Nehemiah Kauffman, then I would have to ask why nobody has been charged to date, almost three years after the unsolved murders were committed.
The police have never disputed what Judge Tobiasson said on the record to the Baltimore Post-Examiner. In fact, they seemed to have confirmed what Tobiasson said.
As we reported in our June 27, 2019 story, "Internal Affairs to Land: Las Vegas homicide detective didn't violate policy when he leaked confidential information to judge", the LVMPD Internal Affairs Bureau told Connie Land, the mother of Sydney Land, that Detective Grimmett did not violate police policy when he leaked confidential details of the homicide investigation to Tobiasson.
Once again, we have to ask. Care to comment Sheriff Joe Lombardo?