Las Vegas Metro Police official failed to tell the truth in Fox News documentary on massacre
LAS VEGAS — The Fox News Network's Fox Nation aired Tuesday 'The Las Vegas Massacre' – An investigative look into the deadliest mass shooting in American history, told through never-before-seen footage and exclusive interviews. Discover what really happened inside the Route 91 Harvest Festival in Las Vegas – and why police still cannot determine the shooter's motive.
The documentary contained interviews with survivors of the massacre, emergency medical personnel, police and concert performers.
Listening to the survivors and medical personnel relive the horror of that tragic night was heartbreaking.
As far as an 'investigative look' into the Las Vegas Massacre it fell short on several issues.
Clark County Sheriff Joe Lombardo's Undersheriff, Kevin McMahill, second in command of the Las Vegas Metropolitan Police Department (LVMPD) was interviewed.
Two years after the worst mass shooting in modern American history occurred, a top police official still cannot get the facts straight and tell the truth.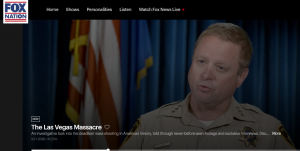 McMahill: There's an L-shape metal bracket that was used by the suspect to keep the officers from opening the fire escape door which is where they would of went in. So luckily one of our SWAT officers, Levi Hancock, had self-deployed, he had a tool that allowed him to defeat that L-shaped bracket and so as they get that door breached, the shooting stops.
That statement by McMahill is not true. McMahill, the number two man in command of the LVMPD still doesn't know when the shooting stopped, two years after the massacre?
Here's the truth. Paddock stopped firing sometime between 10:15 p.m. and 10:16 p.m. on October 1, 2017, way before Levi Hancock had even entered the stairwell. Hancock and his ad-hoc team of patrol officers arrived into the 32nd floor stairwell just a few minutes shy of 11:00 p.m. They breached the stairwell door a few minutes later, there was no gunfire going on, and then did an explosive breach on Paddock's suite at 11:20 p.m. over one hour after the last shots were fired.
It's extremely disturbing that Fox News didn't verify what McMahill had said.
McMahill presented a false narrative to the public once again as to the events that happened that night. If you recall, I reported back in October 2017 that McMahill had told the press at that time, that they couldn't make entry into Paddock's suite until the full SWAT Team arrived. As I pointed out then, the full team never arrived.
McMahill: And what we try to do in those situations, if there's people actively being killed, it doesn't matter, we train to go through the door.
If that's the case, then why did LVMPD Field Training Officer Cordell Hendrex and LVMPD Officer Eliff Varsin and three armed Mandalay Bay assistant security managers when they all retreated on the 31st floor for well over four minutes while people were being killed and made no attempt at all to reach the shooter just one floor above.
In a previous story, I pointed out that Lombardo said armed security are a force multiplier for the police. So, five armed personnel did nothing as lives were being lost and casualties were piling up.
In addition to that armed contingent, on the 32nd floor while Paddock was firing there were also the Mandalay Bay armed security operations manager along with two armed security bike patrol officers, who also made no attempt to save lives.
A total of eight armed personnel in the vicinity of Paddock's suite.
What did Fox Nation have to say about Hendrex and all these armed officers?
Nothing, absolutely nothing, never mentioned it in the one-hour and thirty-minute documentary, Hendrex's name or failure to act never came up.
McMahill: They're very reluctant to go in when there's nobody being killed at that particular point.
That is the opposite of what Lombardo said one month after the massacre during his November 2, 2017 interview with George Knapp of KLAS-TV's 8News Now I-Team.
Lombardo told Knapp, "In this case because of what the suspect did, officers made the decision to breach this doorway of the hotel room in case the guy was reloading, maybe he was reloading magazines, we didn't want to give him the opportunity to keep firing."
The problem with that statement was nobody made entry into the suite into well over one hour, so where was the concern for the public safety as Lombardo stated. Lombardo was never challenged by Knapp on that. Knapp went on to another question.
McMahill: I don't think anybody would believe that when we went into that room that we would find a 64-year-old white man be responsible for this.  
Why not, white men have committed more mass murder throughout American history, more than any other race.
McMahill: I wasn't surprised by the number of weapons in the room when I saw the devastation that he placed upon the crowd. What I was surprised about was how he got them [23 rifles] in there, because the vast majority of the pieces of luggage that were in that room were all basically carry-on size luggage.
I agree, that has always bothered me. At least McMahill raised that issue.
ATF Special Agent Jill Snyder also appeared in the documentary.
Snyder: I will never forget that day…   I walked into the room… There was a blood stain on the floor where he shot himself… Thousands of empty shell casings.
According to the LVMPD's Final Criminal Investigative Report they recovered (approximately 1, 050) .223/5.56 expended cartridge casings from Room 32-135.
Mandalay Bay Security Officer Jesus Campos was only mentioned briefly in the documentary as being shot in the leg. No mention was made as to why Campos after observing the L-bracket drilled into the fire stairwell door and jamb, then heard drilling noises inside Paddock's suite, just walked away without investigating or calling that in. That will go down as the worst case of security negligence in the history of the hotel/ casino industry.
On October 8, 2017 the Baltimore Post-Examiner broke the story, 'Las Vegas Police borrowed armored vehicles from private company'. In that story, I wrote that the LVMPD borrowed armored vehicles from Battlefield Vegas, a company that provides customers with the opportunity to fire fully automatic weapons and owns a fleet of surplus military vehicles. At the time the LVMPD and Battlefield Vegas refused to comment.
A representative of Battlefield Vegas appeared in the documentary and stated, "A friend from LVMPD called stating they needed to use our armored personnel carriers." They provided them to the police.
One of the male survivors who appeared in the documentary said, "I believe it was a snipers paradise because you had several tall buildings all facing down at a central low area with no cover."
The Baltimore Post-Examiner broke the story that MGM Resorts International (MGMRI) who own the Mandalay Bay Hotel, along with the FBI, and the LVMPD were all fully aware of the threat posed by a sniper attack from an elevated position in a hotel high-rise tower, years before the Massacre.
Apparently nothing was learned from that training scenario as it was ignored in the pre-planning stages for the Route 91 Music Festival as was the 2014 incident when a convicted felon brought an arsenal of weapons into a room in one of the high-rise towers at the Mandalay Bay Hotel, and had a high-powered rifle pointed to a window overlooking the Las Vegas Strip. For further read, 'EXCLUSIVE: MGM Resorts International executive knew that a sniper attack from a hotel high-rise posed a threat prior to October 1 massacre'.
Country music artist John Rich, one of the performers at the concert said, "I don't know if we will ever know the full story about this, if there's more to know about it, I wish the President of the United States would tell us all of it. A lot of concerts that we play even recently, we meet people that lost their kids, lost their husbands, even people that have been injured themselves and they all feel like there's more information to know as well."
There are many questions still left unanswered.
To date the FBI has not released any of their forensic analysis reports on any of the evidence including the results of the examination of the projectiles (bullets) recovered from victims, survivors and the concert area. Were they all matched as having been fired from the firearms seized from the rooms?
As far as MGMRI is concerned, perhaps one female survivor said it best in the documentary:
"Mandalay Bay has repeatedly done things that just don't speak to any form of compassion. At the year [anniversary], we did a walk around the venue. There were literally hundreds of us who were there. The entire Strip was supposed to go dark. Mandalay Bay didn't even flinch, didn't even cut off their marquee."
Fox News did a good job on this documentary as far as a human interest story goes. Like I said earlier, listening to the survivors and the paramedics who were heroes that night, was heart-wrenching.
That being said, I was disappointed in Fox News, their investigative approach fell short.
The October 1, 2017 Las Vegas Massacre should never have happened. It was the result of complacency, ignorance, and incompetence on behalf of MGMRI and the police.
Failed police leadership and political correctness resulted in a lack of preparedness that night.
With all the millions of dollars that run through Las Vegas in one day, it's a tragedy in itself that it took the death of 58 people and the wounding and injuring of hundreds of others to implement measures that should have been in place prior to the Las Vegas Massacre.
Watch the Fox Nation documentary.
Authors note: I have received inquiries from survivors and family members of the victims questioning why former Nevada District Court Judge Jennifer Togliatti, who retired earlier this year, is one of the mediators involved with the ongoing mediation between attorneys for MGMRI and attorneys for the victims.
Jennifer Togliatti is the daughter of George Togliatti, who is a retired FBI special agent and was the Vice President of Security, Surveillance and Safety at the Mandalay Bay Hotel serving in that capacity for MGMRI from 2008 to 2019. George Togliatti was appointed earlier this year by Nevada Governor Steve Sisolak to head the Nevada Department of Public Safety.
From what I heard her appointment was agreed upon by Nevada lawyers involved in the mediation process.

Doug authored over 135 articles on the October 1, 2017 Las Vegas Massacre, more than any other single journalist in the country. He investigates stories on corruption, law enforcement and crime. Doug is a US Army Military Police Veteran, former police officer, deputy sheriff and criminal investigator. Doug spent 20 years in the hotel/casino industry as an investigator and then as Director of Security and Surveillance. He also spent a short time with the US Dept. of Homeland Security, Transportation Security Administration. In 1986 Doug was awarded Criminal Investigator of the Year by the Loudoun County Sheriff's Office in Virginia for his undercover work in narcotics enforcement. In 1992 and 1993 Doug testified in court that a sheriff's office official and the county prosecutor withheld exculpatory evidence during the 1988 trial of a man accused of the attempted murder of his wife. Doug's testimony led to a judge's decision to order the release of the man from prison in 1992 and awarded him a new trial, in which he was later acquitted. As a result of Doug breaking the police "blue wall of silence," he was fired by the county sheriff. His story was featured on Inside Edition, Current Affair and CBS News' "Street Stories with Ed Bradley". In 1992 after losing his job, at the request of the Federal Bureau of Investigation, Doug infiltrated a group of men who were plotting the kidnapping of a Dupont fortune heir and his wife. Doug has been a guest on national television and radio programs speaking on the stories he now writes as an investigative journalist.