Las Vegas Metro Police: Officer Cordell Hendrex who failed to take action during Massacre no longer employed
LAS VEGAS — Field Training Officer Cordell Hendrex is no longer employed with the department, according to three Las Vegas Metropolitan Police Department (LVMPD) Communications Center operators who spoke to the Baltimore Post-Examiner.
Hendrex was the officer who said he was too scared to attempt to go into the room where gunman Stephen Paddock unloaded more than 1,000 rounds killing and wounding multiple people at the Route 91 Harvest Music Festival in 2017.
His actions mirror Scott Peterson, the 56-year-old retired Broward County Sheriff's Office School Resource Officer who failed to confront the former student who gunned down and killed 17 students and staff at Majority Stoneman Douglas High School in Parkland Florida on Feb. 14, 2018,
Peterson was charged on 11 counts this week in connection with his cowardly decision not to act. His lawyers have called the charges politically motivated and vowed to fight them vigorously in court.
Peterson was booked this week into the Broward County jail and faces child neglect, culpable negligence, and perjury charges. He was also fired.
Florida Department of Law Enforcement Commissioner Rick Swearingen, whose agency conducted the 15-month investigation along with the Broward State Attorney's Office, said, "There can be no excuse for his complete inaction and no question that his inaction cost lives."
Peterson refused to investigate where the gunshots were coming from and retreated during the gunfire as victims were being shot, the investigation concluded.
Now compare Peterson's inaction to LVMPD Field Training Officer Hendrex, who along with his trainee, LVMPD Officer Elif Varsin and three armed Mandalay Bay Hotel assistant security supervisors, retreated on the 31st floor of the hotel for over four minutes on October 1, 2017, as gunman Stephen Paddock's gunfire was killing and wounding Route 91 Harvest Music Festival attendees.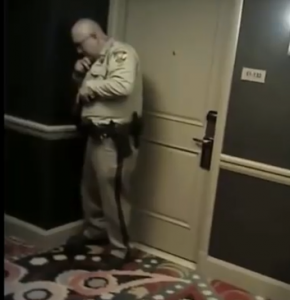 Consider the following:
Hendrex and his armed contingent failed to take any action to reach the 32nd floor to attempt to stop, distract and or disrupt Paddock's gunfire.
Hendrex remained in total safety on the 31stfloor while other LVMPD officers with guts were running through the gunfire to get into the Mandalay Bay to get to the shooter.
Hendrex was the closest police officer to Paddock's suite.  Five armed trained personnel that could have made a difference that night, but nobody took any action to even try. And let us not forget the three armed Mandalay Bay security personnel who were on the 32nd floor while Paddock was firing and they too failed to act to save lives.
Hendrex was fully aware by his own admission that people were being killed and wounded by an active shooter that was inside the Mandalay Bay and that his fellow officers were being pinned down by gunfire before he exited onto the 31stfloor.
Police body-worn camera video that was released in June of 2018 confirmed Hendrex retreated and made no attempt to reach the 32nd floor as the gunfire continued on.
The Las Vegas Massacre is the worst mass shooting incident in modern American history. 58 people were murdered and almost 500 suffered injuries sustained by the gunfire.
What did Hendrex say in his officer's report?
"At approximately 2207 hours I heard an officer get on the radio and say there was an active shooter inside the Route 91 Music Festival which I knew to be across the street from the Mandalay Bay hotel.
I heard on the police radio that at least some of the shots were coming from somewhere inside of the Mandalay Bay about halfway up on the side of the casino closest to the strip and not just from the concert.  One police officer said that they were taking rounds and were pinned down and I could hear gunfire in the background of the radio transmission.
As we rode up to the elevator I distinctly remember saying a prayer in my head for all of us in the elevator and the ones still dealing with the shots coming at them.
While going down the hall one of the guys said that there was a stairwell at the end of the hall. Once near the end of the hall, we heard a volley of an automatic rifle fire start.
The sound of the shots were so very loud and reverberated through the hall like thunder all around and above us.  Above us! I could tell that it was coming from the floor above us on 32.
I then told everyone to get back and we retreated a few doors from the end of the hall.
I know I hesitated and remember being terrified with fear and I think that I froze right there in the middle of the hall for how long I can't say.
I do know that at 2212 hours I got on the radio and told dispatch that I was inside the Mandalay I Bay on the 31stfloor and that I could hear the automatic fire coming from the floor above us.
I once again hesitated as the shots were still being fired from the 32nd
I did not know what to do next.
At 2215 hours the last shots were fired, and we made our way back to the end of the hall to the stairway.
I could feel my mouth was extremely dry and cotton mouth and I had no spit, I also felt myself starting to get tunnel vision and I can remember concentrating on tactical breathing to calm myself."
Does anyone work at the LVMPD Public Information Office?
In our June 8, 2018 Baltimore Post-Examiner article, 'Las Vegas cop who was too scared to enter Paddock's room still training officers,' I wrote that in response to an email sent to the LVMPD as to the status of Field Training Officer Cordell Hendrex and Officer Elif Varsin, LVMPD spokesman Officer Larry Hadfield wrote: "Hendrex   – Active Tourist Safety Division/Convention Center Area Command/Patrol/FTO.  Varsin – Active Tourist Safety Division/Convention Center Area Command/Patrol."
On Tuesday after I heard about Scot Petersen's arrest I called the LVMPD Convention Center Area Command (CCAC) and asked for Officer Hendrex on the off-chance I could talk to him. I was told that there was no Cordell Hendrex assigned to the CCAC.
I then called the LVMPD Communications Center and asked for Hendrex. The operator told me that there is no Cordell Hendrex in the database. When I inquired why that would be I was told by the operator that he could be retired or is no longer employed by the department.
At 2:38 p.m. I sent an email to the LVMPD public information office requesting verification as to whether Hendrex is or is not an active member of the LVMPD. I received no response.
On Wednesday I called back the Communications Center twice to confirm what the operator on Tuesday had told me.   On both separate occasions two different operators advised me that Hendrex was not in the database and was not with the department. When I inquired about Officer Elif Varsin I was informed she was off on Wednesday but currently works out of the CCAC.
I then called back the PIO and asked them if someone would be getting back with me to confirm if Hendrex was still employed with the LVMPD. I did not hear back.
Lombardo defended Hendrex's 'cowardly' actions in radio interview
Sheriff Joe Lombardo who runs the LVMPD was interviewed by Alan Stock of Las Vegas radio station KXNT 840 AM on July 11, 2018. Lombardo tried to do some damage control by making excuses for and defending Hendrex.
"He went with his partner along with security to investigate what the situation was, and he was confronted with an overwhelming level of gunfire and you know what, it's just like the fog of war where you have no idea of how you would react until a situation.  Talk about it until the cows come home until you are put in that situation, you don't know how you react and everybody's' actions associated with 1 October will be evaluated," Lombardo said.
Retired Las Vegas Police lieutenant slammed Hendrex
On October 10, 2018 The Hidden Truth Show hosted by Jim Breslo aired its podcast of an interview with author and retired Las Vegas Police Metropolitan Police Department Lieutenant Randy Sutton, a 30 year police veteran.
"I will say that the embarrassment of the one officer and his trainee who were on the 31st floor, got to the 31st floor, heard the gunshots going off and then did nothing, is something that is a black eye for the department. I think that it's, I was shocked," Sutton said. "Well if it were ninety-nine percent of the police officers I know, they would have gone up and try to take out the shooter." "You take, you know right then and there that lives are being lost and you have sworn an oath to protect and serve, you're trained, you don't take, I don't have to sacrifice your life willingly, but you certainly have a responsibility to get up to that floor and see if there is an action you can take that is reasonable in the light of all the circumstances. You know, remember, all he heard was the gunfire. If he had gone up to that floor and he had seen what the circumstances were, maybe, and this is all conjecture at this point, maybe there was an opportunity to get up there and take out that shooter."
Sutton continued, "He never got up to the 32nd floor. He just hunkered down and waited and so that's the problem."
It is unknown if Hendrex ever faced any department disciplinary action stemming from the night of October 1, 2017.
A criminal records check through local court records indicates no current criminal charges against Hendrex.

A public records inquiry indicates that in 2018 Hendrex's total pay and benefits was $143,590.
Florida gave the public transparency, almost immediately after the school attack and then conducted an investigation that led to Petersen's arrest.
What's up Sheriff Lombardo?
Does not the public, the families of the victims who were killed and the survivors of the October 1 Las Vegas Massacre deserve transparency or is this just another cover-up by you to protect the image of the department.

Doug authored over 135 articles on the October 1, 2017 Las Vegas Massacre, more than any other single journalist in the country. He investigates stories on corruption, law enforcement and crime. Doug is a US Army Military Police Veteran, former police officer, deputy sheriff and criminal investigator. Doug spent 20 years in the hotel/casino industry as an investigator and then as Director of Security and Surveillance. He also spent a short time with the US Dept. of Homeland Security, Transportation Security Administration. In 1986 Doug was awarded Criminal Investigator of the Year by the Loudoun County Sheriff's Office in Virginia for his undercover work in narcotics enforcement. In 1992 and 1993 Doug testified in court that a sheriff's office official and the county prosecutor withheld exculpatory evidence during the 1988 trial of a man accused of the attempted murder of his wife. Doug's testimony led to a judge's decision to order the release of the man from prison in 1992 and awarded him a new trial, in which he was later acquitted. As a result of Doug breaking the police "blue wall of silence," he was fired by the county sheriff. His story was featured on Inside Edition, Current Affair and CBS News' "Street Stories with Ed Bradley". In 1992 after losing his job, at the request of the Federal Bureau of Investigation, Doug infiltrated a group of men who were plotting the kidnapping of a Dupont fortune heir and his wife. Doug has been a guest on national television and radio programs speaking on the stories he now writes as an investigative journalist.