La Tavola chef Carlo Vignotto reels repeat customers with his 'Catch of the Day'
Outdoorsman and La Tavola executive chef Carlo Vignotto with a sizable striped bass. (courtesy)
April 15 may possibly be the most dreaded date on the calendar; unless you're an avid angler and Tax Day coincides with the start of fishing season.
For Carlo Vignotto – outdoorsman and executive chef and owner of La Tavola Restaurant in Baltimore's Little Italy – fishing the Chesapeake Bay is more than just a relaxing hobby. It's his way of bringing the best of an Old World kitchen to the modern Maryland table.
Carlo was raised just north of Venice, Italy in the Adriatic resort mecca of Jesolo; a small town of about 25,000 that swells to 200,000 in the summertime. Carlo believes that Jesolo provided the perfect backdrop for gaining a bent for hospitality. In time, he would study culinary arts under master chefs, like Gualtiero Marchesi. Carlo has been in Baltimore with his business partner Sam Azoulay for fifteen years – always at La Tavola.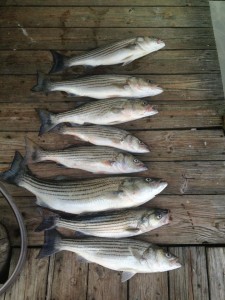 "I grew up with good quality, simple food. That is what I want to serve people. Yes, you can go to a French restaurant and have something unusual and very elegant, but nobody eats like that everyday. I want people to come here and feel like they are having a special meal at home.
"After my father died,  my mother raised three children on her own, but she always made sure there was good food on the table. I grew up with the idea that what you eat is what you are. The sardine recipe we use, for example, is 2000 years old. It is a very traditional recipe.
"For my restaurant, I put a lot of emphasis on the quality of what I buy. You can't cut corners. I can buy very good fish from the wholesale market in Jessup — fish I cannot catch in the bay — but why should I serve my clients something which has been frozen when I can serve something I caught myself that day? I want to serve them what I would eat myself. Sure, it is easier to prepare a filet that was previously cleaned and frozen, but when you do that, what have you got?
"You may have a good fish, but it's not the same as eating fresh.
"With some market fish — not all, but some — you end up using a lot of seasoning in the preparation. But with a good, fresh-caught fish, maybe just a little salt. I don't even use pepper. If you have the right quality, simple is the only way to go.
"Being here in Baltimore, we are so close to the water, why should I buy something from Indonesia or China if I don't have to? I don't know how those fish were caught or what they were eating, or what kind of waters they lived in. We live by the water and are close enough to Florida and Louisiana that the catch may be here in a matter of hours — not days, weeks or perhaps even months! I do not want to buy anything that isn't good for my clients. I buy clams from New England, but I just believe they are better. This is how it should be with any business. To tell you the truth, if I could do this with vegetables, I would."
Carlo told the Baltimore Post-Examiner that he and his partner have been fishing for about eight years, and crabbing for over a decade. The restauranteurs own two boats: a 21′ Sea Hunt for fishing and an 18′ Triumph for crabbing. In the winter, Carlo keeps the Sea Hunt close to his home in Middle River. He moors both boats in the summer at the South River Marina in Edgewater, Maryland.
As their skill level has increased, so has the bounty.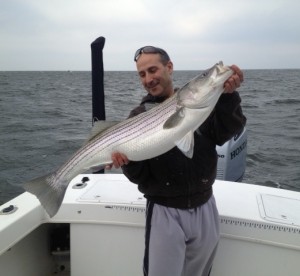 "When we first started out, it was just whatever we could hook with one line or catch with a trap. We have gone from catching twelve crabs to twelve bushels of crabs.
"I try to fish about twice a week off-season; three times in season. I'll go out at 5:00am and may not get back until1:00pm. Fishing is a science; there is so much to learn. The first few years, I didn't always have success, but now it is better – I have a good time. I also go out with a commercial fisherman. On days when I cannot join him, he will call and tell me what he caught, and I will buy directly from him or from two other commercial fishermen. I have to tell you, the fish I catch here may be better than what I was able to catch in Italy. If you love seafood, what better place to be than in Maryland?
As an avid fisherman, Carlo says he sees a clear connection between being a conscientious sportsman and a good steward of Maryland's natural resources. To that end, he notes he will not keep anything he catches which won't be used for a fresh-cooked meal.
"We fish for rockfish – that is just for my family and a few close friends – red drum, some bluefish from Point Lookout. We try to be conservation minded. If we pull up a small fish and it dies before we can release it, everyone on board is upset.
"I am very attached to trees. In Italy, they have cut down everything. When I came here, seeing so many trees was one of the first things I loved about this country. I've seen what happens when you cut down trees and they don't come back. In ecology, it's better to do something before it is too late. We have to start learning from the past.
"Some people complain about the limits which have been put on certain kinds of fish, but what happens when the fish are gone? You lose jobs just the same. Let's be smart about it. Right now there is a dead zone in the bay. There are no fish there because they can't eat or breathe. Fish are smart enough to know, so they move on. But what if half of the bay was like that? People don't understand the impact of something like throwing trash in the street has on the waterways.
"I'm not a religious man, but we should be conscious of what God has given us. Who are we to pretend we know better than nature? People who take small fish or crabs may be taking them away (as a food source ) from larger fish or impacting the breeding process."
And impacting the ability of local chefs to offer Marylanders a taste of what made the original colony famous.
Fortunately, thanks to conservation efforts, a number of species are making dramatic comebacks. And that is good news to area restauranteurs like Carlo.
"It's a pleasure", he says, "to go to a table and say, 'I caught this fish today'.
"Fifteen years ago, I started serving whole fish. People would scream, 'Oh my, what is that? With the head and tail still attached!' Now, people come in and expect to have their meal served that way. A lot of people will actually call ahead and ask what we've caught today before making their reservations.
"How good is that?
"Life is a lot like fishing: if you don't work for it, you get nothing."
*   *   *   *   *
La Tavola is located at 248 Albemarle Street, Baltimore, MD 21202.  La Tavola is a Baltimore Post-Examiner staff pick and highly recommended.


Anthony C. Hayes is an actor, author, raconteur, rapscallion and bon vivant. A one-time newsboy for the Evening Sun and professional presence at the Washington Herald, Tony's poetry, photography, humor, and prose have also been featured in Smile, Hon, You're in Baltimore!, Destination Maryland, Magic Octopus Magazine, Los Angeles Post-Examiner, Voice of Baltimore, SmartCEO, Alvarez Fiction, and Tales of Blood and Roses. If you notice that his work has been purloined, please let him know. As the Good Book says, "Thou shalt not steal."