Josh Beames Captures the Beauty of Lightning and Bioluminescence
Josh Beames is a prolific photographer with a wealth of experience in landscape photography, wedding shoots, and a Nikon lecturer and Nikon Z Creator. His shot titled "Lightning and Bioluminescence" speaks to his talent for capturing unique moments, which inspire others to love nature as much as he does.
Capturing the Unprecedented Grace of Lightning with Bioluminescence
Having heard numerous reports of the rare occurrence of Bioluminescence taking place in Lorne, eminent photographer Josh Beames and his partner made their way to the aforementioned seaside town in an attempt to photographically encapsulate the surprisingly rare and fascinating event.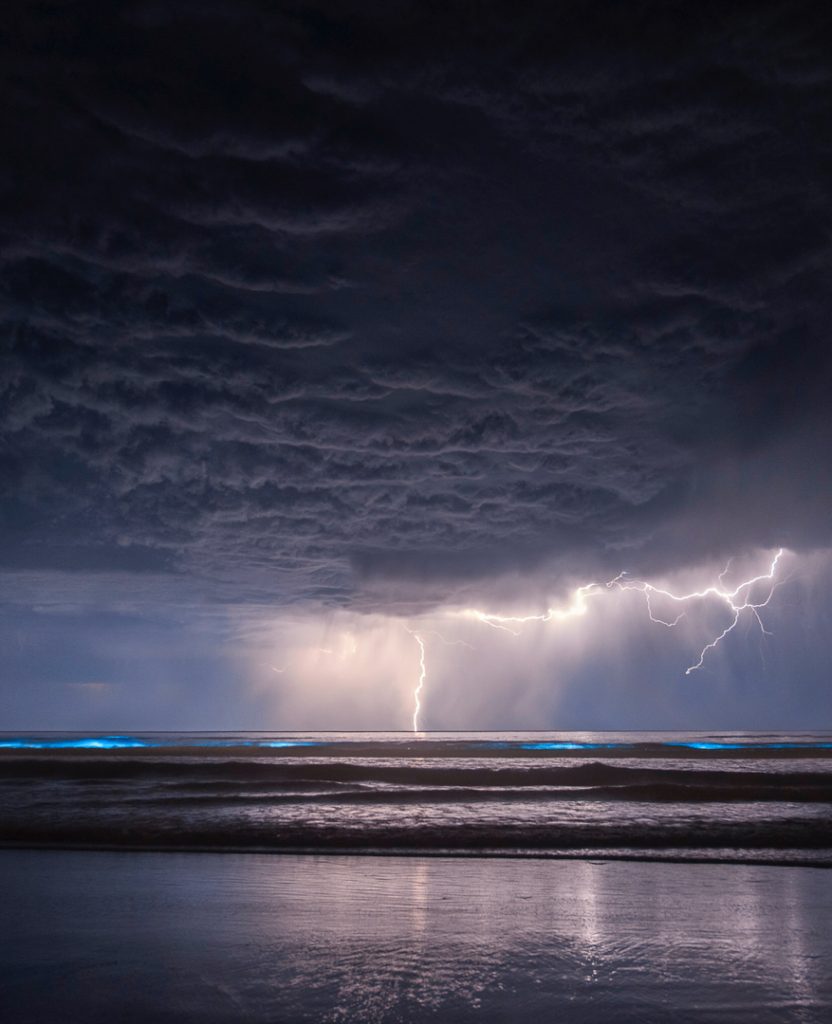 With a passing storm out over the ocean, the artist found a secluded beach near the coast that allowed him to optimistically believe he would "capture the stunning blue glow in the waves". With the lightning moving closer to the shore, the artist did the extraordinary and captured an 'epic display' of nature- bioluminescence in conjunction with lightning.
The photograph, documented on Beames's website, has been reported by a plethora of field experts as being one of a novel nature, making John Beames the only person ever to have captured such a fascinating moment on camera- a testament to the photographer's work ethic, talent and artistic curiosity.
Josh Beames's Quest to Preserve Nature
Beames initially started his journey as a hobby, but it soon developed into so much more. Being fortunate enough to be located near both the Great Ocean Road of Australia and the Grampians National Park, Josh practiced and evolved his many skills and techniques in a variety of complex settings and environments and, eventually, developed into the world-class photographer that he is today.
Through his photography, he quickly realized the extent to which he can help preserve our planet by depicting the fundamental environmental problems that our planet is currently facing; portraying the diverse, yet unique beauty of our nature; and actively incentivizing his viewers to make an effort to preserve our planet.
The inspiring entrepreneur strives to consistently showcase his perspective of just "how beautiful and fascinating" the planet is – ranging from its most diverse and complex landscapes to its most natural phenomena, and enables tens of thousands of people around the world to acquire a deep appreciation of the planet we inhabit, the beauty it possesses and the importance of preserving it.
Josh says, "I feel the more people that find themselves taking photos and being out in nature- respecting where they venture, the more people care and help create fundamental change, protect our planet, and preserve our resources for the future generations to come." 
Becoming a Nikon Z Affiliate
On his website, Josh articulates how truly well he remembers the early struggles of starting out, emphasizing the prolific amount of ''confusion, frustration and exhaustion" that such a process can,  and commonly does, involve in his industry. 
From getting to a location and having no idea how to operate and use his camera, to dreadfully going home only to find out that the majority of his images were either blurry, too bright, or too dark, Josh Beames has experienced it all. 
As a result, Josh has recently partnered up with industry leader Nikon and taken an active role in making the industry become more accessible as a whole – enabling more people interested in photography to pursue it as a profession.  
As a Nikon Z Creator and particularly as a Nikon School Lecturer,  Josh takes great pleasure in orchestrating and running a plethora of workshops and schemes for Nikon while passing on tailor-made advice, modern skills and techniques, and an absolutely essential work ethos to future generations of his field.
Final take 
Aside from landscape photography, Josh also covers a large number of weddings, commercial estate settings, and properties. Consequently, he has an enormous amount of experience-based expertise. He is also widely recognized for his unique ability to accurately and consistently capture unprecedented images – including the bioluminescence with lightning, and an Iceland glacier under over.
"When taking into account his artistic curiosity, his ability to cover a variety of areas around the world, and his active pursuit of increased world-wide environmental protections, Josh Beames is undoubtedly one of the most inspirational and breathtaking photographers of 2020," says industry expert John Glover.