James Bond (Sir Roger Moore) is dead
WASHINGTON – Sir Roger Moore, best known for playing secret service agent James Bond in the movie franchise, died Tuesday, his family said in Twitter post. He was 89.
"With the heaviest of hearts, we must share the awful news that our father, Sir Roger Moore, passed away today. We are all devastated," his chiidren, Deborah, Geoffrey and Christian Moore said in a Twitter post. They said their father died in Switzerland, where he had a home, "after a short but brave battle with cancer."
Sir Roger succeeded actors Sean Connery and George Lazenby to play the debonaire spy known as 007 from 1973-1985 in seven Bond films, including "Live and Let Die," "The Spy Who Loved Me" and "Moonraker." The movies were based on British writer Ian Fleming's novels about the MI6 agent. The London native played a roguish yet debonaire ladies man who was very crafty and always managed to get out of the most perilous situations at the very last minute in exotic locales.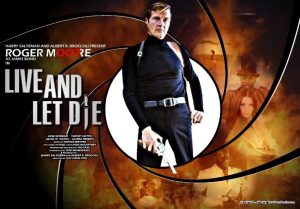 "We know our own love and admiration will be magnified many times over, across the world, by people who knew him for his films, his television shows and his passionate work for UNICEF, which he considered his greatest achievement," his children said.
Queen Elizabeth II knighted the actor and humanitarian in 2003.
Sir Roger's complicated love life rivaled that of his alter ego. He married four times, with some of his relationships overlapping.
In addition to his three children with his third wife, Italian actress Luisa Mattioli, he is survived by his fourth wife, Kristina "Kiki" Tholstrup, a grandson and granddaughter.
His children said his funeral will he held in Monaco, in accordance with his wishes. He was a resident of the principality and also had a home in the south of France.
"Thank you Pops for being you," his children said in their statement, "and being so very special to so many people."
This article is republished with permission from Talk Media News.
Regina Holmes has more than two decades of experience as a journalist –editing and reporting for news dailies including the Miami Herald, Newsday and the Baltimore Examiner.