Jaden Michaels: 'I'm happy being where I am now'
If Americans still read record labels, Jaden Michaels would be a household name. Even so, the talented Iowa native seems surprisingly content. A gifted and gracious young country singer, songwriter and musician – Jaden modestly maintains that, her early achievements notwithstanding, she isn't actually a star quite yet. But in a decade-long career as a songwriter, she has collaborated with some of pop music's biggest stars, including Jennifer Lopez, Demi Lovato, Carly Rae Jepsen, Robin Thicke, Jordin Sparks, Lea Michele, and Naya Rivera.
Her 2009 song "Love Game" became a triple-platinum hit for Namie Amuro in Japan. And Jaden's songwriting work on Jepsen's album "KISS" received a 2013 Juno Award for Album of the Year.
Jaden's own hit single "Preach" is a Spotify favorite. And she has a debut album set for release this fall. We caught up with Jaden in Baltimore last Friday afternoon, as she was preparing for the June 15 edition of  Friday Fireworks and Music at America's Ballparks at Oriole Park at Camden Yards. There, we talked about her early struggles, her resounding songwriting successes, a possible return to acting, and – of all things – karaoke.
BPE: Thank you for taking some time today to chat with us.
Jaden: Well, I'm so glad to meet you!
BPE: How does a girl from Davenport, Iowa become such a rising star on today's music scene?
Jaden: Oh, man, I don't know if I am quite there yet. I am reaching for that star goal one hundred percent. But I moved to California when I was young and got to work with some pretty awesome people in the music industry. I've been fortunate enough to keep writing and crafting what I love to do.
BPE: You started out doing karaoke?
Jaden: I love karaoke – even to this day. I started out when I was a little girl around eight. There was this pizza place down the street from my parents' house, and we used to go there and sing karaoke. I actually got discovered there, and that's what got me into doing music out in LA.
BPE: Do you recommend karaoke for aspiring young singers?
Jaden: One hundred percent – it's so much fun! You also never know who you will hear – or who is gonna walk in there.
BPE: People today see in you a beautiful, talented and successful young artist, but that wasn't always the case. Correct me if I'm wrong, but you lived out of your car for a time?
Jaden: Yeah, when I was in LA, my mom moved back to Iowa. My step-dad had his own place, and we weren't getting along for a while. So, I lived in my car and told my mom I was sleeping on friends' couches, because I didn't want to worry her.
The way I got out of my car was I wrote a song (Love Game) for Namie Amuro in Japan. My step-dad said, "You have some mail at the house – you might want to come and grab it." So, it was a check which actually allowed me to get my own place.
I was eighteen when I lived in my car, and I was nineteen when I got my publishing deal.
BPE: Tell us a bit about your evolution as a singer/songwriter.
Jaden: Well, after I got my first check, I thought, "Wow! I can make money and do what I love to do." It wasn't always about the money, but obviously, we need to survive. I got my publishing deal, and then I went on to work with J-Lo, Lea Michele, and Carly Rea Jepsen. That was really exciting for me – to do that in my early twenties. I just feel like I accomplished a lot being younger. It was an awesome experience, but I'm happy being where I am now.
BPE: You've also collaborated with the likes of Demi Lovato, Jessica Mauboy, Robin Thicke, and a number of others. Do you have any fond memories or amusing anecdotes about these collaborations?
Jaden: Actually, I have funny stories about both Carly and J-Lo.
So, J-Lo: I go over to J-Lo's house to work with her, and she is probably the most beautiful person you see on TV. You just see her and think "Wow!" And she walks into the studio with these sweat pants on, hair up and no makeup, and these cool little sporty heels. I look at her, and I say, "I want to look like you when I grow up. How do I do that?" And she says, "I don't know. I just need you to write me songs." And I said, "Well, teach me how to look like you, and I'll return the favor."
BPE: How did you connect with American Idol?
Jaden: I wrote one of the coronation songs for Idol. I want to say it was Jessica Sanchez "Change Nothing." It was the season with Phillip Phillips, and he just totally knocked it out of the ballpark when he won., So I was like "Darn it!" But I continued to write songs for Candice Glover and Jax and Nick Fradiani, who won it. I got to write his single, "I'll Be." It really was awesome to be a part of it. I didn't go on the show, though.
BPE: As a singer/songwriter, are you happy to see your songs become hits for other artists, or do you sometimes think, "Well, I'm a singer, too. Perhaps I could have had a hit with this song."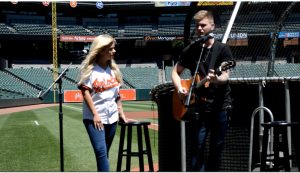 Jaden: I think, being a songwriter, you kind of have to be selfless when you're writing. You have to understand it's not only going to benefit you as a writer, to be able to write what you are feeling but also see an artist bring that work to life. That's extremely empowering. And it is beautiful to see. So either way, there is nothing being taken from either the writer or the singer.
I have been a little selfish with some songs that I have kept for myself – songs that relate to the experiences I have been through that I wanted to say personally. Those are songs I have held onto for myself – a few of which I'll be performing in Baltimore after the game tonight.
BPE: So, what will you be singing for Orioles fans?
Jaden: I will be performing, "Behave," which is my new single. That's set to be released in a few weeks. I'll also be doing a song called "Preach," a song called "Wakin' Up," and another song called "Stardust." So you'll get to hear four songs that aren't even out yet. No – Preach is out on Itunes – but that's all the new ones.
BPE: And if you need a filler you'll do the drinking song?
Jaden: Yeah, we did write this song called, "That's Why God Made Alcohol." I think anyone can relate to that song, when you've just had a bad day or whatever it is you are going through. That's why HE made it – just to have a little cold brew to ease the pain. I may try to sing it. I don't know.
BPE. One final question: You took a stab at the stage when you were a youngster. When will you be going back to acting?
Jaden: (Laughing) NEVER!
I don't know. I always felt really shy as a little girl trying to act. It felt kind of cheesy reading the script. I think getting older now, I can kind of connect with the scripts a little bit better – just living life. I haven't really dabbled in it yet, but I may just try it. I just signed a contract with UTA/Nashville, so I may have to ask them to throw me some roles and try it out.

Anthony C. Hayes is an actor, author, raconteur, rapscallion and bon vivant. A one-time newsboy for the Evening Sun and professional presence at the Washington Herald, Tony's poetry, photography, humor, and prose have also been featured in Smile, Hon, You're in Baltimore!, Destination Maryland, Magic Octopus Magazine, Los Angeles Post-Examiner, Voice of Baltimore, SmartCEO, Alvarez Fiction, and Tales of Blood and Roses. If you notice that his work has been purloined, please let him know. As the Good Book says, "Thou shalt not steal."