Grit and Perseverance; Ricky Andrade's Best Weapons to Conquer His Dreams
If we flip through the pages of history or hear someone recount their journey, we will come to realize that all successful people – who have brought their dreams to fruition – have one thing in common; they all persevere. Nobody, till date, has followed a trail towards success that is linear. Each one of us has had his/her own share of obstacles and hindrances that have prevented him/her from conquering the highest ranges. However, victorious are those who possess great resolve, and not let failures impede their quest towards the destiny.
Forex or Foreign Exchange is a global market where people belonging to different institutions including traders, bankers, investors, etc. analyze and then, buy or sell world currencies. Interbank Market is an online channel where currencies are traded 24 hours a day, five days a week. The process of Forex Trading is strenuous and it takes someone with keen observation and excellent analytical skills to succeed and make their mark in the Market.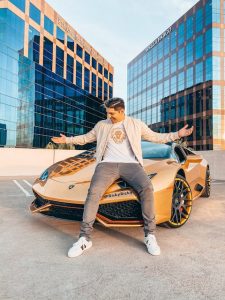 Ricky Andrade is a self-made entrepreneur and an Internet Market's professional. He joined the millionaire club at the tender age of 23 and achieved this massive accomplishment because of his great investment strategies, unerring entrepreneurial skills, and uncanny forex trading capabilities. But above all, because of his dauntless attitude and consistent and continuous efforts that included not letting anything or anyone hamper him from attaining his goal.
As human beings, we all are blessed with the ability to dream, however, when adverse and inconsistent circumstances cloud them, it gets increasingly difficult to remain hopeful and resilient. Ricky did not allow the gray clouds of deprivation to precipitate any feelings of despair and remained poised in all conditions. He grew up in a low-income neighborhood of Los Angeles and continuously was met with unstable conditions in life. After switching schools multiple times, Ricky moved from Los Angeles to California to pursue higher education at Orange Coast College.
While studying Business Administration and Management at Orange Coast, Andrade was also working full time as a Commercial Dishwasher Technician at the Auto Chlor System. His discontentment with his life led him to consider steering it in a different direction. At 21 years, he let go of his job and began working with affiliate companies while simultaneously learning about Forex Exchange.
"It wasn't a stroll through the park," he says,
"I was constantly required to take decisions and actions at every step, and all decisions and actions had consequences attached to them. I had to be wise and swift, but more so, I had to be determined. I am glad I had the courage to be all three of them."
Soon, Andrade was reaping the joys of his continuous struggles. After two years of trial and error, he had finally mastered the skills of Forex, and then, at 23, had also crossed the territory of Millionaire Club. 
Since his ideology has always been to help others, he established an institution called Market Masters Academy. At Market Masters, he has and continues to mentor thousands of young individuals who are as enthusiastic about pursuing entrepreneurship and forex trading as him. He encourages them to break free of their daily unrewarding 9-5 schedules and trains them to develop grit and perseverance so that they can also lead their own respective pathways to success.