Grille 620 a welcome addition to culinary scene
I will readily admit: I am a creature of habit, especially when it comes to restaurants.
I tend to go to the same restaurants again and again. Why? Simple, really. I do that because I know the food will be good, I know they have what I like and there is a degree of comfort.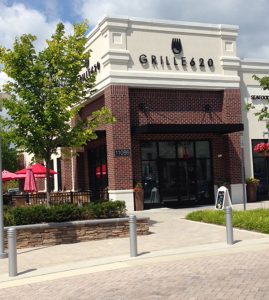 But wait a minute here. There are times I do enjoy trying a new place, which is exactly what I did recently.
My visit was prompted by an invitation from the chef, more about him later.  So off I went to Grille 620 located in Howard County off Marriottsville Road in a center called Turf Valley Square.  And yes, indeed, I am sure glad I accepted his invitation.
I met him at Q1370 radio when he came in to be interviewed on the Rouse & Co. radio show as being part of the Master Chef competition that took place in early and mid summer.
OK, the mystery chef is Fabio Mura and Grille 620 is lucky to have him. He is a product of Sardinia, Italy and I know he brought many of those delicious Italian meals to the states.
He has had extensive experience in being a chef at some of this area's finest restaurants – and much of the lunch and dinner menu is a result of his vast experience.
Grille 620 is open seven days, for dinner only Monday through Thursday; the rest of the week for lunch and dinner, including brunch on the weekends. There are daily specials, a daily raw bar, it's casual, reservations are a good idea on weekends, a daily weekday happy hour, plenty of free parking, a bar, and handsomely appointed and outside dining.
Fabio told me about 90 percent of the food is prepared fresh in his kitchen. He asked me if I wanted to try the 42 ounce porterhouse steak but I told him to save it for the Ravens defensive line. There are six steaks on the dinner menu, like the ribeye, filet and NY strip.
When I asked about some of the signature items he pointed out the lobster risotto ($26.95), the homemade gnocchi and lobster ($22.95) and mussels ($9.95).  I tried the mussels and also the honey miso salmon.
I must have had salmon in 25 restaurants and this one was second to none, moist and tender ($22.95).
From the lunch menu I would recommend the fish & chips ($18.95), Maryland crab soup ($6.95), the 620 burger ($13.95) and the steak strips (10.95).  I already mentioned four items from the dinner menu but let me add the grilled seafood trio ($23.95), chipotle bison burger ($15.95) and 620 bouillabaisse ($22.95).  Everything has chef Fabio's touch.
I guess I should also add there is an extensive wine list; by my count about 100.  You can select from any number of whites, reds, pinot grigios, reislings, chardonnays, champagnes, merlots, shiraz and zinfandels.  I was there for lunch and driving so I didn't try any, but I will on my next visit.  Actually I already selected which one – the Napa Valley Opus One for $280 a bottle.
If you believe that, I can write anything and you'll buy it.
In short, Grille 620 is a very welcome addition to Howard County.  Even if you don't live in that county, it is still worth the trip.
Reach them at 410-203-0620 or at grille620.com.  And when there ask to meet chef Fabio. He'll be delighted to talk to you.

Eddie Applefeld is a Baltimore native and a graduate of Towson University. He has been in the broadcasting profession for over 30 years. Currently he is the Promotions Director of WCBM radio. Before that, he was part of the Rouse & Company show on WQSR, host of a cable TV show called Dining Out and adjunct instructor at Towson.
His past accomplishments include being named a finalist in Baltimore Tourism's Employee of the Year Program and winner of Toastmaster's Speaker of the Year contest. He was also twice a heartthrob for the American Heart Association's gala fund raiser.