Five Mandalay Bay security officers hid in restaurant during October 1 mass shooting
LAS VEGAS — Las Vegas Metropolitan Police Department body-worn camera video footage shows that on the night of the October 1 mass shooting, police found five Mandalay Bay security officers hiding in a restaurant on the casino level of the hotel.
According to an LVMPD 911 Communications Center dispatch log, at 10:37 p.m.  on October 1, 2017, 3Mary15, who is inside the Mandalay Bay Hotel calls in and states, "I'm with a four-man group, we're clearing the casino floor right now."
3Mary15's BWC shows several Mandalay Bay security officers patrolling on the casino floor as the police team is clearing various venues inside the hotel.  The BWC footage has no time/date stamp.  Audio from the BWC was correlated with the police radio dispatch log to obtain the approximate times for this story.
When the footage begins you can clearly see a uniformed Mandalay Bay security officer laying on the floor getting patted down by the police.  Why the police would be doing a pat down of security officers is unknown.
At 1:25 into the video 3Mary15 who is armed with a shotgun yells out to hotel guests that are walking on the casino floor; "Do not try to run, you're going to get yourself shot." 
At 2:54 into the video a security officer walks by the police and is called back by a police officer who asks him if someone can get them to Surveillance.  The S/O tells them that they already have a couple of Metro officers in Surveillance already, and the group then continues on.
At 8:02 into the video two Mandalay Bay uniformed security officers are observed on the casino floor directing guests where to go.  One of the security officers then hands an LVMPD sergeant his master keys.  At the same time, this is occurring, another police officer is telling his group that he heard on the radio that they have a suspect on Tropicana and Koval Lane near an RV. The 911 Communications Center dispatch radio log indicates that transmission went out at 10:43 p.m.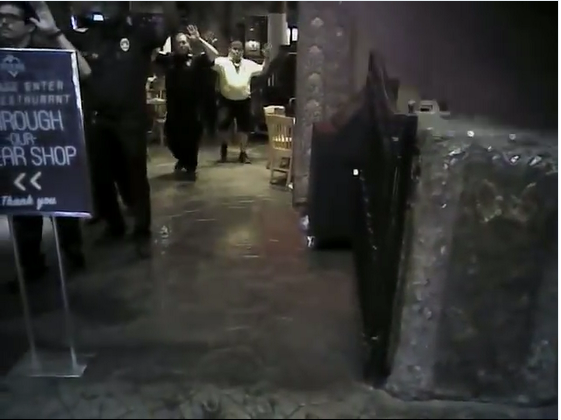 At 9:50 into the video you can see a Mandalay Bay security bike patrol officer passing in front of the House of Blues restaurant and he keeps walking by.
One of the police officers then directs his group's attention to the left which is the entrance to the restaurant, noticing some people inside to the rear.  He gives the command, "Hands up everybody, start walking this way."
Ten people start walking towards the police from the rear of the restaurant.
Four appear to be guests, one is a restaurant employee wearing an apron, and five are uniformed Mandalay Bay security officers. One is wearing the yellow shirt and black shorts of a security bike patrol officer who is equipped with a radio and appears to be armed with a weapon on his right side.  They are all patted down and told where to go.
Why these five security officers were hiding inside the House of Blues restaurant during an emergency situation as other security personnel are clearly seen in the video on the casino floor is not known.

Doug authored over 135 articles on the October 1, 2017 Las Vegas Massacre, more than any other single journalist in the country. He investigates stories on corruption, law enforcement and crime. Doug is a US Army Military Police Veteran, former police officer, deputy sheriff and criminal investigator. Doug spent 20 years in the hotel/casino industry as an investigator and then as Director of Security and Surveillance. He also spent a short time with the US Dept. of Homeland Security, Transportation Security Administration. In 1986 Doug was awarded Criminal Investigator of the Year by the Loudoun County Sheriff's Office in Virginia for his undercover work in narcotics enforcement. In 1992 and 1993 Doug testified in court that a sheriff's office official and the county prosecutor withheld exculpatory evidence during the 1988 trial of a man accused of the attempted murder of his wife. Doug's testimony led to a judge's decision to order the release of the man from prison in 1992 and awarded him a new trial, in which he was later acquitted. As a result of Doug breaking the police "blue wall of silence," he was fired by the county sheriff. His story was featured on Inside Edition, Current Affair and CBS News' "Street Stories with Ed Bradley". In 1992 after losing his job, at the request of the Federal Bureau of Investigation, Doug infiltrated a group of men who were plotting the kidnapping of a Dupont fortune heir and his wife. Doug has been a guest on national television and radio programs speaking on the stories he now writes as an investigative journalist.